Services provided for Primary and Special Schools
The Harrow Schools Library Service helps schools to have great resources for their school library and classroom libraries. They give schools high-quality books that match what the students are learning and they keep up-to-date with any changes to the curriculum. The Service knows a lot about children's books and can also help with teaching materials. They offer a big selection of different kinds of books including fiction, poetry and information books. This helps students to enjoy reading and learning on their own. The goal is to encourage a love of reading and a passion for learning.
The School Library Service Manager is a chartered librarian. They offer schools a professional library service including project loans, a discounted book purchase scheme and professional advice with time in schools as requested by you, and reading promotion. The charge is fully inclusive covering all aspects of the service.
Nothing is more important in education than ensuring that every child can read well. Pupils who can read are overwhelmingly more likely to succeed at school, achieve good qualifications, and subsequently enjoy a fulfilling and rewarding career.
Reading: The Next Steps. Department for Education report, March 2015
Description of Service
This is a service devised to support children in Primary and Special Schools, and includes project loans, advisory services and other items as detailed below.
Project Loan Service
Save money by borrowing from over 50,000 up to date and attractive books. Each collection is tailored to teachers' exact requirements and typically consists of 30 non-fiction, fiction or poetry books, worth up to £400
Advisory Service by professionally qualified Librarian on all aspects of the design, organisation and administration of library collections and the creative use of books both in the library and the classroom, including author/illustrator events
Support and practical assistance from the HSLS team with tasks such as classifying books, labelling, or updating records on library management systems
Discounted Purchase Scheme and Personal Shopper Service
The discounted purchase scheme enables schools to make limited budgets stretch further. All books are supplied ready for the shelf with labels, jackets or sleeves to extend their durability. We offer a personal shopper service and can order books on your behalf. We have access to specialist suppliers and bibliographic databases.
Exhibition Collection of over 11,000 recommended and in-print children's books for teachers to inspect prior to purchase. Advice from School Library Service staff during your visit and assistance with ordering books.
Harrow Junior Book Award
Annual prize for the best children's novel as voted by children from Harrow Primary schools, including an award ceremony with a guest author. Previous guest authors: Ross Welford, Vashti Hardy, Maz Evans, Jane Elson, Lara Williamson, Cate Cain and Joshua Doder.
CPD including Library Co-ordinators' meetings each term and training courses, e.g. MLS Junior Librarian/Reading Cloud user group event, March 2022.
Subscription to Pen&Inc magazine containing latest information on diverse and inclusive children's books
Newsletter and discounts on publications
Performance Standards
Helpdesk: Available Monday to Friday, 9am to 5pm, during term-time and school holidays. An e-mail facility is available outside these hours.
Professional staff have qualifications recognised by the Chartered Institute of Library and Information Professionals and are in membership of relevant professional organisations, e.g. School Libraries Group of CILIP.
Books ordered through the purchasing Service are normally delivered within three weeks outside school holidays and we can organise urgent orders for you.
Project loans will be delivered to your school as soon as possible following receipt of the request.
School's Responsibility
Schools are responsible for the care of books on loan to them and for their return when requested by the School Library Service.
We welcome enquiries regarding our services; please contact us by calling 0203 714 7739 and speak to our experienced team.
Contract Period
The contract will run for one year from 1

st

April 2022 to 31

st

March 2023
Charges for service
Primary schools:
£12.98 per pupil FTE place.
This is made up of £8.03 (+ VAT) for the Project Loan Service and £4.95 per pupil to buy new, shelf-ready books of your choice, plus at least one visit from a professional librarian over the course of the year
Special schools:
£8.56 per planned place.
This consists of £3.61 (+ VAT) for the Project loan service and £4.95 for the book purchasing service and at least one visit from a professional librarian and other services as required.
Contact us if you would like to discuss a specialised service or consultancy for your school.
For more information and to request a copy of the service level agreement please contact the Schools Library Service Manager:
Rachel Johnston
School Library Service Manager
Unit 4
1 Forward Drive
Wealdstone
Harrow HA3 8NT
020 3714 7739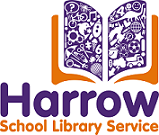 school.library@harrowlibraries.org.uk
Harrow School Library Service - supporting school libraries and staff through project loans, discounted purchase scheme and advisory services