Residents in Harrow can subscribe to have their brown Garden waste bins collected every two weeks.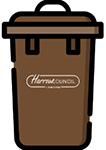 The Garden waste bins are brown and help to dispose of biodegradable waste including:
grass cuttings
leaves and flowers
shrub and bush clippings
small branches and twigs
Soil, mud, rubble and stones should not be disposed of in your Garden waste bin.
Fallen fruit from fruit trees must go in your food waste caddy and not your Garden waste bin.
To find out what you need to do on your bin collection day, see our bin collections page.
Subscribe to Garden waste
For the 2023/24 Garden waste service plan, our crews will collect your Garden waste every two weeks between April 2023 and March 2024. Please note that we will only be operating our annual service.
Before you subscribe
To subscribe to Garden waste, you will need to:
provide your address details
have your Debit or Credit card ready
have your bank details ready (if you want to pay by Direct Debit)
If you signed up for the 2022 plan, our bin crews will continue to collect your Garden waste bin every two weeks until March 2023.
Manage your Garden waste service online
You can make changes to your Garden waste service online.
Enter your address on our bins page and select the Garden waste tab to view:
the plan you are signed up to (annual or summer)
your current payment method
when your first collection was/will be
when your final collection was/will be
your Garden waste account number.
You can also make changes to your Garden waste service, including:
Cancel your service
Move your service to another address in Harrow
Request an extra bin or a bin repair.
How much is the Garden waste service?
The cost for the Garden waste service is £65.00 (£50.00 per extra bin.) If you receive Council Tax support, your plan will be discounted to £32.50.
| Garden waste plan | Single bin | Cost per extra bin |
| --- | --- | --- |
| Garden waste service | £65.00 | £50.00 |
| Garden waste service (with Council Tax support) | £32.50 | £32.50 |
What happens after you subscribe?
When you have subscribed to a Garden waste plan, you will receive a welcome email.
Your welcome email will include your Garden waste membership number, starting with 'SR'.
It is important to remember your membership number as you will need to mention it to manage your services.
Your welcome email including your membership number may take up to 24 hours to be emailed to you. Please check your spam or junk email folders. You may need to mark the Council emails as 'safe' so you continue to receive emails about your Garden Waste service.
You will receive a sticker to put on your Garden waste bin. If you subscribe before March, your Garden waste sticker will be sent out at the end of March.
If you subscribe after this date, then your sticker will take approximately 2 weeks to arrive.
The sticker will have your address printed on it, and is for your use only. You will need to put the sticker on your Garden waste bin.
If you have not yet received your Garden waste sticker after you subscribe, you can access the sticker request form under the Garden waste option once you enter your post code on our bins page.
Need a new or extra Garden waste bin?
You can order a bin if your bin has gone missing. To help prevent your bins from going missing, you can put your door number on your bin.
If you want to order a replacement Garden waste bin, you can access the Garden waste bin order form in the Garden waste option after you have entered your postcode on our bins page.
Is your Garden waste bin broken or damaged?
You can report a repair to your bin for free if there is damage to the bin lid or pin. The pin is the small part that connects the lid to the bin.
If there is damage to the body of the bin, handle, or wheels you will need to order a new bin. If the bin crews damage your bin, they will report this on their system and replace the bin free of charge.
To report a bin repair, visit our report a bin repair page.
Do you have extra Garden waste?
Our bin crews will not collect any waste which is not inside your bin. For example, bags of waste or extra foliage left next to your bin.
Extra waste may also mean that your bin is not collected.
Extra waste can be brought to the Harrow Recycling Centre in Wealdstone for free.
There are charges if you bring green waste to the Recycling Centre in a van.
The fees for vans are currently £80.00 per tonne with a base charge of £25.00.
Have you considered home composting?
If you'd rather not subscribe to a Garden waste plan, you may want to consider home composting.
Home composting is easy and provides you with a great source of nourishment for your garden.
For deals on composting bins, visit getcomposting.com.
You can also visit your local DIY or Garden Centre for composting bins.
How to report a missed bin
it is after 5pm on your usual bin collection day and
it is not later than 48 hours since your usual collection day.