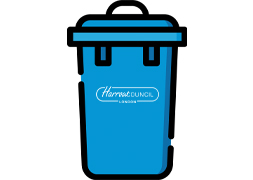 All households have a Recycling waste bin. The Recycling waste bin is blue for all households in Harrow.
When is my Recycling waste bin collected?
Our bin crews collect your Recycling waste bin every two weeks.
Your recycling waste is taken to a sorting facility where it is turned into:
Bottles
Paper
Card
Clothing
Insultation and even furniture!
You can view or download your collection schedule by entering your address on our bins page.
What can I put in the Recycling waste bin?
Paper
Aerosols such as deodorants and air fresheners
Cardboard
Clean foil
Pots tubs and trays such as ready-meal packaging or yoghurt pots (no black plastic trays)
Glass bottles and jars
Plastic bottles
Tins and cans
Please wash and flatten any packaging you can to save space in your bin.
What can I not put in the Recycling waste bin?
Food Waste
Sanitary / Nappies
Textiles such as Old Clothes
Wet Paper
Wet Cardboard
Foil Lined Cartons such as Milk Cartons or Fruit Juice
Hard Plastics such as Toys
Plastic Bags Clear & Coloured
Plastic Film Clear such as Cling Film
Scrap Metals (non-household)
Black Plastic Waste / Sacks
Ceramics & Pyrex
Expanded Polystyrene
Green Waste
Oil / Pesticides Container
Other Hazardous Waste
Plastic Laminates / Waxed Paper
Sand / Building Materials
Wood
Need a new or extra Recycling waste bin?
You can order extra Recycling waste bins if there are five or more people living in your household. When ordering an extra bin, you will need to provide proof of all residents living in your household.
For more information and to order a new bin, please visit our order a new bin page.
Has your bin gone missing?
If your bin has gone missing you can order a new one. Unfortunately we will not be able to replace the bin.
By adding your door number to your bin, it may help to prevent it from going missing.
To order a new bin visit the order a new bin page.
Is your Recycling waste bin broken or damaged?
You can report a repair to your bin for free if there is damage to the bin lid or pin. The pin is the small part that connects the lid to the bin.
If there is damage to the body of the bin, handle or wheels you will need to order a new bin. If the bin crews damage your bin, they will report this on their system and replace the bin free of charge.
To request a bin repair, please visit our request a bin repair page.
Do you have extra waste?
Our bin crews will not collect any rubbish which is not inside your bin. For example, broken down boxes or packaging left next to your bin.
Extra waste may also mean that your bin is not collected.
How to report a missed bin
You can report a missed bin online if:
it is after 5pm on your usual bin collection day and
it is not later than 48 hours since your usual collection day.