Harrow Libraries have a range of regular activities including arts and crafts, rhymetime and storytime sessions, and social clubs.
Children's events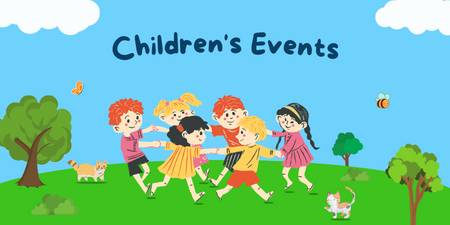 Adult events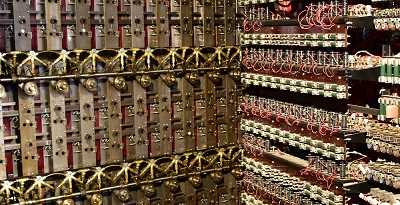 Backing Bletchley - The Codebreaking Outstations from Eastcote to GCHQ
Free event for adults Greenhill Library Saturday 30 September 2023 14:00 - 15:00
With AI seldom far from today's headlines, join author and lecturer Ronald Koorm at Greenhill Library on Saturday 30 September to delve back into the midst of WW2 and learn about the origins of modern computing with the development of Alan Turing's Bombe machine.

We'll be discovering all about the network of codebreaking outstations local to Harrow and incredible contribution of the cryptanalysts of the Women's Royal Naval Service in supporting the ground breaking work that was undertaken at Bletchley Park.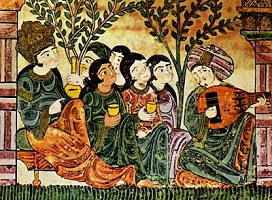 The Mediterranean - a Medieval Melting Pot
Free event for adults at Stanmore Library Wednesday 4 October 2023 11:00 - 12:00
Robert will explore stories that illustrate the rich & colourful interactions between Muslims, Jews & Christian from Andalusia to Jerusalem.
In the Middle Ages, 'inter-faith relations' around the Mediterranean were a complex (and fascinating) mixture of civilized co-existence and bitter, bloody conflict. In this session we will explore stories that illustrate the rich and colourful interactions between Islam, Judaism, and Christianity, from Muslim Andalusia to Baghdad and Jerusalem.
On the eve of National Poetry Day, we will be paying particular attention to the wonderful poetry of the period, especially its love poetry.

Other events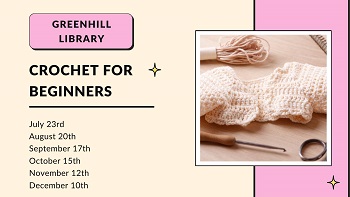 Crochet For Beginners - monthly on Saturdays at Greenhill Library 14:00 - 15:00
Join our crochet club at Greenhill library. Learn how to crochet your own designs, meet up with other people and enjoy creating themed projects.
Please bring your own wool and crochet hooks with you.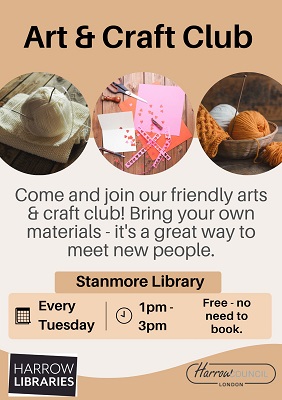 Art and Craft Club - weekly on Tuesdays at Stanmore Library 13:00 - 15:00
Come and join our friendly arts & craft club! Bring your own materials - it's a great way to meet new people.
Please bring your own materials with you.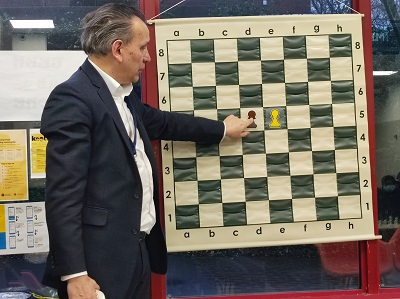 Community Chess Club - weekly on Tuesdays at Stanmore Library 15:30 - 17:45
Come and join in with our new chess club – for all ages and levels!
Harrow Libraries Reading Groups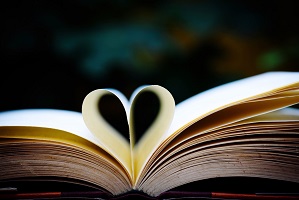 Fancy joining one of our friendly reading groups? Just contact any of the libraries below to check if there are spaces available. Everyone is welcome.
Groups meet
---
Kenton Library
Second Wednesday of the month 11:30 - 12:30
---
Pinner Library
Group 1: 1st Friday of the month 11:00 - 12:00
Group 2: 2nd Friday of the month 11:00 - 12:00
Group 3: 2nd Thursday of the month 11:30 - 12:30
---
Roxeth Library
Third Wednesday of the month: 11:00 - 12:00
---
Wealdstone Library
Last Tuesday of the month 12:30 - 13:30
Online
During the pandemic we created a range of online storytime sessions and craft activities. These are still available to view.
Try some of these to start with:
Fancy trying your hand at some craft activities? Try these:
Are you a budding scientist?
Social media
For these and much more follow Harrow Libraries social media accounts to join in with our online activities and keep up to date with news and events: