Latest news and updates
28 courts will reopen Monday 19 June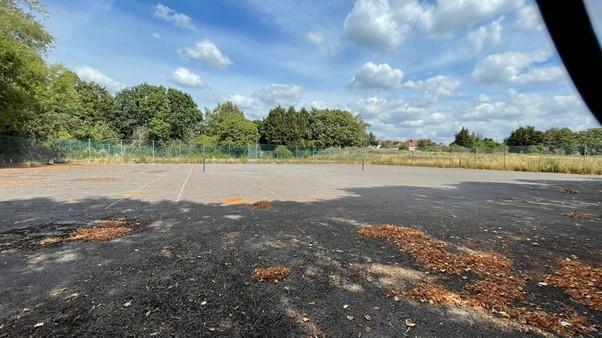 Consultation results
Thank you to everyone who responded.
57% of consultation responses back plans to secure £445k Lawn Tennis Association grant
36 courts across borough will be brought up to a good playing standard
Pay and play charges split respondees, but council promise to keep prices low, with concessions for under 18s, over 65s, disabled people and those on Universal Credit
Online booking and free coaching sessions introduced
Courts will be ready ahead of the 2023 spring/summer season
Read the full consultation results or read the original report to Cabinet.
Background to the consultation:
Harrow has 37 public tennis courts across 13 parks. Of these courts, 11 are currently in an unplayable condition.
There is no booking system in place to enable players to book a court and there are no tennis coaching programmes available in any of the parks.
Court hire fees are not being collected, and the Council does not have a system in place to communicate with players using the courts.
The Government's Department for Digital, Community Media and Sport (DCMS) and the Lawn Tennis Association (LTA) have announced a £30 million package to refurbish more than 4,500 public tennis courts in the UK.
This is a once in a lifetime opportunity and the DCMS & LTA have offered Harrow Council around £450,000 of funding to bring all the courts up to a high standard.
A condition of this funding is to show how these courts will be maintained to a good condition for years to come.
£1,200 per court would need to be set aside annually into a 'sinking fund' for larger repairs such as replacing the courts' surface.
There would also be day-to-day maintenance and running costs. It is estimated that the total costs for looking after Harrow's 37 public courts would be around £74,000 a year.
The Council will now bring in a specialist company to run the courts for us, and to introduce a pay to play booking and coaching system, including providing free and concessionary playing opportunities.
Below is a list of all the tennis courts and their current condition. This follows an inspection by the LTA*. At present, only 7 out of 37 courts are in good condition,11 are deemed unplayable.
*List of Tennis courts and their condition

Park

Number of Courts

Current Condition

Byron Recreation Ground

3

Unplayable

Centenary Park

2

Unplayable

Chandos Recreation Ground

3

Average

Harrow Recreation Ground

4

Very Poor

Harrow Weald Recreation Ground

4

Average

Headstone Manor Recreation Ground

6

Unplayable

Kenton Recreation Ground

2

Average

Montesole Playing Fields

2

Average

Pinner Village Gardens

2

Good

Queensbury Recreation Ground

2

Disappeared except old fence parts and posts

Rayners Mead

2

Very Good

Roxeth Recreation Ground

2

Average

West Harrow Recreation Ground

3

Very Good
The Council believes bringing in an external experienced operator to run the courts would be the most efficient way to move forward.
The courts would always remain owned by the Council and the Council would set conditions for the new operator, to ensure all members of the community would have access to tennis facilities and would even set a maximum court hire fee.
Booking system:
If the tennis courts were improved, the Council would need to bring in a booking system as this is a condition of receiving the LTA investment money.
The online booking system would ensure courts could be booked in advance and be available when people turned up for a game as well as enable the Council to efficiently collect court hire fees.
They could also be booked within minutes using a smartphone.
Charges
The Council currently charges members of the public for use of its bowling greens, football and cricket pitches etc.
The Council does also have charging in place for use of the tennis courts but currently has no system in place to collect the money.
With an online booking system, charges could be collected for using the courts. All the money received would ensure that the facilities can be maintained to a high standard.
Frequently asked questions
Why are the tennis courts in such a poor state?
The council has not had a budget for the repair and maintenance of courts.
Why can't the tennis courts be kept free?
They can, but they would not be refurbished and would continue to deteriorate because there is no budget to improve them.
Under these investment plans, the courts would remain free for sessions led by coaches and equipment would be provided for residents that don't have racquets or balls.
We would be charging for other times in order to ensure there was money to pay for the repair and refurbishment of courts.
Why are you privatising the courts?
The courts would not be privatised. Under these investment plans, the courts would remain in public (council) ownership. Subject to the results of the consultation, the Council wants to use an external company to manage the booking system and to deliver coaching and organise competitive play.
This would be better value than the Council managing the process. There are external companies that have systems in place to manage the courts at a much lower cost than through the council.
My tennis court is OK, so why would I want to pay for something that is free now?
Your tennis court may be free now, but over time it will degrade as have the other courts in Harrow and are now unplayable. This proposed investment is about making courts playable across the whole of Harrow.
Is there demand for tennis courts in Harrow?
Yes. The LTA's penetration rates (which identify the potential number of users of the tennis courts in the parks) have established that the courts at all the proposed parks would have a high level of demand from the resident population in the local areas.
All have penetration rates of more than 1,000 and some up to 2,000. The penetration rates have been calculated from the number of people who live within a 10-minute drive from the park who have been identified as being likely to play tennis if they had the opportunity to do so.
Can the tennis courts be used for anything else?
Any change of use of the tennis courts would be subject to the approval of Sport England and the Lawn Tennis Association – the National Governing Body for tennis.
Would the money mean floodlighting?
No - the investment from the Lawn Tennis Association would not include installing floodlights at any of the parks.
Are you involving the Park User Groups?
Yes, we are consulting with the Park User Groups.
Where is the money coming from?
The Lawn Tennis Association and the Department for Digital, Culture, Media and Sport (DCMS)'s Renovation Fund.
What happens if charges aren't brought in?
The council will not be able to renovate and then maintain the tennis courts. This means we couldn't provide greater access to tennis, including coaching sessions and the opportunity to play competitive tennis for those who wish to do so.
If this gets the go ahead, how quickly would the courts be renovated?
By Spring 2023, quickly enough for you to start training for the next but one Olympics, or to burn off those excess calories for Summer 2023.
What charges for tennis do other boroughs make?
The LTA (Lawn Tennis Association) has provided us with the following info (as at July 2022):
Brent - £8 per hour adults / £2.50 junior
Richmond - £9 per hour for Pay &Play or £55 per year (Season Ticket)
Newham - £6 per hour for Pay & Play or £35 per year (Annual Pass)
Kingston - £5 per hour for Pay &Play or £50 per year (Season Ticket)
Hammersmith & Fulham - £9 per hour
Wandsworth - £10 per hour
Merton - £9 per hour
Hillingdon – Bookable sites are £5 per hour for Pay & Play and the council is currently considering introducing a season ticket.
Ealing – Mixed model, some sites £8 per hour and some free sites.
Plan of works and dates
Byron Recreation Ground (full renovation - 3 courts) – 1st March 2023
Resurfacing works
Court Net Socket Installation
Court Cleaning (Use of Pressure Washer)
Court Painting / Line Markings
(Gate installation – 21st March 2023)
Harrow Weald Recreation (full renovation - 4 courts) – 1 March 2023
Resurfacing works
Court Net Socket Installation
Perimeter fence works
Court Cleaning (Use of Pressure Washer)
Court Painting / Line
(Gate installation – 9

th

May 2023
Centenary Park (cleaning / partial renovation – 2 courts) – 2nd March 2023
Partial resurfacing works
Court Cleaning (Use of Pressure Washer)
Court Painting / Line Markings
(Gate installation – 13

th

March 2023)
Headstone Manor Park (full renovation – 6 courts) – 2nd March 2023
Resurfacing works
Concrete Edging Installation
Court Net Socket Installation
Perimeter fence works
Court Cleaning (Use of Pressure Washer)
Court Painting / Line Markings
(Gate installation – 14

th

March 2023)
Rayners Mead – (gate installation only) – 2nd March 2023
Montesole Playing Fields – (cleaning / partial renovation – 2 courts) – 3rd March 2023
Partial resurfacing works
Perimeter fence works
Court Cleaning (Use of Pressure Washer)
Court Painting / Line Markings
(Gate installation – 17

th

March 2023)
Chandos Recreation Ground – (cleaning and line marking)
Phase 1 - Initial application of moss control – 8

th

March (Proposed for 27

th

March)
Phase 2 - Powerbrush & second application – 27

th

/ 28

th

March (Proposed for 19

th

April)
Phase 3 – Court painting / line markings – 25

th

April
(Gate installation – 20

th

March 2023)
Pinner Village Gardens – (cleaning only)
Phase 1 - Initial application of moss control – 8

th

March (Proposed for 27

th

March)
Phase 2 - Powerbrush & second application – 27

th

/ 28

th

March (Proposed for 25

th

April)
(Gate installation – 13

th

March 2023)
Kenton Recreation Ground – Gate installation only – 7th March 2023
Queensbury Park – (full renovation – 2 courts) – 10th March 2023
Resurfacing works
Concrete Edging Installation
Court Net Socket Installation
Perimeter fence works
Court Cleaning (Use of Pressure Washer)
Court Painting / Line Markings
(Gate installation – 21

st

March 2023)
Roxeth Recreation Ground – (full renovation – 2 courts) – 10th March 2023
Resurfacing works
Concrete Edging Installation
Court Net Socket Installation
Court Cleaning (Use of Pressure Washer)
Court Painting / Line Markings
(Gate Installation – 22

nd

March 2023)
West Harrow Recreation Ground - gate installation only) – 14th March 2023
Harrow Recreation Ground – (full renovation works – 4 Courts) – TBC (Proposed for 19th July 2023)
Resurfacing Works
Court Net Socket Installation
Perimeter fence works
Court Cleaning (Use of Pressure Washer)
Court Painting / Line Markings
(Gate installation – 9

th

May 2023)