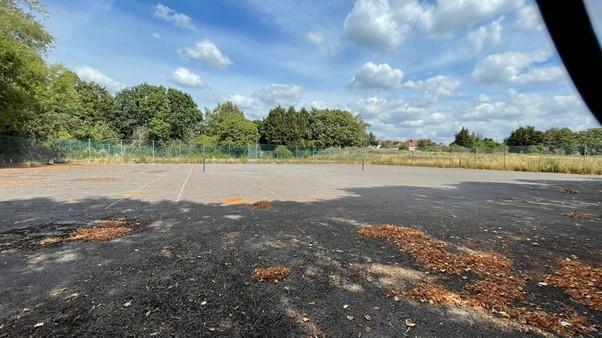 Work begins onsite in March for the refurbishment of Harrow's 36 tennis courts.
The Council has now received £587,000 from the Lawn Tennis Association to bring the public courts in the 13 parks in the borough up to a good standard – including 11 that are currently unplayable.
The grant is more than originally anticipated due to an increase in construction costs.
Byron Recreation Ground – which has three currently unplayable courts - and Harrow Weald Recreation Ground will be the first to see activity with renovation works due to commence next Wednesday (1 March).
Refurbishment works are then planned to start at Centenary Park's two currently unplayable courts and Headstone Manor Recreation Ground's six unplayable courts from Thursday (2 March), with Rayners Mead tennis courts also due to have new gates installed on the same day.
Courts at Pinner Village and 2/3 courts at Chandos Recreation Ground will undergo deep cleaning from Monday 6 March. Chandos's third court will become a MUGA – multi use games area.
Refurbishment works to the disappeared courts at Queensbury Recreation Ground and Roxeth Recreation Ground are then due to commence from Friday 10 March.
Dates for improving the 4 very poor courts at Harrow Recreation Ground are yet to be set as contractors are waiting for the surrounding ground where they need to store equipment to dry out more before scheduling works.
The expected timetable for the work required across the borough has been shared with Park User Groups. The dates may be subject to slight change, due to weather and contractor commitments.
Residents backed the council's exciting plans to bring the borough's public tennis courts up to an ace-worthy standard following consultation last summer. 57% of respondents supported the plans which will see the courts revamped at no cost to council taxpayers.
The introduction of pay and play charges split respondents, but concessions to under 18s, over 65s, disabled people and those claiming Universal Credit will be introduced, along with online booking and free coaching sessions.
The money raised will be used to keep the courts in tip-top condition.
Work is expected to take around four weeks to complete. Courts are set to be ready for use ahead of the 2023 summer playing season.
The Harrow Parks Forum has been involved in the selection process for an operator to run the courts for the council.
You can read more in the press release we issued in November last year. We will update on the progress of the refurbishment in due course.