LGBT+ History Month Special
Some much loved old favourites and some new books to discover... we hope you enjoy them.
We also have collections of eBooks available on our Overdrive platform freely available to anyone with a library membership number:
eBook collection for young adults

Adult fiction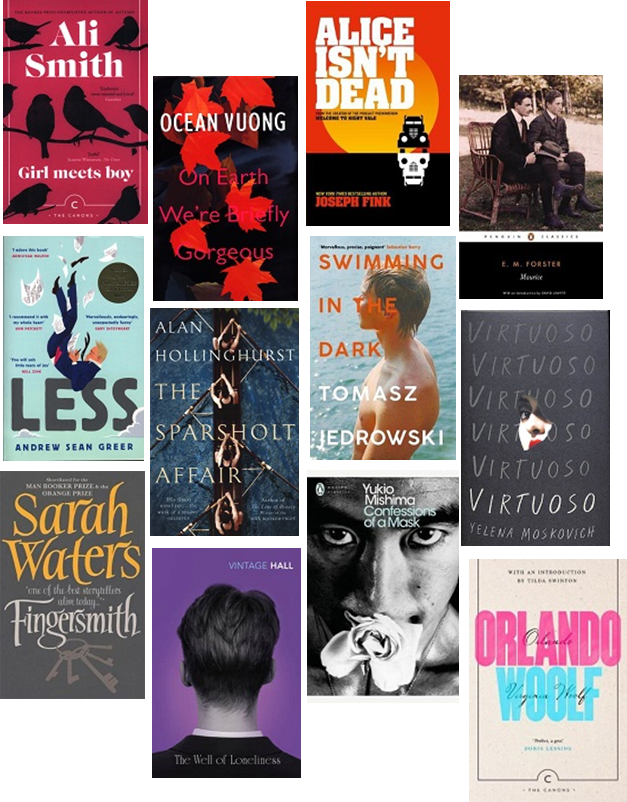 Girl Meets Boy
Ali Smith

Girl meets boy. It's a story as old as time. But what happens when an old story meets a brand new set of circumstances? Ali Smith's remix of Ovid's most joyful metamorphosis is a story about the kind of fluidity that can't be bottled and sold. It is about girls and boys, girls and girls, love and transformation, a story of puns and doubles, reversals and revelations. Funny and fresh, poetic and political, here is a tale of change for the modern world.

On Earth We're Briefly Gorgeous
Ocean Vuong
Sunday Times and New York Times bestseller
Brilliant, heart-breaking, tender, and highly original – poet Ocean Vuong's debut novel is a sweeping and shattering portrait of a family, and a testament to the redemptive power of storytelling.

On Earth We're Briefly Gorgeous is a letter from a son to a mother who cannot read. Written when the speaker, Little Dog, is in his late twenties, the letter unearths a family's history that began before he was born – a history whose epicentre is rooted in Vietnam – and serves as a doorway into parts of his life his mother has never known, all of it leading to an unforgettable revelation. At once a witness to the fraught yet undeniable love between a single mother and her son, it is also a brutally honest exploration of race, class, and masculinity. Asking questions central to the American moment, immersed as it is in addiction, violence, and trauma, but undergirded by compassion and tenderness, On Earth We're Briefly Gorgeous is as much about the power of telling one's own story as it is about the obliterating silence of not being heard.

Alice Isn't Dead
Joseph Fink

Keisha Lewis mourned the loss of her wife, Alice, who disappeared two years ago. There was a search, there was grief beyond what she thought was possible. There was a funeral. But then Keisha began to see her wife, again and again, in the background of news reports from all over America. Alice isn't dead. And she is showing up at the scene of every tragedy in the country. Keisha shrugs off her old life and hits the road as a trucker - hoping on some level that travelling the length of the country will lead her to the person she loves. What she finds are buried crimes and monsters (both human and unimaginable), government conspiracies, haunted service stations and a darkness far older than the highway system it lies beneath.

Maurice
E.M. Forster

Maurice Hall is a young man who grows up confident in his privileged status and well aware of his role in society. Modest and generally conformist, he nevertheless finds himself increasingly attracted to his own sex. Through Clive, whom he encounters at Cambridge, and through Alec, the gamekeeper on Clive's country estate, Maurice gradually experiences a profound emotional and sexual awakening. A tale of passion, bravery and defiance, this intensely personal novel was completed in 1914 but remained unpublished until after Forster's death in 1970. Compellingly honest and beautifully written, it offers a powerful condemnation of the repressive attitudes of British society, and is at once a moving love story and an intimate tale of one man's erotic and political self-discovery.

Less
Andrew Sean Greer
Winner of the Pulitzer Prize for Fiction 2018

'Less' is the story of a 49-year-old writer, Arthur Less, who learns that his former boyfriend is about to get married. To avoid the wedding and heartbreak, he decides to embark on a trip around the world, accepting invitations to a series of half-baked lectures and literary events. From almost falling in love in Paris, almost falling to death in Berlin, to booking himself as the (only) writer on a residency in India, and an encounter in a desert with the last person on earth he wishes to see, 'Less' is a novel about missteps, misunderstanding and mistakes.

The Sparsholt Affair
Alan Hollinghurst

In October 1940, the handsome young David Sparsholt arrives in Oxford. A keen athlete and oarsman, he at first seems unaware of the effect he has on others - particularly on the lonely and romantic Evert Dax, son of a celebrated novelist and destined to become a writer himself. While the Blitz rages in London, Oxford exists at a strange remove: an ephemeral, uncertain place, in which nightly blackouts conceal secret liaisons. Over the course of one momentous term, David and Evert forge an unlikely friendship that will colour their lives for decades to come.

Swimming in the Dark
Tomasz Jedrowski

'A beautiful novel, and at its heart it was an amazing love story and I think that's something that everyone is looking for' BBC Radio 4 Open Book, Editor's Pick
You were right when you said that people can't always give us what we want from them. Poland, 1980. Anxious, disillusioned Ludwik Glowacki, soon to graduate university, has been sent along with the rest of his class to an agricultural camp. Here he meets Janusz - and together, they spend a dreamlike summer swimming in secluded lakes, reading forbidden books - and falling in love. But with summer over, the two are sent back to Warsaw, and to the harsh realities of life under the Party. Exiled from paradise, Ludwik and Janusz must decide how they will survive; and in their different choices, find themselves torn apart.

Virtuoso
Yelena Moskovich

'A hint of Lynch, a touch of Ferrante, the cruel absurdity of Antonin Artaud, the fierce candour of Anaïs Nin, the stylish languor of a Lana del Rey song ... Moskovich writes sentences that lilt and slink, her plots developing as a slow seduction and then clouding like a smoke-filled room.' Guardian

For the first ten years of her life, Jana was a simple Czech girl, her days run with grey precision by the Czechoslovakian State Security. Then the raven-haired girl Zorka appeared. Jana, now an interpreter in Paris for a Czech medical supply company, hasn't seen Zorka in a decade. Aimee is in Paris too, living under the shadow of a menacing blue cloud, mourning the death of her wife Dominique. Meanwhile, in the ether of a lesbian Internet chatroom, a teenager from the American Midwest who goes by the moniker 0 hotgirlAmy 0 plans to rescue Dominxxika N39, a rural Czech housewife, from her tyrannical husband, a hospital bed salesmen. As Aimee and Jana's stories slowly circle through the surreal fluctuations of the past and present, they lead inexorably together, to a mysterious bar on Paris's Rue de Prague.

Fingersmith
Sarah Waters
Shortlisted for the Orange Prize and the Booker Prize

London 1862. Sue Trinder, orphaned at birth, grows up among petty thieves - fingersmiths - under the rough but loving care of Mrs Sucksby and her 'family'. But from the moment she draws breath, Sue's fate is linked to that of another orphan growing up in a gloomy mansion not too many miles away.

Well of Loneliness
Radclyffe Hall

As a little girl Stephen Gordon always felt different.

A talent for sport, a hatred of dresses and a preference for solitude were not considered suitable for a young lady of the Victorian upper-class. But when Stephen grows up and falls passionately in love with another woman, her standing in the county and her place at the home she loves become untenable.
Stephen must set off to discover whether there is anywhere in the world that will have her.

Confessions of a Mask
Yukio Mishima

'There is in this world a kind of desire like stinging pain'

A Japanese teenager is overcome with longing for his male classmate. He imagines his body punctured with arrows, like the body of St Sebastian in the painting that obsesses him. Over and over again, each night in his private fantasies, the objects of his lust are tortured, killed and maimed. But, in the rigid world of imperial wartime Japan there is no place for such transgressive desires. He must wear a false mask and hide his true nature, whatever the cost.
'A terrific and astringent work of beauty' The Times Literary Supplement

Orlando
Virginia Woolf

'He stretched himself. He rose. He stood upright in complete nakedness before us, and while the trumpets pealed 'Truth! Truth! Truth!' we have no choice left but confess - he was a woman.'
A young man in the court of the ageing Queen Elizabeth I, the beautiful Orlando seems to belong everywhere and nowhere. One morning, Orlando awakens transformed - transported into the eighteenth century, and the body of a woman.

One of the twentieth century's defining imaginings of queer identity, Orlando is a book of radical possibilities -boy and girl, past and future, nature and magic, life and history, love and literature. One of the most thrilling love letters in all literature, it trespasses thrillingly over the borders of place, time and self.
Adult non-fiction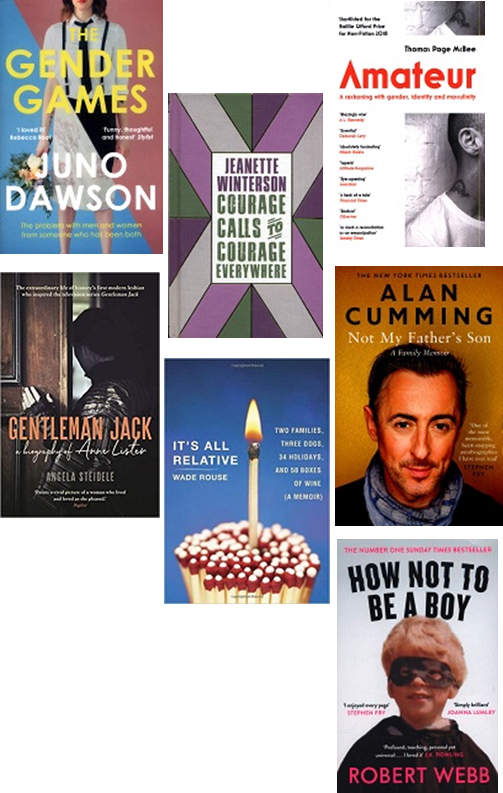 The Gender Games
Juno Dawson

'It's a boy!' or 'It's a girl!' are the first words almost all of us hear when we enter the world. Before our names, before we have likes and dislikes - before we, or anyone else, has any idea who we are. And two years ago, as Juno Dawson went to tell her mother she was (and actually, always had been) a woman, she started to realise just how wrong we've been getting it.

Gender isn't just screwing over trans people, it's messing with everyone. From little girls who think they can't be doctors to teenagers who come to expect street harassment. From exclusionist feminists to 'alt-right' young men. From men who can't cry to the women who think they shouldn't. As her body gets in line with her mind, Juno tells not only her own story, but the story of everyone who is shaped by society's expectations of gender - and what we can do about it.

Featuring insights from well-known gender, feminist and trans activists including Rebecca Root, Laura Bates, Gemma Cairney, Anthony Anaxagorou, Hannah Witton, Alaska Thunderfuck and many more, The Gender Games is a frank, witty and powerful manifesto for a world in which everyone can truly be themselves.

Courage Calls To Courage Everywhere
Jeanette Winterson

Courage Calls to Courage Everywhere is a timely and inspiring call to arms by one of Britain's most acclaimed and important writers. Whilst recognising how far women have come in the hundred years since getting the vote, Jeanette Winterson also insists that we must all do much more if we are to achieve true gender equality.

Examining recent women's rights movements, the worlds of politics, technology and social media and changes in the law, Winterson calls out all the ways in which women still face discrimination and disadvantage. Like the women who won the right to vote, we need to shout up, reach out, be courageous and finish the job.

Amateur: A Reckoning With Gender, Identity and Masculinity
Thomas Page McBee
Shortlisted for the Baillie Gifford Prize for Non-Fiction

In this groundbreaking new book, Thomas Page McBee, a trans man, trains to fight in a charity match at Madison Square Garden while struggling to untangle the vexed relationship between masculinity and violence.

Through his experience of boxing - learning to get hit, and to hit back; wrestling with the camaraderie of the gym; confronting the betrayals and strength of his own body - McBee examines the weight of male violence, the pervasiveness of gender stereotypes and the limitations of conventional masculinity. A wide-ranging exploration of gender in our society, Amateur is ultimately a story of hope, as McBee traces a way forward: a new masculinity, inside the ring and out of it.

A graceful and uncompromising exploration of living, fighting and healing, in Amateur we gain insight into the stereotypes and shifting realities of masculinity today through the eyes of a new man.

How Not To Be A Boy
Robert Webb
Number One Sunday Times Bestseller

Robert Webb tried to follow the rules for being a man:
• Don't cry
• Drink beer
• Play rough
• Don't talk about feelings

Looking back over his life he asks whether these rules are actually any use. To anyone. From schoolboy crushes (on girls and boys) to discovering the power of making people laugh, and from losing his beloved mother to becoming a husband and father, Robert Webb considers the absurd expectations boys and men have thrust upon them at every stage of life. Hilarious and heartbreaking, this book explores the relationships that made Robert who he is as a man, the lessons we learn as sons and daughters, and the understanding that sometimes you aren't the Luke Skywalker of your life - you're actually Darth Vader.

Gentleman Jack: A Biography of Anne Lister
Angela Steidele

Anne Lister's journals were so shocking that the first person to crack their secret code hid them behind a fake panel in his ancestral home. Anne Lister was a Regency landowner, an intrepid world traveller ... and an unabashed lover of other women.

In this bold new biography, prizewinning author Angela Steidele uses the diaries to create a portrait of Anne Lister as we've never seen her before: a woman in some ways very much of her time and in others far ahead of it. Anne Lister recorded everything from the most intimate details of her numerous liaisons through to her plans to make her fortune by exploiting the coal seams under her family estate in Halifax and her reaction to the Peterloo massacre. She conducted a love life of labyrinthine complexity, all while searching for a girlfriend who could provide her with both financial security and true love.
Anne Lister's rich and unconventional life is now the subject of the major BBC TV drama series Gentleman Jack.

It's All Relative
Wade Rouse

How come the only thing my family tree ever grows is nuts?

Wade Rouse attempts to answer that question in his blisteringly funny new memoir by looking at the yearly celebrations that unite us all and bring out the very best and worst in our nearest and dearest.
Family is truly the only gift that keeps on giving—namely, the gifts of dysfunction and eccentricity—and Wade Rouse's family has been especially charitable: His chatty yet loving mother dresses her son as a Ubangi tribesman, in blackface, for Halloween in the rural Ozarks; his unconventional engineer of a father buries his children's Easter eggs; his marvelously Martha Stewart–esque partner believes Barbie is his baby; his garage-sale obsessed set of in-laws are convinced they can earn more than Warren Buffett by selling their broken lamps and Nehru jackets; his mutt Marge speaks her own language; and his oddball collection of relatives includes a tipsy Santa Claus with an affinity for showing off his jingle balls. In the end, though, the Rouse House gifted Wade with love, laughter, understanding, superb comic timing, and a humbling appreciation for humiliation.

Whether Wade dates a mime on his birthday to overcome his phobia of clowns or outruns a chubchasing boss on Secretary's Day, he captures our holidays with his trademark self-deprecating humor and acerbic wit. He paints a funny, sad, poignant, and outlandish portrait of an an all-too-typical family that will have you appreciating—or bemoaning—your own and shrieking in laughter.

Not My Father's Son: A Family Memoir
Alan Cumming

Alan Cumming grew up in the grip of a man who held his family hostage, someone who meted out violence with a frightening ease, who waged a silent war with himself that sometimes spilled over onto everyone around him. That man was Alan's father, Alex Cumming.

Alex was the dark, enigmatic heart of Cumming family life. But he was not the only mystery. Alan's maternal grandfather, Tommy Darling, had disappeared to the Far East after the Second World War. The last time Alan's mother saw her father she was eight years old. When she was thirteen, the family was informed that he had died in an accidental shooting.
Curious to explore this second mystery, Alan committed to filming an episode of the BBC'sWho Do You Think You Are? Then out of the blue, his father, who Alan and his brother had not seen or spoken to for more than a decade, called. He had a secret he had to share, one that would shock his son to his very core and set in motion a journey that would change Alan's life forever.
At times suspenseful, at times deeply moving, but always brave and honest, Not My Father's Son is a powerful story about embracing the best aspects of the past and triumphantly pushing the darkness aside.
Children and young adults
Simon vs. The Homo Sapiens Agenda
Becky Albertalli
Suitable for ages 14+

The beloved, award-winning novel is now a major motion picture starring 13 Reasons Why's Katherine Langford and Everything, Everything's Nick Robinson.

16-year-old and not-so-openly gay Simon Spier prefers to save his drama for the school musical. But when an email falls into the wrong hands, his secret is at risk of being thrust into the spotlight. And worse still, so will the privacy of 'Blue', the pen name of the boy he's been emailing. With messy dynamics emerging in Simon's once tight-knit group of friends, and his email correspondence with Blue growing more flirtatious every day, Simon's life suddenly becomes just a little complicated. Now Simon has to find a way to step out of his comfort zone before he's pushed out - without alienating his friends, compromising himself, or fumbling a shot at happiness with the most confusing, adorable guy he's never met.

The Miseducation of Cameron Post
Emily Danforth
Suitable for ages 14+

** Now a major film starring Chloe Grace Moretz - winner of the Grand Jury Prize at the Sundance Film Festival **

When Cameron Post's parents die suddenly in a car crash, her shocking first thought is relief. Relief they'll never know that, hours earlier, she had been kissing a girl. But that relief doesn't last, and Cam is forced to move in with her conservative aunt Ruth and her well-intentioned but hopelessly old-fashioned grandmother. She knows that from this point on, her life will forever be different. Survival in Miles City, Montana, means blending in and leaving well enough alone, and Cam becomes an expert at both. Then Coley Taylor moves to town. Beautiful, pickup-driving Coley is a perfect cowgirl with the perfect boyfriend to match. She and Cam forge an unexpected and intense friendship, one that seems to leave room for something more to emerge. But just as that starts to seem like a real possibility, ultrareligious Aunt Ruth takes drastic action to 'fix' her niece.

My Brother's Name Is Jessica
John Boyne
Suitable for ages 10+

Sam Waver's life has always been pretty quiet. A bit of a loner, he struggles to make friends, and his busy parents often make him feel invisible. Luckily for Sam, his older brother, Jason, has always been there for him. Sam idolises Jason, who seems to have life sorted - he's kind, popular, amazing at football, and girls are falling over themselves to date him. But then one evening Jason calls his family together to tell them that he's been struggling with a secret for a long time. A secret which quickly threatens to tear them all apart. His parents don't want to know and Sam simply doesn't understand. Because what do you do when your brother says he's not your brother at all? That he thinks he's actually your sister?

The Boy in the Dress
David Walliams
Suitable for ages 9 - 11

'The sparkling debut children's novel from David Walliams, number one bestseller and fastest growing children's author in the country.

Dennis was different.
Why was he different, you ask?
Well, a small clue might be in the title of this book.

Charming, surprising and hilarious - The Boy in the Dress is everything you would expect from the co-creator of Little Britain. David Walliams's beautiful first novel will touch the hearts (and funny bones) of children and adults alike.'

What Is Gender? How Does It Define us? And Other Big Questions
Juno Dawson
Suitable for ages 10+

A highly topical look at the concept of gender, encouraging children to think for themselves about the issues involved.

What's the difference between sex and gender? What does it mean to be defined by your gender? Are there only two genders? This informative book helps kids to explore these questions and many more, explaining that there are differences of opinion and that answers are not always straightforward.

The Same Inside: Poems About Empathy and Friendship
Roger Stevens
Suitable for ages 9 – 11

A sweet and thoughtful collection of poems about friendship, diversity, empathy and respect. These poems deal sensitively with tolerance for differences (including race, religion and gender identity), feelings, empathy, respect, courtesy, bullying, disability and responsibility. They are the perfect springboard to start conversations.

The Girl With Two Dads
Mel Elliott
Suitable for ages 3 - 5

Matilda is a new girl at Pearl's school, but there's something really different and cool about her family – she has TWO dads!
Pearl is sure that Matilda's family must be very different to her own but, as they become friends, she starts to discover that maybe Matilda's family aren't so different after all . . .
A funny and heart-warming tale featuring a same-sex parent family. This light-hearted story will open up discussion and encourage children to be open minded and inclusive. This charming tale of friendship is all about celebrating what makes us different and similar to one another and is perfect for sharing with children aged 3 years and up.

And Tango Makes Three
Justin Richardson
Suitable for ages 3 - 5
Roy and Silo are just like the other penguin couples at the zoo - they bow to each other, walk together and swim together. But Roy and Silo are a little bit different - they're both boys.
Then, one day, when Mr Gramzay the zookeeper finds them trying to hatch a stone, he realises that it may be time for Roy and Silo to become parents for real.
eResources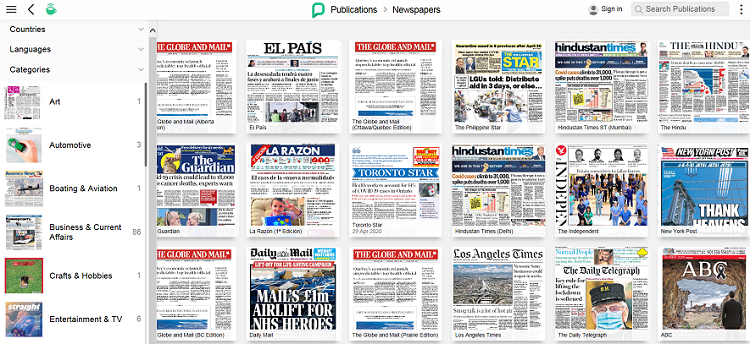 Press Reader
PressReader gives you unlimited access to 1000s of digital newspapers and magazines from around the world, so you can stay connected to the stories you love.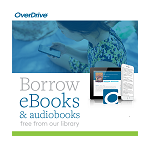 Overdrive
While we are being asked to stay at home where possible have you given Overdrive a try? Access to thousands of eBooks and eAudiobooks.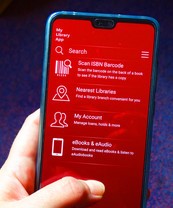 My Library App
Harrow Libraries now have an app giving you quick access to the library catalogue from your phone or tablet. Check your account, renew items, browse the catalogue and make reservations. Spotted an interesting title in a bookshop? Scan the ISBN, check it's in stock and reserve it. It's quick and easy to use and compatible with Androids and iPhones.
Search for "My Library App" in Google Play or the App Store.