Below you'll find our book recommendations for the month.
While libraries are offering reduced services due to social distancing, remember we have titles available in a variety of formats including eBook and/or eAudiobook for download to your own device.
If you are a member of the library you will be able to find the books in our online catalogue and take them out on loan. The eBooks and digital magazines can be downloaded for free via the PressReader, RB Digital, Overdrive or Borrowbox service.
Black History Month Special
Here you will find some old favourites and some new books to fall in love with. We hope you enjoy them...
Adult fiction


Black Sunday
Tola Rotimi Abraham
Twin sisters Bibike and Ariyike are enjoying a relatively comfortable life in Lagos in 1996. Then their mother loses her job due to political strife and their father gambles away their home. As their parents' marriage collapses in the aftermath, the twins and their two younger siblings, Andrew and Peter, are thrust into the reluctant care of their traditional Yoruba grandmother. Inseparable while they had their parents to care for them, the twins' paths diverge once the household shatters.Written with astonishing intimacy and wry attention to the fickleness of fate, Black Sunday delves into the chaotic heart of family life. In the process, it tells a tale of grace in the midst of daily oppression, and of how two women carve their own distinct paths of resistance.
Things Fall Apart
Chinua Achebe
'Things Fall Apart' tells the story of Okonkwo, an important man in the Igbo tribe in the days when white men were first on the scene. Okonkwo becomes exiled from his tribe, as a result of his pride and his fears, with tragic consequences. Originally published: London: Heinemann, 1958

Half of a Yellow Sun
Chimamanda Ngozi Adichie
Set in Nigeria during the 1960s, this novel contains three main characters who get swept up in the violence during these turbulent years. It is about Africa, about the end of colonialism, about class and race, and the ways in which love can complicate these things. Originally published: London: Fourth Estate, 2006

Conjure Women
Afia Atakora
A dazzling debut novel, with echoes of 'Homegoing' and 'Beloved', that sweeps across eras and generations, bridging the American Civil War, to tell the story of a mother and daughter with a shared talent for healing - and the conjuring of curses.

What We Lose
Zinzi Clemmons
Thandi is American, but doesn't feel as American as some of her friends. She is South African, but South Africa terrifies her. She is a black woman with light skin. Her mother is dying. In exquisite vignettes of wry warmth and extraordinary emotional power, 'What We Lose' tells Thandi's story. Both raw and artful, minimal yet rich, it is an intimate portrait of love and loss, and a fierce meditation on race, sex, identity, and staying alive. Originally published: New York: Viking, 2017

The Confessions of Frannie Langton
Sara Collins
1826, and all of London is in a frenzy. Crowds gather at the gates of the Old Bailey to watch as Frannie Langton, maid to Mr and Mrs Benham, goes on trial for their murder. The testimonies against her are damning - slave, whore, seductress. And they may be the truth. But they are not the whole truth. For the first time Frannie must tell her story. It begins with a girl learning to read on a plantation in Jamaica, and it ends in a grand house in London, where a beautiful woman waits to be freed. But through her fevered confessions, one burning question haunts Frannie Langton: could she have murdered the only person she ever loved? Originally published: UK: Viking

Hadriana In All My Dreams
Rene Depestre
Set during Carnival in Haiti 1938, a young and beautiful woman named Hadriana drinks a mysterious potion on her wedding day and collapses at the altar. She is buried and later resurrected by an evil sorcerer and, as a zombie, enters the collective memory of her town of Jacmel. Hadriana's conversion serves as the inciting incident into an exploration of the strange and esoteric on the island, where Voodoo and Catholicism keep a symbiotic relationship, young women turn into zombies, young men turn into lascivious butterflies and nothing is quite what it seems.

Darling
Rachel Edwards
I knew she was trouble from the moment I saw her. I felt it as she stood in the doorway that day - disaster. Not just because she was so different, that skin and that hair, as different from me as it's possible to be. There was something wrong about her. Wrong for us. It was never going to work. Now she is dead and only I am left to love him. She is dead, and it's all my fault. Originally published: 2018

Ordinary People
Diana Evans
South London, 2008. Two couples find themselves at a moment of reckoning, on the brink of acceptance or revolution. Melissa has a new baby and doesn't want to let it change her but, in the crooked walls of a narrow Victorian terrace, she begins to disappear. Michael, growing daily more accustomed to his commute, still loves Melissa but can't get close enough to her to stay faithful. Meanwhile out in the suburbs, Stephanie is happy with Damian and their three children, but the death of Damian's father has thrown him into crisis - or is it something or someone else? Are they all just in the wrong place? Are any of them prepared to take the leap? Originally published: London: Chatto & Windus, 2018
Girl, Woman, Other
Bernardine Evaristo
'Girl, Woman, Other' follows the lives and struggles of twelve very different characters. Mostly women, black and British, they tell the stories of their families, friends, and lovers, across the country and through the years. Originally published: UK: Hamish Hamilton, 2019
Roots
Alex Haley
This is the extraordinary account of Alex Haley's own 12 year search for his family's origins. Tracing his ancestry through six generations he discovered a 16 year-old youth, Kunta Kinte. It was this young man who held the key to Haley's deep and distant past. Originally published: Garden City, N.Y.: Doubleday, 1976; London: Hutchinson, 1977
This Lovely City
Louise Hare
The drinks are flowing. The music is playing. But the party can't last. With the Blitz over and London reeling from war, jazz musician Lawrie Matthews has answered England's call for help. Fresh off the Empire Windrush, he's taken a tiny room in south London lodgings, and has fallen in love with the girl next door. Touring Soho's music halls by night, pacing the streets as a postman by day, Lawrie has poured his heart into his new home - and it's alive with possibility. Until, one morning, he makes a terrible discovery. As the local community rallies, fingers of blame are pointed at those who had recently been welcomed with open arms. And, before long, the newest arrivals become the prime suspects in a tragedy which threatens to tear the city apart.
A Brief History Of Seven Killings
Marlon James
Set against the backdrop of 1970s reggae culture, disco, sex and excess comes this remarkable re-imagining of the attempted assassination of Bob Marley. Originally published: 2014
All My Lies Are True
Dorothy Koomson
Verity is telling lies. And that's why she's about to be arrested for attempted murder. Serena has been lying for years. And that may have driven her daughter, Verity, to do something unthinkable. Poppy's lies have come back to haunt her. So will her quest for the truth hurt everyone she loves? Everyone lies. But whose lies are going to end in tragedy?
Manchester Happened
Jennifer Nansubuga Makumbi
'Manchester Happened' is a masterful collection of short stories by Jennifer Nansubuga Makumbi, whose debut novel Kintu was published to great acclaim earlier this year. Set in Manchester and Kampala, the stories form a moving and powerful work about the experience of immigration and about how we treat each other as human beings, and makes an important contribution to one of the most pressing societal and political issues of the day. Originally published: 2019
Beloved
Toni Morrison
Terrible, unspeakable things happened to Sethe at Sweet Home, the farm where she lived as a slave for so many years until she escaped to Ohio. Her new life is full of hope but 18 years later she is still not free. Sethe's new home is not only haunted by the memories of her past but also by the ghost of her baby, who died nameless. Originally published: London: Chatto & Windus, 1987
The Freedom Artist
Ben Okri
In a world uncomfortably like our own, a young woman called Amalantis is arrested for asking a question. Her question is this: Who is the Prisoner? When Amalantis disappears, her lover Karnak goes looking for her. He searches desperately at first, then with a growing realisation. To find Amalantis, he must first understand the meaning of her question. Karnak's search leads him into a terrifying world of lies, oppression and fear at the heart of which lies the Prison. Then Karnak discovers that he is not the only one looking for the truth. 'The Freedom Artist' is an impassioned plea for justice and a penetrating examination of how freedom is threatened in a post-truth society.
Gingerbread
Helen Oyeyemi
Perdita Lee may appear your average British schoolgirl; Harriet Lee may seem just a working mother trying to penetrate the school social hierarchy; but there are signs that they might not be as normal as they think they are. For one thing, they share a gold-painted, seventh-floor flat with some surprisingly verbal vegetation. And then there's the gingerbread they make. Londoners may find themselves able to take or leave it, but it's very popular in Druhastrana, the far-away land of Harriet Lee's early youth. In fact, the world's truest lover of the Lee family gingerbread is Harriet's charismatic childhood friend, Gretel Kercheval - a figure who seems to have had a hand in everything (good or bad) that has happened to Harriet since they met. Years later, when teenaged Perdita sets out to find her mother's long-lost friend, it prompts a new telling of Harriet's story, as well as a reunion or two. Originally published: 2019
The Lonely Londoners
Samuel Selvon
From the brilliant, sharp, witty pen of Sam Selvon, this is a classic award-winning novel of immigrant life in London in the 1950s.
White Teeth
Zadie Smith
'White Teeth' is a comic epic of multicultural Britain by one of the most exciting young writers of the new millennium. It tells the story of immigrants in England over a period of 40 years. Originally published: London: Hamish Hamilton, 2000
Real Life
Brandon Taylor
Wallace is a biochemistry grad student at a lakeside Midwestern university used to keeping a wary distance even from those closest to him. His class is the first in more than three decades to include a black student, something Wallace has not been allowed to forget. But, over the course of one weekend at the end of summer, a series of confrontations with colleagues and an unexpected shift in his relationship with a friend, Miller, force him to grapple with intimacy, desire, the trauma of the past and the question of the future.
The Color Purple
Alice Walker
This compelling and cherished classic tells the story of Celie. Raped by the man she calls father, her two children taken from her and forced into an ugly marriage, she has no one to talk to but God, until she meets a woman who offers love and support.
The Sun Is Also A Star
Nicola Yoon
Natasha: I'm a girl who believes in science and facts. Not fate. Not destiny. Or dreams that will never come true. I'm definitely not the kind of girl who meets a cute boy on a crowded New York City street and falls in love with him. Not when my family is 12 hours away from being deported to Jamaica. Falling in love with him won't be my story. Daniel: I've always been the good son, the good student, living up to my parents' high expectations. Never the poet. Or the dreamer. But when I see her, I forget about all that. Something about Natasha makes me think that fate has something much more extraordinary in store - for both of us. The Universe: Every moment in our lives has brought us to this single moment. A million futures lie before us. Which one will come true?
Adult non-fiction

Black British History: New Perspectives
Hakim Adi
An unparalleled study of the black British experience, unearthing its crucial yet largely forgotten role in shaping British history.
Twelve Years A Slave
Solomon Northup, Henry Louis Gates
Born a free man in New York State in 1808, Solomon Northup was kidnapped in Washington, DC, in 1841. He spent the next twelve years as a slave on a Louisiana cotton plantation. During this time he was frequently abused and often afraid for his life. In this book, he gives an account of his captivity.
Windrush: The Irresistible Rise of Multi-Racial Britain
Mike Phillips, Trevor Phillips
Broadcaster Trevor Phillips and his novelist brother Mike retell the very human story of Britain's first West Indian immigrants and their descendants from the first wave of immigration in 1948 to the present day.
Slay In Your Lane: The Black Girl Bible
Yomi Adegoke, Elizabeth Uviebinene
Black women in 2018 are well past making waves - they're currently creating something of a tsunami. From authors to politicians, to entrepreneurs to artists, black women in the UK continue to thrive against all odds and well outside of the world's expectations. This inspirational, honest and provocative book explores how black British women - including Amma Asante, Charlene White, Jamelia, Denise Lewis, Malorie Blackman and Dawn Butler MP - have achieved success in their respective fields. Originally published: 2018
Everyone Versus Racism: A Letter To My Children
Patrick Hutchinson
'I just want equality, equality for all of us. At the moment, the scales are unfairly balanced and I just want things to be fair for my children, my grandchildren and future generations.' On 13th June 2020, Patrick Hutchinson, a black man, was photographed carrying a white injured man to safety during a confrontation in London between Black Lives Matter demonstrators and counter-protestors. The image went viral and quickly travelled around the world with Patrick being widely praised for his actions. In the press interviews that followed Patrick revealed a simple philosophy for his own personal beliefs on racism and why he had responded in the way he had. 'It's not black versus white, it's everyone versus the racists,' he said. In this poignant letter to his children, Patrick writes from the heart and shares the realities of life as a black man in Britain today.
Why I'm No Longer Talking To White People About Race
Reni Eddo-Lodge
In February, 2014, Reni Eddo-Lodge wrote about her frustration with the way discussions of race and racism in Britain were constantly being led by those who weren't affected by it. She posted the piece on her blog, and gave it the title: 'Why I'm No Longer Talking to White People about Race'. Her powerful, passionate words hit a nerve. The post went viral, and comments flooded in from others desperate to speak up about their own, similar experiences. Galvanised by this response, she decided to dig into the source of these feelings; this clear hunger for an open discussion. The result is a searing, illuminating, absolutely necessary exploration of what it is to be a person of colour in Britain today.
Voices Of The Windrush Generation: The Real Story Told By The People Themselves
David Matthews
With over 20 first-hand accounts from men, women, and children of Windrush, this work sheds light on the true impact of one of the most disastrous and damaging scandals in recent memory, and gives a platform to those most affected - those whose voices have yet to be truly heard. Their stories provide intimate, personal and moving perspective on what it means to be black in Britain today, and the heartache the 'hostile environment policy' our government has created has meant for those who have called this country home for half a century and more. Originally published: London: Blink Publishing, 2018
The Autobiography Of Martin Luther King, Jr
Martin Luther King
Compiled from his own papers, this biography of Martin Luther King shows how the mild-mannered, inquisitive child and student rebelled against segregation and how as a dedicated young minister, he constantly questioned the depths of his faith and limits of his wisdom.
Becoming
Michelle Obama
In a life filled with meaning and accomplishment, Michelle Obama has emerged as one of the most iconic and compelling women of our era. As First Lady of the United States of America - the first African-American to serve in that role - she helped create the most welcoming and inclusive White House in history, while also establishing herself as a powerful advocate for women and girls in the U.S. and around the world, dramatically changing the ways that families pursue healthier and more active lives, and standing with her husband as he led America through some of its most harrowing moments. Along the way, she showed us a few dance moves, crushed Carpool Karaoke, and raised two down-to-earth daughters under an unforgiving media glare. In her memoir, a work of deep reflection and mesmerising storytelling, Michelle Obama invites readers into her world.
I Can't Breathe: The Killing That Started A Movement
Matt Taibbi
The incredible story of the death of Eric Garner, the birth of the Black Lives Matter movement and the new fault lines of race, protest, policing and the power of the people. On July 17, 2014, a 43-year-old black man named Eric Garner died in New York after a police officer put him in a 'chokehold' during an arrest for selling bootleg cigarettes. The final moments of his life were captured on video and seen by millions - his agonised last words, 'I can't breathe', becoming a rallying cry for the nascent Black Lives Matter protest movement. Originally published: 2017
The Autobiography of Malcom X
Malcolm X
Written shortly before his assassination in 1965, this autobiography of Malcolm X traces his life from its violent beginnings in the Harlem Ghetto to his becoming one of the most important political figures of his time, and an icon in ours. Previous ed.: London: Hutchinson, 1966
Tribes: How Our Need To Belong Can Make Or Break The Good Society
David Lammy
David was the first black Briton to study at Harvard Law School and practised as a barrister before entering politics. He has served as the MP for Tottenham since 2000. Today, David is one of Parliament's most prominent and successful campaigners for social justice. He led the campaign for Windrush British citizens to be granted British citizenship and has been at the forefront of the fight for justice for the families affected by the Grenfell Tower fire. In 2007, inspired by the bicentenary of the Abolition of the Slave Trade Act and looking to explore his own African roots, David took a DNA test. It revealed that he was 25% Tuareg tribe (Niger), 25% Temne tribe (Sierra Leone), 25% Bantu trive (South Africa), with 5% traces of Celtic Scotland and a mishmash of other unidentified groups. Both memoir and call-to-arms, 'Tribes' explores both the benign and malign effects of our need to belong.
Taking Up Space: The Black Girl's Manifesto For Change
Chelsea Kwakye, Ore Ogunbiyi
As a minority in a predominantly white institution, taking up space is an act of resistance. And in higher education, feeling like you constantly have to justify your existence within institutions that weren't made for you is an ongoing struggle for many people. Chelsea Kwakye and Ore Ogunbiyi, two recent Cambridge graduates, wrote 'Taking Up Space' as a guide and a manifesto for change: tackling issues of access, unrepresentative curricula, discrimination in the classroom, the problems of activism and life before and after university.
Hidden Figures: The Untold Story Of The African American Women Who Helped Win The Space Race
Margot Lee Shetterly
Set amid the civil rights movement, the never-before-told true story of NASA's African-American female mathematicians who played a crucial role in America's space programme. Originally published: 2016
Bob Marley: The Untold Story
Chris Salewicz
What was it about Bob Marley that made him so popular in a world dominated by rock'n'roll? This biography explores this question and more by looking at the life and career of Marley. Originally published: London: HarperCollins, 2009
Born A Crime And Other Stories
Trevor Noah
Trevor Noah is the host of The Daily Show with Trevor Noah , where he gleefully provides America with its nightly dose of serrated satire. He is a light-footed but cutting observer of the relentless absurdities of politics, nationalism and race - and in particular the craziness of his own young life, which he's lived at the intersections of culture and history. In his first book, Noah tells his coming of age story with his larger-than-life mother during the last gasps of apartheid-era South Africa and the turbulent years that followed. Noah was born illegal - the son of a white, Dutch father and a black Xhosa mother, who had to pretend to be his nanny or his father's servant in the brief moments when the family came together. Originally published: 2016
Maya Angelou: The Complete Poetry
Maya Angelou
From her reflections on African American life and hardship in 'Just Give Me a Cool Drink of Water 'fore I Diiie' to her revolutionary celebrations of womanhood in 'Phenomenal Woman' and 'Still I Rise', and her elegant tributes to dignitaries Bill Clinton and Nelson Mandela ('On the Pulse of Morning' and 'His Day Is Done', respectively), every inspiring word of Maya Angelou's poetry is included in the pages of this volume.
Mouth Full Of Blood: Essays, Speeches, Meditations
Toni Morrison
Spanning four decades, these essays, speeches, and meditations interrogate the world around us. They are concerned with race, gender and globalisation. The sweep of American history and the current state of politics. The duty of the press and the role of the artist. Throughout 'A Mouth Full of Blood' our search for truth, moral integrity and expertise is met by Toni Morrison with controlled anger, elegance, and literary excellence. Originally published: as The source of self-regard. New York: Alfred A. Knopf, 2019
The Life And Rhymes Of Benjamin Zephaniah: The Autobiography
Benjamin Zephaniah
Benjamin Zephaniah, who has travelled the world for his art and his humanitarianism, now tells the one story that encompasses it all: the story of his life. In the early 1980s when punks and Rastas were on the streets protesting about unemployment, homelessness and the National Front, Benjamin's poetry could be heard at demonstrations, outside police stations and on the dance floor. His mission was to take poetry everywhere, and to popularise it by reaching people who didn't read books. His poetry was political, musical, radical and relevant. By the early 1990s, Benjamin had performed on every continent in the world and he hasn't stopped performing and touring since. Nelson Mandela, after hearing Benjamin's tribute to him while he was in prison, requested an introduction to the poet that grew into a lifelong relationship, inspiring Benjamin's work with children in South Africa. Originally published: London: Simon & Schuster, 2018
Black Poppies
Stephen Bourne
In 1914 there were at least 10,000 black Britons, many of African and West Indian heritage, fiercely loyal to their mother country. Despite being discouraged from serving in the British Army during the First World War, men managed to join all branches of the armed forces and black communities made a vital contribution, both on the front and at home. By 1918 it is estimated that the black population had trebled to 30,000, and after the war many black soldiers who had fought for Britain decided to make it their home. 'Black Poppies' explores the military and civilian wartime experiences of these men and of women, from the trenches to the music hall.
The Louder I Will Sing
Lee Lawrence
'The Louder I Will Sing' is a powerful, compelling and uplifting memoir about growing up in modern Britain as a young black man. It's a story both of people and politics, of the underlying racism beneath many of our most important institutions, but also the positive power that hope, faith and love can bring in response.
Dreams From My Father: A Story Of Race And Inheritance
Barack Obama
In this memoir written at the age of 33, Barack Obama, son of a black African father and a white American mother, describes the search for meaning in his life as a black American.
Children and young adults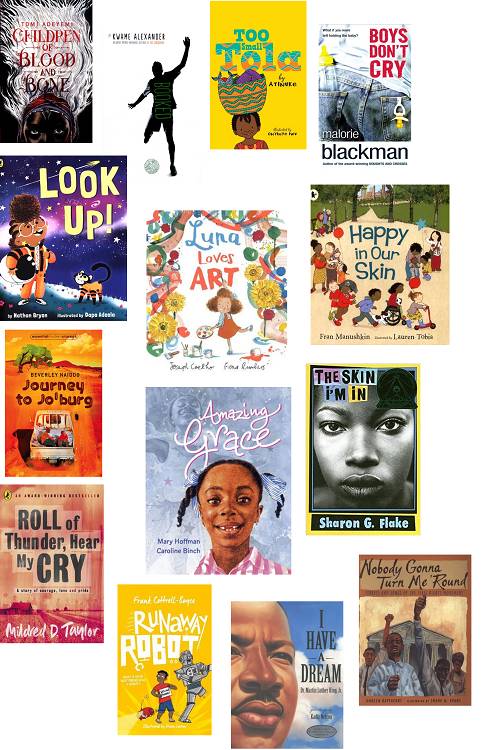 Children Of Blood And Bone
Tomi Adeyemi
Young adults
Zelie Adebola remembers when the soil of Orisha hummed with magic. Burners ignited flames, Tiders beckoned waves, and Zelie's Reaper mother summoned forth souls. But everything changed the night magic disappeared. Under the orders of a ruthless king, maji were targeted and killed, leaving Zelie without a mother and her people without hope. Now Zelie has one chance to bring back magic and strike against the monarchy. With the help of a rogue princess, Zelie must outwit and outrun the crown prince, who is hell-bent on eradicating magic for good.

Booked
Kwame Alexander
Young adults
Nobody can stop Nick Hall - he's a star on the football team, and life is about to get a whole lot sweeter when he asks out the girl of his dreams. But then a bombshell announcement shatters his world. Nick will need all his courage, both on and off the pitch.
Too Small Tola
Atinuke
7 – 9 years
Three delightful stories about Too -Small Tola, a young girl who, though small, is very determined. Tola lives in a flat in Lagos with her sister, Bola, who is very clever; her brother, Femi, who is very fast; and Grandmummy, who is very bossy. Tola proves to be stronger than she seems when she goes to market with Grandmummy and manages to carry home a basket full of yams and vegetables, chilli peppers and fish. When the taps in the flat don't work, it's Tola who brings water from the well, and it's Tola who saves the day when Mr Abdul, the tailor, needs his goods to be delivered quickly.

Boys Don't Cry
Malorie Blackman
Young adults
You're about to receive your A-level results & then a future of university & journalism awaits. But the day they're due to arrive your old girlfriend turns up unexpectedly - with a baby. Your baby. You agree to look after it, just for an hour or two. Then she doesn't come back - and your life changes forever. Originally published: London: Doubleday, 2010
Look Up
Nathan Bryon
Picture book
Rocket's going to be the greatest astronaut, star-catcher space-traveller that has ever lived! But first, she needs to convince her big brother Jamal to stop looking down at his phone and start looking up at the stars. Bursting with energy and passion about space and the natural world, this heart-warming picture book will reignite your desire to turn off those screens and switch on to the outside world.

Luna Loves Art
Joseph Coelho
Picture book
At the gallery, Luna is transfixed by the famous art, but her classmate Finn doesn't seem to want to be there at all. Finn's family doesn't look like the one in Henry Moore's 'Family Group' sculpture, but then neither does Luna's. Maybe all Finn needs is a friend. Join Luna and Finn at the Art Gallery and step inside famous works of art by Van Gogh, Picasso, Jackson Pollock and more! Can you spot all the art? Created by award-winning poet Joseph Coelho, this book follows Luna Loves Library Day as an introduction to different types of family.
Happy In Our Skin
Fran Manushkin
Picture book
Is there anything more splendid than a baby's skin? For families of all stripes comes a sweet celebration of what makes us unique - and what holds us together. Look at you! You look so cute in your brand-new birthday suit. Just savour these bouquets of babies - cocoa-brown, cinnamon, peaches and cream. As they grow, their clever skin does too, enjoying hugs and tickles, protecting them inside and out, and making them one of a kind. Fran Manushkin's rollicking text and Lauren Tobia's illustrations paint a breezy and irresistible picture of the human family - and how wonderful it is to be just who you are. Originally published: Somerville: Candlewick Press, 2015

Journey to Jo'burg: A South African Story
Beverley Naidoo
9 – 11 years
This is the story of love, commitment and the flowering of the human spirit against the background of South Africa's apartheid. Frightened that their baby sister Dineo will die, 13-year-old Naledi and her younger brother Tiro run away from their grandmother to Johannesburg to find their mother, who works there as a maid.

Amazing Grace
Mary Hoffman
Picture book
Grace loves to act out stories. When her school decides to perform Peter Pan, Grace longs to play the lead, but her classmates point out that Peter was a boy, and besides, he wasn't black. Originally published: 1991
The Skin I'm In
Sharon Flake
Maleeka suffers from the taunts of other kids, because of her good grades, or her dark, black skin. When Miss Saunders, whose face is blotched with a white patch, starts at school, Maleeka is surprised at her attitude. She loves the skin she's in.

Roll Of Thunder, Hear My Cry
Mildred D Taylor
Young adult
The Mississippi of the 1930s is a hard place for a black child to grow up in. Cassie begins to reach a painful understanding of life when she witnesses the hatred and destruction around her, and learns when it is important to fight for principle. Originally published: U.S.: Dial, 1976; London: Gollancz, 1977
Nobody Gonna Turn Me 'Round: Stories And Songs Of The Civil Rights Movement
Doreen Rappaport
9 – 11 years
Chronicling the struggles of the black civil rights movement from the 1955 Montgomery Bus Boycott up until the 1965 Voting Rights Bill, this powerful anthology weaves together songs, poems, memoirs, letters and court testimonies of those active in the movement, along with a meticulously researched narrative. Originally published: Cambridge, Mass.: Candlewick, 2006
I Have A Dream
Martin Luther King Jr, Kadir Nelson
Ages 5 – 7
On August 28, 1963, on the steps of the Lincoln Memorial during the March on Washington, Martin Luther King gave one of the most powerful and memorable speeches in our nation's history. His words, paired with Kadir Nelson's paintings, make for a picture book certain to be treasured by children and adults alike.

Runaway Robot
Frank Cottrell Boyce
Ages 9 – 11
Alfie is off school after an accident in which he lost both his hand and his confidence. He's lonely all day on his own. So when he comes across Eric, a one-legged robot in need of a friend, he brings him home with him. But a ban on humanoid robots has just been passed, which means Alfie is breaking the law by sheltering Eric. Can he keep his new friend safe - and himself - out of trouble?
eResources
Newspapers and magazines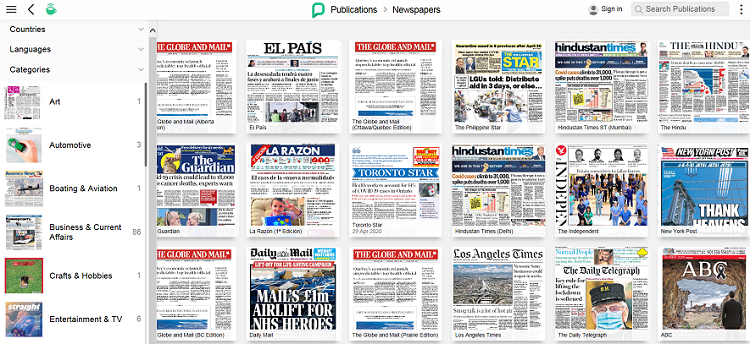 PressReader gives you unlimited access to 1000s of digital newspapers and magazines from around the world, so you can stay connected to the stories you love.
Digital Entertainment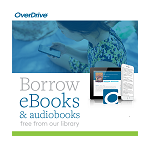 While we are being asked to stay at home where possible have you given Overdrive a try? Access to thousands of eBooks and eAudiobooks.

Not able to attend your regular reading club? Overdrive provide access to a Digital Book Club with seasonal titles to download and discuss online.

This month's title is The Tattooist of Auschwitz by Heather Morris and the discussion runs between 10th - 24th September 2020.
Try it now

For previous titles check out Together We Read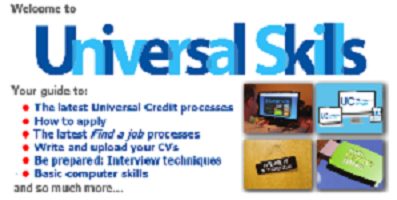 Universal Skills: This resource provides information on:
• Universal Credit – help to find the right credit for you
• Finding a Job – all the skills you need to get started including basic computer skills, creating a CV, writing covering letters and applying for jobs online
• Job Skills – Employability Awareness – Interview skills, how to prepare, techniques and tips, plus customer relations and preparing for the first day in a new job.
Free with your library membership.
New Resource - My Library App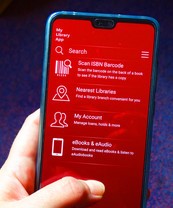 Harrow Libraries now have an app giving you quick access to the library catalogue from your phone or tablet. Check your account, renew items, browse the catalogue and make reservations. Spotted an interesting title in a bookshop? Scan the ISBN, check it's in stock and reserve it. It's quick and easy to use and compatible with Androids and iPhones.
Search for "My Library App" in Google Play or the App Store.