Books, e-books, magazines
There is no age limit to discovering the joy of reading. Whether you are studying, wanting to learn something new or reading for pleasure lives are enhanced through books.
While libraries are offering reduced services due to social distancing regulations remember we have titles in a variety of formats including eBook and/or eAudiobook for download to your own device.
Our main providers are:
Overdrive: eBooks, eAudiobooks & digital magazines
Borrowbox: eBooks and eAudiobooks
Ulverscroft uLibrary: eAudiobooks
PressReader: digital newspapers & magazines

Our recommendations
You can find these books on our online catalogue

Adult fiction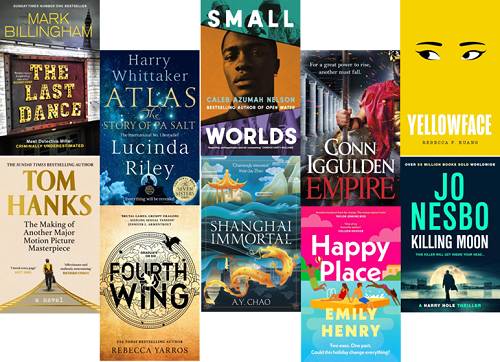 The Last Dance
Mark Billingham
A new series from Mark Billingham – meet Detective Miller…
He's a detective, a dancer, he has no respect for authority ­- and he's the best hope Blackpool has for keeping criminals off the streets. Meet Detective Declan Miller.

A double murder in a seaside hotel sees a grieving Miller return to work to solve what appears to be a case of mistaken identity. Just why were two completely unconnected men taken out?

Despite a somewhat dubious relationship with both reality and his new partner, can the eccentric, offbeat Miller find answers where his colleagues have found only an impossible puzzle?
Small Worlds
Caleb Azumah Nelson
The one thing that can solve Stephen's problems is dancing.
Dancing at church, with his parents and brother, the shimmer of Black hands raised in praise; he might have lost his faith, but he does believe in rhythm.
Dancing with his friends, somewhere in a basement with the drums about to drop, while the DJ spins garage cuts.
Dancing with his band, making music which speaks not just to the hardships of their lives, but the joys too.
Dancing with his best friend Adeline, two-stepping around the living room, crooning and grooving, so close their heads might touch.
Dancing alone, at home, to his father's records, uncovering parts of a man he has never truly known.
Stephen has only ever known himself in song. But what becomes of him when the music fades?
'Small Worlds' is an exhilarating and expansive novel about the worlds we build for ourselves, the worlds we live, dance and love within.

Atlas: The Story of Pa Salt
Lucinda Riley | Harry Whittaker
1928, Paris. A boy is found, moments from death, and taken in by a kindly family. Gentle, precocious, talented, he flourishes in his new home, and the family show him a life he hadn't dreamed possible. But he refuses to speak a word about who he really is.

As he grows into a young man, falling in love and taking classes at the prestigious Conservatoire de Paris, he can almost forget the terrors of his past, or the promise he has vowed to keep. But across Europe an evil is rising, and no-one's safety is certain. In his heart, he knows the time will come when he must flee once more.

2008, the Aegean. The seven sisters are gathered together for the first time, on board the Titan, to say a final goodbye to the enigmatic father they loved so dearly.

To the surprise of everyone, it is the missing sister who Pa Salt has chosen to entrust with the clue to their pasts. But for every truth revealed, another question emerges. The sisters must confront the idea that their adored father was someone they barely knew. And even more shockingly: that these long-buried secrets may still have consequences for them today.

Killing Moon
Jo Nesbo
Two young women are missing, their only connection being that they attended the same party, hosted by a notorious businessman. When one of the women is found murdered, the police discover an unusual signature left by the killer, giving them reason to suspect he will strike again.
They're facing a killer unlike any other - and catching him calls for a detective like no other. But the legendary Harry Hole is gone. Struck off the force, down and out in LA, it seems nothing can entice him back to Oslo.
Until the woman who saved Harry's life is put in grave danger, and he is forced to join the hunt for the murderer.
To catch him will push Harry to the limit. He'll need to bring together a misfit team of former operatives to do what he can't do alone: stop an unstoppable killer. But as the evidence mounts, it becomes clear that there is more to this case than meets the eye.
For Harry, this just got personal.

Empire
Conn Iggulden
Pericles is more than a hero. He's the leader of Athens. The empire's beacon of light.

But even during times of peace, the threat of Sparta - Athens's legendary rival - looms large on the horizon. When a sudden catastrophe brings Sparta to its knees, Pericles sees a golden opportunity to forever shift the balance of power in his city's favour.

For sometimes, the only way to win lasting peace is to wage war.

Sparta may be weak, but their power is far from extinguished. Soon a ruthless young boy steps forward to lead the Spartans back to greatness.

As the drums of battle draw closer, can Pericles rise once more?

Or will the world's greatest empire fall under his watch?

Happy Place
Emily Henry
Two exes. One pact.
Could this holiday change everything?

Harriet and Wyn are the perfect couple - they go together like bread and butter, gin and tonic, Blake Lively and Ryan Reynolds.

Every year, they take a holiday from their lives to drink far too much wine with their favourite people in the world.

Except this year, they are lying through their teeth, because Harriet and Wyn broke up six months ago. And they still haven't told anyone.

But the cottage is for sale so this is the last time they'll all be here together. They can't bear to break their best friends' hearts so they'll fake it for one more week.

But how can you pretend to be in love - and get away with it - in front of the people who know you best?
Fourth Wing
Rebecca Yarros
Welcome to the brutal and elite world of Basgiath War College, where everyone has an agenda, and every night could be your last . . .

Twenty-year-old Violet Sorrengail was supposed to enter the Scribe Quadrant, living a quiet life among books and history. Now, the commanding general - also known as her tough-as-talons mother - has ordered Violet to join the hundreds of candidates striving to become the elite of Navarre: dragon riders.

But when you're smaller than everyone else and your body is brittle, death is only a heartbeat away . . . because dragons don't bond to 'fragile' humans. They incinerate them.

With fewer dragons willing to bond than cadets, most would kill Violet to better their own chances of success. The rest would kill her just for being her mother's daughter - like Xaden Riorson, the most powerful and ruthless wingleader in the Riders Quadrant.

She'll need every edge her wits can give her just to see the next sunrise.

Yet, with every day that passes, the war outside grows more deadly, the kingdom's protective wards are failing, and the death toll continues to rise. Even worse, Violet begins to suspect leadership is hiding a terrible secret.

Alliances will be forged. Lives will be lost. Traitors will become allies . . . or even lovers. But sleep with one eye open because once you enter, there are only two ways out: graduate or die.
The Making of Another Major Motion Picture Masterpiece: A Novel
Tom Hanks
A wildly ambitious story of the making of a colossal, star-studded, multimillion-dollar superhero action film, and the humble comic book that inspired it all.

Spanning 80 years of a changing America and culminating in the opening of the film, we meet a colourful cast of characters including a troubled soldier returning from war, a young boy with an artistic gift, an inspired and eccentric director, a pompous film star on the rise, a tireless production assistant and countless film crew members that together create Hollywood magic.

Funny, touching, and wonderfully thought-provoking, The Making of Another Major Motion Picture Masterpiece offers an insider's take on the momentous efforts it takes to make a film. At once a reflection on America's past and present, on the world of show business and the real world we all live in.
Shanghai Immortal
A.Y. Chao
Half vampire. Half fox-spirit. All trouble.

Pawned by her mother to the King of Hell as a child, Lady Jing is half-vampire, half-hulijing fox-spirit and all sasshole. As the King's ward, she has spent the past ninety years running errands, dodging the taunts of the spiteful hulijing courtiers, and trying to control her explosive temper - with varying levels of success.

So when Jing overhears the courtiers plotting to steal a priceless dragon pearl from the King, she seizes her chance to expose them, once and for all.

With the help of a gentle mortal tasked with setting up the Central Bank of Hell, Jing embarks on a wild chase for intel, first through Hell and then mortal Shanghai. But when her hijinks put the mortal in danger, she must decide which is more important: avenging her loss of face, or letting go of her half-empty approach to life for a chance to experience tenderness - and maybe even love.
Yellowface
R.F. Kuang
Athena Liu is a literary darling and June Hayward is literally nobody.
White lies
When Athena dies in a freak accident, June steals her unpublished manuscript and publishes it as her own under the ambiguous name Juniper Song.
Dark humour
But as evidence threatens June's stolen success, she will discover exactly how far she will go to keep what she thinks she deserves.
Deadly consequences…
What happens next is entirely everyone else's fault.
Adult non-fiction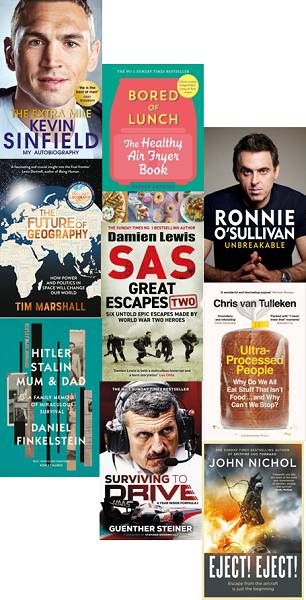 The Extra Mile
Kevin Sinfield | Paul Hayward
The Extra Mile is no ordinary sports memoir. But Kevin Sinfield is no ordinary sportsman. A one-club legend of Leeds Rhinos, who has now crossed codes as a defence coach for the England national rugby union team, Kevin Sinfield is a rugby icon. But in recent years has shown heroism of a very different kind through his selfless and extraordinary fundraising for motor neurone disease (MND), the terminal illness that has affected his best mate and former teammate Rob Burrow.

Sinfield's epic challenges have included running 7 ultra marathons in 7 days, and running over 101 miles in 24 hours. In the process, Sinfield has captured the hearts of the nation and over £7 million for MND. He was awarded an OBE in the Queen's Birthday honours for his efforts, along with the Freedom of Leeds and a special BBC Award for his fundraising.

Told with Sinfield's characteristic warmth, dry wit and inspirational leadership, The Extra Mile is the story of an astonishing life, of an enduring friendship, of perseverance against the most difficult of challenges, and of a remarkable, humble human being who has defied the odds. The book equips readers with the tools and the mindset to embrace togetherness and to overcome their own challenges. It leaves the reader with the urgent question: Who would you go the extra mile for to help in life?
Bored of Lunch: The Healthy Air Fryer Book
Nathan Anthony
Whether you're an air fryer fanatic or new to these time- and money-saving appliances, hugely popular healthy-eating platform, Bored of Lunch, will revolutionise your cooking packed with recipes that are quick, healthy and completely delicious.

Air fryers are becoming the go-to kitchen gadget for making super tasty fuss-free food.

As a lower energy alternative to a conventional oven, air fryers are a cost efficient way to make all your favourite dishes and save on your household bill. And, as a low-oil cooking method, they're ideal if you're keeping an eye on your calories, too.

With a photo for every recipe, this book features fan-favourites such as Honey Chilli Beef and Cream Egg Croissant Balls as well as brand new recipes such as Sweet Potato Katsu Curry, Fish Tacos and Buffalo Chicken and Cheese Taquitos. Chapters include Starters and Snacks, Speedy Lunches, Fakeaways, Weekday Dinners and Sweet Treats; making this food for every day and every occasion.
Eject! Eject!: Escape from the Aircraft is Just the Beginning
John Nichol

When Jo Lancaster, the first British pilot to eject in an emergency, triggered his ejection seat in 1949, it took thirty seconds before he was safely away from the aircraft and under his parachute. Since those first post-Second World War ejections, many tens of thousands of lives have been saved by increasingly sophisticated escape systems. When John Nichol's Tornado was blasted out of the sky during the 1991 Gulf War, a mere 2.5 seconds elapsed between pulling the ejection handle and his parachute opening. Today, the newest seats can automatically initiate ejection if the system decides the pilot faces mortal danger and cannot react quickly enough.

Now, Nichol tells the incredible story of the ejection seat in war and in peace – of the pioneers who risked everything during the early days of development in the 1940s and 50s, of the designers who went head to head with the authorities in order to realise their vision, and of the extraordinary men and women who were given a second chance at life after facing disaster.

We see how the technology was adapted when the prospect of crashing in North Vietnam was sometimes preferable to ejecting and risking capture; what happens to the body when it is catapulted from an aircraft under great force; how an ejectee can be rescued from enemy territory.
Unbreakable
Ronnie O'Sullivan
A teenage snooker prodigy, Ronnie turned professional with the highest of expectations. This pressure, together with a challenging personal life, catapulted Ronnie into a life of excess and addiction. He was winning titles - his first within a year of turning professional - but losing himself and his game as he tried to block out the mental pain and misery. Whilst Ronnie appeared at the height of the game to spectators, these were the moments when he felt at his lowest.

In the year 2000 Ronnie started rehab and began the journey to get his life back, addressing his demons and working on developing a stronger and more resilient mindset. More than twenty years on, Ronnie is still obsessed with delivering his peak performance and never happier than when in a snooker hall, but success has now taken on a new meaning for the record-equalling world champion.

Framed around the many lessons Ronnie has learned from his extraordinary career, Unbreakable takes us beyond the success and record-breaking achievements to share the reality - and brutality - of making it to the very top, whatever your field. Ronnie is the first to say he doesn't have all the answers, but in sharing the experiences that have shaped him and mistakes that have made him, he hopes to help readers navigate their own personal challenges and obstacles, and in turn reach their maximum potential.

Ultra-Processed People
Chris Van Tulleken
An eye-opening investigation into the science, economics, history and production of ultra-processed food.

It's not you, it's the food.

We have entered a new 'age of eating' where most of our calories come from an entirely novel set of substances called Ultra-Processed Food, food which is industrially processed and designed and marketed to be addictive. But do we really know what it's doing to our bodies?

Join Chris in his travels through the world of food science and a UPF diet to discover what's really going on. Find out why exercise and willpower can't save us, and what UPF is really doing to our bodies, our health, our weight, and the planet (hint: nothing good).

For too long we've been told we just need to make different choices, when really we're living in a food environment that makes it nigh-on impossible. So this is a book about our rights. The right to know what we eat and what it does to our bodies and the right to good, affordable food.
The Future of Geography
Tim Marshall
This isn't science fiction. It's astropolitics.
We're entering a new space race – and it could revolutionise life on Earth.
Space: the new frontier, a wild and lawless place. It is already central to communication, economics, military strategy and international relations on Earth. Now, it is the latest arena for human exploration, exploitation – and, possibly, conquest. We're heading up and out, and we're taking our power struggles with us. China, the USA and Russia are leading the way.
From physical territory and resources to satellites, weaponry and strategic choke points, geopolitics is as important in the skies above us as it is down below. If you've ever wondered if humans are going back to the Moon, who will benefit from exploration or what space wars might look like, the answers are here.
With all the insight and wit that have made Tim Marshall the UK's most popular writer on geopolitics, this gripping book shows how we got here and where we're going, covering great-power rivalry; technology; commerce; combat in space; and what it means for all of us down here on Earth. This is essential reading on power, politics and the future of humanity.
SAS Great Escapes Two
Damien Lewis
SAS Great Escapes Two recounts the hitherto untold stories of six of the most dramatic and daring escapes executed by the world's most famous fighting force during WWII. From the very earliest SAS missions to the push into Nazi-occupied Europe, they cover some of the key figures in the Regiment, including its founder, David Stirling, plus other lesser-known heroes.

With each story comes an edge-of-the-seat, rollercoaster ride in classic Damien Lewis fashion, as readers are plunged into the escapees' experiences - sharing their most terrifying yet inspiring moments. These stunning accounts of survival beggar belief, revealing nerve-racking bluff and deception, knife-edge encounters with enemy hunter forces hellbent on wreaking vengeance and murder, but also incredible acts of mercy and kindness from those who risk all to help the escapees on their way.

Each tale of breath-taking derring-do reveals how necessity really is the mother of all invention, as with every step and at every juncture these fugitives defied fate, snatching survival and freedom from the jaws of the enemy, and all the horrors that would have followed capture.

Damien Lewis has worked closely with the families of those portrayed, accessing wartime diaries, letters, mission reports, interrogation transcripts and more, to relate how the men of the SAS crossed blazing deserts, evaded enemy hunter forces and escaped through hostile lands, battling against seemingly insurmountable odds. But most of all, these uplifting tales of endurance beyond measure showcase the triumph of the human spirit and the will to survive.
Hitler, Stalin, Mum and Dad: A Family Memoir of Miraculous Survival
Daniel Finkelstein
Daniel's mother Mirjam Wiener was the youngest of three daughters born in Germany to Alfred and Margarete Wiener. Alfred, a decorated hero from the Great War, is now widely acknowledged to have been the first person to recognise the existential danger Hitler posed to the Jews and began, in 1933, to catalogue in detail Nazi crimes. After moving his family to Amsterdam, he relocated his library to London and was preparing to bring over his wife and children when Germany invaded the Netherlands. Before long, the family was rounded up, robbed and sent to starve in Bergen-Belsen.
Daniel's father Ludwik was born in Lwów, the only child of a prosperous Jewish family. In 1939, after Hitler and Stalin carved up Poland, Ludwik's father was arrested and sentenced to hard labour in the Gulag. Meanwhile, deported to Siberia and working as a slave labourer on a collective farm, Ludwik survived the freezing winters in a tiny house he built from cow dung.
Hitler, Stalin, Mum and Dad is a deeply moving, personal and at times horrifying memoir about Finkelstein's parents' experiences at the hands of the two genocidal dictators of the twentieth century. It is a story of persecution; survival; and the consequences of totalitarianism told with the almost unimaginable bravery of two ordinary families shining through.
Surviving to Drive
Guenther Steiner
'People talk about football managers being under pressure. Trust me, that's nothing. Pressure is watching one of your drivers hit a barrier at 190mph and exploding before your eyes...'

Guenther Steiner is one of motor racing's biggest and most celebrated characters, known to millions for his show-stealing appearances on Netflix's hugely popular fly on the wall series, Drive to Survive.

In Surviving to Drive, the Haas team principal takes readers inside his Formula 1 team for the entirety of the 2022 season, giving an unobstructed view of what really takes place behind the scenes. Through this unique lens, Guenther takes us on the thrilling rollercoaster of life at the heart of high stakes motor racing.

Packed full of twists and turns, from hiring and firing drivers, balancing books, pre-season preparations, the design, launch and testing of a car - and of course, the race calendar itself - this is the first time that an F1 team has allowed an acting team principal to tell the full story of a whole season.
Children and young adults




Mean Green Time Machine
Sue Hendra
Suitable for ages 0-5
It's night-time in the supermarket, and the veggies are trying DESPERATELY... not to laugh at Supertato's baby photos!

Supertato looks SUPER cute, but just as he's telling Carrot that he hasn't always been super, a certain mean, green character overhears him. If ONLY Evil Pea could have got rid of Supertato BEFORE he had his superpowers! But that would mean he'd need a time machine...wouldn't it?

Time travel THRILLS in the latest Supertato story.

Winnie-the-Pooh Meets The King
Jane Riordan
Suitable for ages 0-5

'Kings and crowns and whatnot? It sounds like something out of a dream or a fairy tale,' said Eeyore.
When Winnie-the-Pooh and his friends go on an expedition to a Royal London Park they don't expect to find themselves in the middle of a royal adventure.
This charming story takes place at a very special Royal Coronation. When Winnie-the-Pooh and Piglet lose Eeyore in the crowd, they come up with a plan to find their friend. Along the way they meet a Very Important Person and learn about the importance of kindness, helping others and new beginnings.

The Ghoul in the School
Marcus Rashford | Alex Falase-Koya
Suitable for ages 7-9
There's something strange going on at school . . .

The Breakfast Club Investigators haven't managed to solve a mystery in months and Marcus is worried that the group is going to break up! So when Gbenga, the captain of the school basketball team, comes to ask for their help Marcus knows this might just be the Investigator's last chance to prove themselves.

The basketball team have had a streak of bad luck, and Marcus and his mates are sure there's more going on than meets the eye. As the mystery deepens and they uncover one surprising clue after another, they discover that someone – or something – has cursed the basketball team! Can Marcus and his friends solve the mystery in time?

50 Times Football Changed The World
Gary Lineker | Ivor Baddiel
Suitable for ages 7-9
From football legend, Gary Lineker, comes a collection of truly uplifting, empowering and extraordinary football stories that have inspired him throughout his career.

Have you heard about the most controversial goal in world cup history?

Or about the women's team who showed the world that football truly is for everyone?

And I bet you didn't know about the team that won a match without scoring a single goal?

Written with author and TV writer Ivor Baddiel, in this fun and fact-packed book, Gary Lineker shares 50 of his favourite football moments that highlight the many awe-inspiring, heart-warming and eye-opening moments that have changed the game - and sometimes the world - forever.

From pioneering players, trailblazing managers, and incredible tales both on and off the pitch, this book contains everything you ever wanted to know about the beautiful game. And with Gamechanger Awards presented by Gary to incredible teams and players throughout, this is the ultimate gift for young footie fans everywhere.
The Night We Got Stuck in a Story
Ben Miller
Suitable for ages 7-9
Lana and Harrison are staying with their grandparents, when they discover their favourite tree to play in is under threat. That night, a magical golden thread leads them up through the hollow of the tree into a storybook land, where wind and rain rage and a fearsome beast terrifies all who live there.

When Harrison is kidnapped by the evil Queen, Lana must do whatever it takes to find him, save the villagers and restore the balance of the storybook world, before the night is out.

You Grow Girl!: The Complete No Worries Guide to Growing UP
Zoe Williams
Suitable for ages 9-11
Growing up is exciting, but it can also be a strange and confusing time. This book will help you can ride your rollercoaster more smoothly!

We'll cover the usual things such as periods and body changes, but also equip you with the knowledge you need to flourish and thrive in today's world, from self-care and recognising healthy relationships to talking about your mental health with confidence.

Packed with easy-to-understand information, myth-busting advice and fun illustrations, this is the ultimate growing-up guide for girls aged 9+ who want to feel empowered, informed and positive about becoming the very best version of themselves.
Skandar and the Phantom Rider
A.F. Steadman
Suitable for ages 9-11
The Island shall have its revenge . . .

Skandar Smith has achieved his dream to train as a unicorn rider.

But as Skandar and his friends enter their second year at the Eyrie, a new threat arises. Immortal wild unicorns are somehow being killed, a prophecy warns of terrible danger, and elemental destruction begins to ravage the Island.

Meanwhile, Skandar's sister, Kenna, longs to join him – and Skandar is determined to help her, no matter what. As the storm gathers, can Skandar discover how to stop the Island tearing itself apart – before it's too late for them all?
Ellie Pillai is Brown
Christine Pillainayagam
Suitable for ages 11-14
My name is Ellie. Ellie Pillai . . . And I suppose I am a little bit weird, but then, aren't we all, just a little bit?

Most days, Ellie Pillai is somewhere between invisible, and not very cool - and usually she's okay with that. But suddenly, Ellie feels different. Maybe it's the new boy at school who makes her brain explode into rainbows every time she sees him (and also happens to be going out with her best friend), or maybe it's her new drama teacher, the one who seems to have noticed she exists. Suddenly, her misfit style, her skin colour, her songwriting and all that getting lost in the music in her head seem to be okay too. Because maybe standing out isn't a bad thing after all.
eResources

Press Reader

PressReader gives you unlimited access to 1000s of digital newspapers and magazines from around the world, so you can stay connected to the stories you love.
Overdrive
While we are being asked to stay at home where possible have you given Overdrive a try? Access to thousands of eBooks and eAudiobooks.

Borrowbox
Borrowbox provides access to 1000s of eBooks and audio books.
My Library App

Harrow Libraries now have an app giving you quick access to the library catalogue from your phone or tablet. Check your account, renew items, browse the catalogue and make reservations. Spotted an interesting title in a bookshop? Scan the ISBN, check it's in stock and reserve it. It's quick and easy to use and compatible with Androids and iPhones.
Search for "My Library App" in Google Play or theApp Store.