Books, e-books, magazines
There is no age limit to discovering the joy of reading. Whether you are studying, wanting to learn something new or reading for pleasure lives are enhanced through books.
While libraries are offering reduced services due to social distancing regulations remember we have titles in a variety of formats including eBook and/or eAudiobook for download to your own device.
Our main providers are:
Overdrive: eBooks, eAudiobooks & digital magazines
Borrowbox: eBooks and eAudiobooks
Ulverscroft uLibrary: eAudiobooks
PressReader: digital newspapers & magazines

Our recommendations
You can find these books on our online catalogue

Adult fiction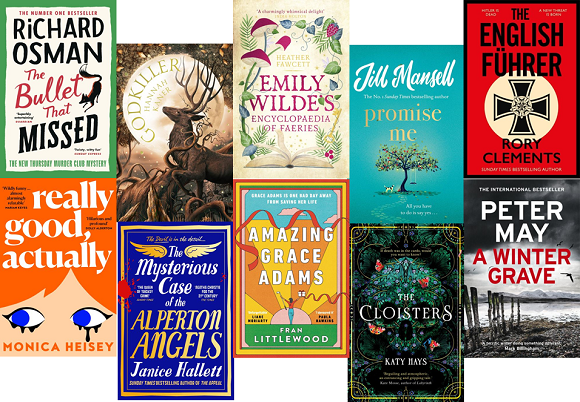 The Bullet That Missed
Richard Osman
It is an ordinary Thursday, and things should finally be returning to normal.
Except trouble is never far away where the Thursday Murder Club are concerned. A local news legend is on the hunt for a sensational headline, and soon the gang are hot on the trail of two murders, ten years apart.
To make matters worse, a new nemesis pays Elizabeth a visit, presenting her with a deadly mission: kill or be killed. While Elizabeth grapples with her conscience (and a gun), the gang and their unlikely new friends (including TV stars, money launderers and ex-KGB colonels) unravel a new mystery. But can they catch the culprit and save Elizabeth before the murderer strikes again?
'Tender, hopeful and funny' Marian Keyes
Really Good, Actually
Monica Heisey
One of the most hotly anticipated, hilarious and addictive debut novels of 2023, from Schitt's Creek and Workin' Moms screenwriter and electric new voice in fiction, Monica Heisey.
I feel like when you get a divorce everyone's wondering how you ruined it all, what made you so unbearable to be with. If your husband dies, at least people feel bad for you.
Maggie's marriage has ended just 608 days after it started, but she's fine – she's doing really good, actually. Sure, she's alone for the first time in her life, can't afford her rent and her obscure PhD is going nowhere . . . but at the age of twenty-nine, Maggie is determined to embrace her new status as a Surprisingly Young Divorcé.
Soon she's taking up 'sadness hobbies' and getting back out there, sex-wise, oversharing in the group chat and drinking with her high-intensity new divorced friend Amy. As Maggie throws herself headlong into the chaos of her first year of divorce, she finds herself questioning everything, including: Why do we still get married? Did I fail before I even got started? How many Night Burgers until I'm happy?
Laugh-out-loud funny, razor sharp and painfully relatable, Really Good, Actually is an irresistible debut novel about the uncertainties of modern love, friendship and happiness from a stunning new voice in fiction, Monica Heisey.

A Winter Grave
Peter May
It is the year 2051. Warnings of climate catastrophe have been ignored, and vast areas of the planet are under water, or uninhabitably hot. A quarter of the world's population has been displaced by hunger and flooding, and immigration wars are breaking out around the globe as refugees pour into neighbouring countries. By contrast, melting ice sheets have brought the Gulf Stream to a halt and northern latitudes, including Scotland, are being hit by snow and ice storms.
It is against this backdrop that Addie, a young meteorologist checking a mountain top weather station, discovers the body of a man entombed in ice.
The dead man is investigative reporter, George Younger, missing for three months after vanishing during what he claimed was a hill-walking holiday. But Younger was no hill walker, and his discovery on a mountain-top near the Highland village of Kinlochleven, is inexplicable.
Cameron Brodie, a Glasgow detective, sets out on a hazardous journey to the isolated and ice-bound village. He has his own reasons for wanting to investigate a murder case so far from his beat.
Brodie must face up to the ghosts of his past and to a killer determined to bury forever the chilling secret that his investigation threatens to expose.

Godkiller
Hannah Kaner
No. 1 Sunday Times Bestseller
You are not welcome here, godkiller
Kissen's family were killed by zealots of a fire god. Now, she makes a living killing gods, and enjoys it. That is until she finds a god she cannot kill: Skedi, a god of white lies, has somehow bound himself to a young noble, and they are both on the run from unknown assassins.
Joined by a disillusioned knight on a secret quest, they must travel to the ruined city of Blenraden, where the last of the wild gods reside, to each beg a favour.
Pursued by demons, and in the midst of burgeoning civil war, they will all face a reckoning – something is rotting at the heart of their world, and only they can be the ones to stop it.

The English Fuhrer
Rory Clements
In the gripping new 2023 spy thriller from the Sunday Times bestselling author of The Man in the Bunker, a retired spy must uncover a deadly plot as Britain counts the cost of war. But who is the English Führer?
Autumn 1945 - Off the east coast of England, a Japanese sub surfaces, unloads its mysterious cargo, then blows itself to pieces.

Former spy Professor Tom Wilde is enjoying peacetime in Cambridge, settling back into teaching and family life. Until a call from senior MI5 boss Lord Templeman brings him out of retirement.

A nearby village has been locked down by the military, its residents blighted by a deadly illness. No one is allowed in or out.

There are rumours the Nazi machine is still operational, with links to Unit 731, a notorious Japanese biological warfare research laboratory. But how could they possibly be plotting on British soil - and why?

What's more, Wilde and Templeman's names are discovered on a Gestapo kill list. And after a series of assassinations an unthinkable question emerges: could an Englishman be behind the plot?

The Mysterious Case of the Alperton Angels
Janice Hallett
Open the safe deposit box.
Inside you will find research material for a true crime book.
You must read the documents, then make a decision.
Will you destroy them? Or will you take them to the police?

Everyone knows the sad story of the Alperton Angels: the cult who brainwashed a teenage girl and convinced her that her newborn baby was the anti-Christ. Believing they had a divine mission to kill the infant, they were only stopped when the girl came to her senses and called the police. The Angels committed suicide rather than stand trial, while mother and baby disappeared into the care system.

Nearly two decades later, true-crime author Amanda Bailey is writing a book on the Angels. The Alperton baby has turned eighteen and can finally be interviewed; if Amanda can find them, it will be the true-crime scoop of the year, and will save her flagging career. But rival author Oliver Menzies is just as smart, better connected, and is also on the baby's trail.

As Amanda and Oliver are forced to collaborate, they realise that what everyone thinks they know about the Angels is wrong. The truth is something much darker and stranger than they'd ever imagined. And the story of the Alperton Angels is far from over.
The Cloisters
Katy Hays
Ann Stilwell arrives in New York City, hoping to spend her summer working at the Metropolitan Museum of Art. Instead, she is assigned to The Cloisters, a gothic museum and garden renowned for its medieval and Renaissance collections.

There she is drawn into a small circle of charismatic but enigmatic researchers, each with their own secrets and desires, including the museum's curator, Patrick Roland, who is convinced that the history of Tarot holds the key to unlocking contemporary fortune telling.

Relieved to have left her troubled past behind and eager for the approval of her new colleagues, Ann is only too happy to indulge some of Patrick's more outlandish theories. But when Ann discovers a mysterious, once-thought lost deck of 15th-century Italian tarot cards she suddenly finds herself at the centre of a dangerous game of power, toxic friendship and ambition.

And as the game being played within the Cloisters spirals out of control, Ann must decide whether she is truly able to defy the cards and shape her own future . . .
Promise Me
Jill Mansell
One minute Lou is happily employed, with a perfect flat. The next, her home and job have gone. Suddenly she has to start over.

The last thing Lou wants is to move to a tiny Cotswolds village. She certainly doesn't intend to work for curmudgeonly eighty-year-old Edgar Allsopp. But Edgar is about to make her the kind of promise nobody could ignore. In return, she secretly vows to help him fall in love with life again.

Foxwell is also home to Remy, whose charm and charisma are proving hard to ignore. But Lou hasn't recovered from the last time she fell for a charmer. She needs a distraction - and luckily one's about to turn up.

Secrets never stay hidden for long in Foxwell, nor are promises always kept. And no one could guess what lies ahead...
Amazing Grace Adams
Fran Littlewood
Tender, funny and unapologetic, Amazing Grace Adams is the fiercest debut of 2023, about a woman - and a story - you'll never forget.
Grace Adams is one bad day away from saving her life.

One hot summer day, stuck in traffic on her way to pick up the cake for her daughter's sixteenth birthday party, Grace Adams snaps.

She doesn't scream or break something or cry. She simply abandons her car and walks away.

But not from her life - towards it. To the daughter who won't live with her anymore and has banned her from the party. To the husband divorcing her. Towards the terrible thing that has blown their family apart . . .

Today she'll show her daughter that no matter how far we fall we can always get back up again. Because Grace Adams was amazing. Her husband and daughter once thought so. They and the world might have forgotten.

But Grace is about to remind them . . .
Emily Wilde's Encyclopaedia of Faeries
Heather Fawcett
Enter the world of the hidden folk - and discover the most whimsical, enchanting and heart-warming tale you'll read this year, featuring the intrepid Emily Wilde. . .

Emily Wilde is good at many things: she is the foremost expert on the study of faeries; she is a genius scholar and a meticulous researcher who is writing the world's first encylopaedia of faerie lore. But Emily Wilde is not good at people

So when she arrives in the hardscrabble village of Hrafnsvik, Emily has no intention of befriending the gruff townsfolk. Nor does she care to spend time with another new arrival: her dashing and insufferably handsome academic rival Wendell Bambleby

But as Emily gets closer to uncovering the secrets of the Hidden Ones - the most elusive of all faeries - she also finds herself on the trail of another mystery: who is Wendell Bambleby, and what does he really want? To find the answer, she'll have to unlock the greatest mystery of all - her own heart.
Adult non-fiction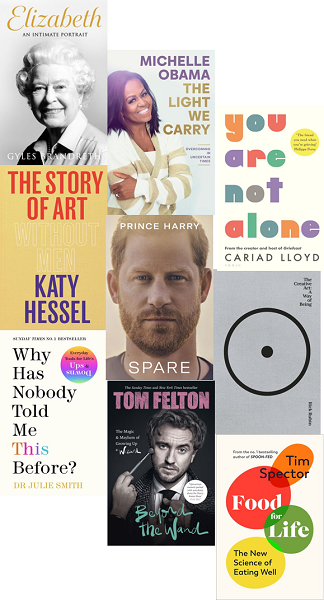 Elizabeth: An Intimate Portrait
Gyles Daubeney Brandreth
The No. 1 Sunday Times Bestseller
A personal account of the life and character of Britain's longest-reigning monarch, from the writer who knew her family best.
Gyles Brandreth first met the Queen in 1968, when he was twenty.

Over the next fifty years he met her many times, both at public and at private events. Through his friendship with the Duke of Edinburgh, he was given privileged access to Elizabeth II.

He kept a record of all those encounters, and his conversations with the Queen over the years, his meetings with her family and friends, and his observations of her at close quarters are what make this very personal account of her extraordinary life uniquely fascinating.

From her childhood in the 1920s to the era of Harry and Meghan in the 2020s, from her war years at Windsor Castle to her death at Balmoral, this is both a record of a tumultuous century of royal history and a truly intimate portrait of a remarkable woman.
The Light We Carry
Michelle Obama
Her life. Her learnings. Her toolkit to live boldly.

How do we build enduring and honest relationships?
How can we discover strength and community inside our differences?
What do we do when it all starts to feel like too much?

Michelle Obama believes that when we light up for others, we can illuminate the richness and potential of the world around us, discovering deeper truths and new pathways for progress.

In The Light We Carry, the former First Lady shares her practical wisdom and powerful strategies for staying hopeful and balanced in today's highly uncertain world. A mother, daughter, spouse and friend, she shares fresh stories, her insightful reflections on change and the earned wisdom that helps her continue to "become." With her trademark humour, candour, and compassion, she also explores issues connected to race, gender, and visibility, encouraging readers to work through fear, find strength in community, and live with boldness.

The Light We Carry will inspire readers to examine their own lives, identify their sources of gladness, and connect meaningfully in a turbulent world.
Spare
Prince Harry

It was one of the most searing images of the twentieth century: two young boys, two princes, walking behind their mother's coffin as the world watched in sorrow-and horror. As Princess Diana was laid to rest, billions wondered what Prince William and Prince Harry must be thinking and feeling-and how their lives would play out from that point on.

For Harry, this is that story at last.

Before losing his mother, twelve-year-old Prince Harry was known as the carefree one, the happy-go-lucky Spare to the more serious Heir. Grief changed everything. He struggled at school, struggled with anger, with loneliness-and, because he blamed the press for his mother's death, he struggled to accept life in the spotlight.

At twenty-one, he joined the British Army. The discipline gave him structure, and two combat tours made him a hero at home. But he soon felt more lost than ever, suffering from post-traumatic stress and prone to crippling panic attacks. Above all, he couldn't find true love.

Then he met Meghan. The world was swept away by the couple's cinematic romance and rejoiced in their fairy-tale wedding. But from the beginning, Harry and Meghan were preyed upon by the press, subjected to waves of abuse, racism, and lies. Watching his wife suffer, their safety and mental health at risk, Harry saw no other way to prevent the tragedy of history repeating itself but to flee his mother country. Over the centuries, leaving the Royal Family was an act few had dared. The last to try, in fact, had been his mother. . . .

For the first time, Prince Harry tells his own story, chronicling his journey with raw, unflinching honesty. A landmark publication, Spare is full of insight, revelation, self-examination, and hard-won wisdom about the eternal power of love over grief.
The Story of Art Without Men
Katy Hessel
'Will change the history of art . . . thank God.' TRACEY EMIN
How many women artists do you know? Who makes art history? Did women even work as artists before the twentieth century? And what is the Baroque anyway?

Discover the glittering Sofonisba Anguissola of the Renaissance, the radical work of Harriet Powers in the nineteenth-century USA, and the artist who really invented the Readymade.
Explore the Dutch Golden Age, the astonishing work of post-War artists in Latin America, and the women artists defining art in the 2020s.
Have your sense of art history overturned, and your eyes opened to many art forms often overlooked or dismissed. From the Cornish coast to Manhattan, Nigeria to Japan this is the history of art as it's never been told before.

Why Has Nobody Told Me This Before?
Julie Smith
Drawing on years of experience as a clinical psychologist, online sensation Dr Julie Smith shares all the skills you need to get through life's ups and downs.
Filled with secrets from a therapist's toolkit, this is a must-have handbook for optimising your mental health. Dr Julie's simple but expert advice and powerful coping techniques will help you stay resilient no matter what life throws your way.
Written in short, bite-sized entries, you can turn straight to the section you need depending on the challenge you're facing - and immediately find the appropriate tools to help.
This book tackles the everyday issues that affect us all and offers easy, practical solutions that might just change your life.
The Creative Act: A Way of Being
Rick Rubin
Many famed music producers are known for a particular sound that has its day and then ages out. Rick Rubin is known for something else: creating a space where artists of all different genres and traditions can home in on who they really are and what they really offer. He has made a practice of helping people transcend their self-imposed expectations in order to reconnect with a state of innocence from which the surprising becomes inevitable.

Over the years, as he has thought deeply about where creativity comes from and where it doesn't, he has learned that being an artist isn't about your specific output; it's about your relationship to the world. Creativity has a place in everyone's life, and everyone can make that place larger. In fact, there are few more important responsibilities.

The Creative Act is a beautiful and generous course of study that illuminates the path of the artist as a road we all can follow. It distils the wisdom gleaned from a lifetime's work into a luminous reading experience that puts the power to create moments - and lifetimes - of exhilaration and transcendence within closer reach for all of us.
Food For Life
Tim Spector
Food is our greatest ally for good health, but the question of what to eat has never seemed so complicated. Bestselling author and top 100 most-cited scientist Tim Spector has the answers in this definitive, easy-to-follow guide to the new science of eating well.

Tim Spector has pioneered a new approach to nutrition, encouraging us to forget misleading calorie counts and nutritional breakdowns. In Food for Life he draws on over a decade of cutting-edge scientific research, along with his own personal insights, to deliver a new and comprehensive approach to what we should all know about food today.

Investigating everything from environmental impact and food fraud to allergies and deceptive labelling, Spector also shows us the many wondrous and surprising properties of everyday foods, which scientists are only just beginning to understand.

Empowering and practical, Food for Life is nothing less than a new approach to how to eat - for our health and the health of the planet.
You Are Not Alone
Cariad Lloyd
'Full of sense, heart and hope' PHILIPPA PERRY
Welcome to the club.

I'm still here now, all these years later. You don't leave once you've joined; it's a life membership. Grief eases and changes and returns but it never disappears.

But you will be okay. Somehow you will be.

When Cariad was just fifteen, her dad died. She became the person-whose-dad-had-died; a mess of emotions and questions; a grief-mess.

Years later, she began trying to unravel this tightly wound grief. What had happened? What effect had it all had on who she was? She started Griefcast, the podcast that talks openly, honestly and at times cheerfully about life's most difficult moment: its end.

Inspired by her own grief mistakes and lessons, and from the profound and witty insights from her incredible guests - including Philippa Perry, Reverend Richard Coles, Isabel Allende, Nish Kumar and Marian Keyes - Cariad provides a road map for all of us. For anybody who has felt lost in grief, who wants to help someone struggling, or just wants to understand this life a little better. You are not alone.
Beyond The Wand
Tom Felton
'Highly readable' The Times

They called for a break, and Gambon magicked up a cigarette from out of his beard. He and I were often to be found outside the stage that housed the Astronomy Tower, having 'a breath of fresh air' as we referred to it. There would be painters and plasterers and chippies and sparks, and among them all would be me and Dumbledore having a crafty cigarette.

From Borrower to wizard, Tom Felton's childhood was anything but ordinary. His early rise to fame saw him catapulted into the limelight aged just twelve when he landed the iconic role of Draco Malfoy in the Harry Potter films.

Speaking with candour and his own trademark humour, Tom shares his experience of growing up on screen and as part of the wizarding world for the very first time. He tells all about his big break, what filming was really like and the lasting friendships he made during ten years with the franchise, as well as the highs and lows of fame and the reality of navigating adult life after filming finished.

Prepare to meet a real-life wizard.
Children and young adults




I Send You A Hug
Anne Booth
Suitable for ages 0-5
A lyrical, heart-warming message of love from someone far away

When Big Bear and Little Bear have to say goodbye, Big Bear tells Little Bear about all the ways she'll send a hug from afar:

I can change my hug into bird song early in the morning,
or into the sea so I can wave at you when you are on the beach.

Join Little Bear on his adventure to discover all the many different ways to feel a hug from a loved one, even when apart.

A soothing and uplifting story for every child who is missing someone.

What Do You See When You Look At A Tree
Emma Carlisle
Suitable for ages 0-5

What do you see when you look at a tree? Leaves and twigs and branches?
Or do you see a real, living thing, That moves, and breathes and dances?

Immerse yourself in this gentle picture book that encourages us to explore our connection with nature.

In association with the Royal Botanic Gardens, Kew, this wonderful picture book explores themes of empathy, mindfulness and personal growth through the eyes of a child. Beautifully written and illustrated by the award-winning artist Emma Carlisle, What Do You See When You Look At a Tree? urges readers to reconnect with nature by asking questions that encourage critical thinking and reflection on their own development, as well as helping to establish a deeper appreciation for the environment and their place within it.

The Station Cat
Stephen Hogtun
Suitable for ages 5-7
A stunning picture book about the power of kindness and hope.

A lonely little kitten wanders into a dull, grey station, full of dull, grey people. Her colourful fur and bright green eyes bring warmth and life to this weary place, and soon people begin to notice the kitten. As she learns about the different travellers and their struggles from loss and loneliness, the little kitten wants to help fill their world with hope and colour, too.

In this timely and important book, author and illustrator Stephen Hogtun shows young readers the pride and sense of purpose that can come from helping others.

Diper Overlode
JeffKinney
Suitable for ages 7-9
n Diper Överlöde, book 17 of the Diary of a Wimpy Kid series from #1 international bestselling author Jeff Kinney, Greg Heffley is finding out that the road to fame and glory comes with some hard knocks.

When he decides to tag along with his brother Rodrick's band, Löded Diper, Greg doesn't realize what he's getting into. But he soon learns that late nights, unpaid gigs, fighting between band members, and money troubles are all part of the rock 'n' roll lifestyle.

Can Greg help Löded Diper become the legends they think they are? Or will too much time with Rodrick's band be a diper överlöde?
The Bedtime Book of Impossible Questions
Isabel Thomas
Suitable for ages 7-9
Why are bubbles always round? Could I ever touch a rainbow? Why can't I remember being a baby?
Have you ever not been able to concentrate because there are SO many questions buzzing round your brain? The Bedtime Book of Impossible Questions will offer answers to the most bamboozling questions and curious queries that you can think of.

How many stars are in the night sky? Why don't animals wear clothes? Do plants have feelings? This book will define, debunk and demystify the trickiest of questions and even open your eyes to questions you have never even thought of!

With engaging and accessible text and accompanied by exciting, inviting illustrations, The Bedtime Book of Impossible Questions is the perfect bedside companion to delve into when you are wondering if there really is an answer to everything.

The Cosmic Diary of our Incredible Universe
Tim Peake
Suitable for ages 9-11
Are you bursting to know the answers to REALLY BIG questions?
Like, how are stars made?
What will we find in a black hole?
Which fruit can create antimatter?
What even IS antimatter?

Well, put on your seatbelts and blast into space with your guide, astronaut Tim Peake, and a host of space experts in this fascinating adventure through space, time and the diary of our truly incredible universe.
You've Reached Sam
Dustin Thao
Suitable for ages 11-14
Filled with a diverse cast of characters, the heartache of first love and loss, plus a touch of magic, Dustin Thao's You've Reached Sam will make an instant connection with anyone looking for a big emotional romance of a read.

Seventeen-year-old Julie has her future all planned out: move out of her small town with her boyfriend Sam, attend college in the city, spend a summer in Japan. But then Sam dies. And everything changes. Desperate to hear his voice one more time, Julie calls Sam's phone just to listen to his voicemail. And Sam picks up the phone . . .

What would you do if you had a second chance at goodbye?
The Ones We Burn
Rebecca Mix
Suitable for ages 14+
I am the monster. I am the shield. I am the knife in the dark.

Ranka is tired of death. All she wants now is to be left alone, living out her days in Witchik's wild north with the coven that raised her, attempting to forget the horrors of her past. But when she is named Bloodwinn, the next treaty bride to the human kingdom of Isodal, her coven sends her south with a single directive: kill him. Easy enough, for a blood-witch whose magic compels her to kill.

Except the prince is gentle, kind, and terrified of her. He doesn't want to marry Ranka; he doesn't want to be king at all. And it's his sister - the wickedly smart, infuriatingly beautiful Princess Aramis - who seems to be real threat.

But when witches start turning up dead, murdered by a mysterious, magical plague, Aramis makes Ranka an offer: help her develop a cure, and in return, she'll teach Ranka to contain her deadly magic. But as the coup draws nearer and the plague spreads, Ranka is forced to question everything she thought she knew about her power, her past, and who she's meant to fight for. Soon, she will have choose between the coven that raised her - and the princess who sees beyond the monster they shaped her to be. But as the bodies pile up, a monster may be exactly what they need.

eResources

Press Reader

PressReader gives you unlimited access to 1000s of digital newspapers and magazines from around the world, so you can stay connected to the stories you love.
Overdrive
While we are being asked to stay at home where possible have you given Overdrive a try? Access to thousands of eBooks and eAudiobooks.

Borrowbox
Borrowbox provides access to 1000s of eBooks and audio books.
My Library App

Harrow Libraries now have an app giving you quick access to the library catalogue from your phone or tablet. Check your account, renew items, browse the catalogue and make reservations. Spotted an interesting title in a bookshop? Scan the ISBN, check it's in stock and reserve it. It's quick and easy to use and compatible with Androids and iPhones.
Search for "My Library App" in Google Play or theApp Store.