Who is the Mayor of Harrow?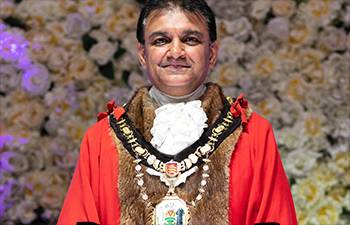 Councillor Ramji Chauhan is Mayor of Harrow for the 2023/24 Municipal Year.
He will be accompanied by his wife, Mrs Meena Chauhan as Mayoress. Councillor Salim Choudhury is the Deputy Mayor and will be accompanied by the Deputy Mayoress, Jasmine Choudhury.
Councillor Chauhan moved to the UK from Uganda in 1971. He was first elected as a councillor in the Harrow Weald Ward in 2010 and continues to serve as a Councillor in this ward. In 2022/2023, he deputised for former Mayor Councillor Janet Mote. Councillor Chauhan has worked in the pharmaceutical and confectionary industry for over 35 years. Councillor Chauhan has received the Freedom of the City of London in 2018. He joined the Livery Company of the Gold and Silver Wyre Draws in the same year. Councillor Chauhan's theme for his mayoral year is 'Unity and Diversity'.
The Mayor has appointed Yogvivekdas Swami, Head Swami of BAPS Shri Swaminarayan Mandir ('Neasden Temple'), as Chaplain for his Mayoral Year:
Dates of forthcoming events
Sun 2 July – 10.30am - Annual Civic Service – Borough Church of St Mary, Harrow on the Hill
Sun 17 Sep – 11am – Battle of Britain Commemoration Service, St John's Church, Stanmore
October date TBC – Civic Wreath Laying at Harrow Memorials around the Borough
Sun 12 Nov – 10.30am for 11am – Remembrance Parade & Service – Harrow Town Centre – exact venue TBC.
New Year's Day 2024 London Parade, Central London
Mayoress's Ball – date TBC
Civic Service of Thanksgiving for Mayoral Year – date TBC