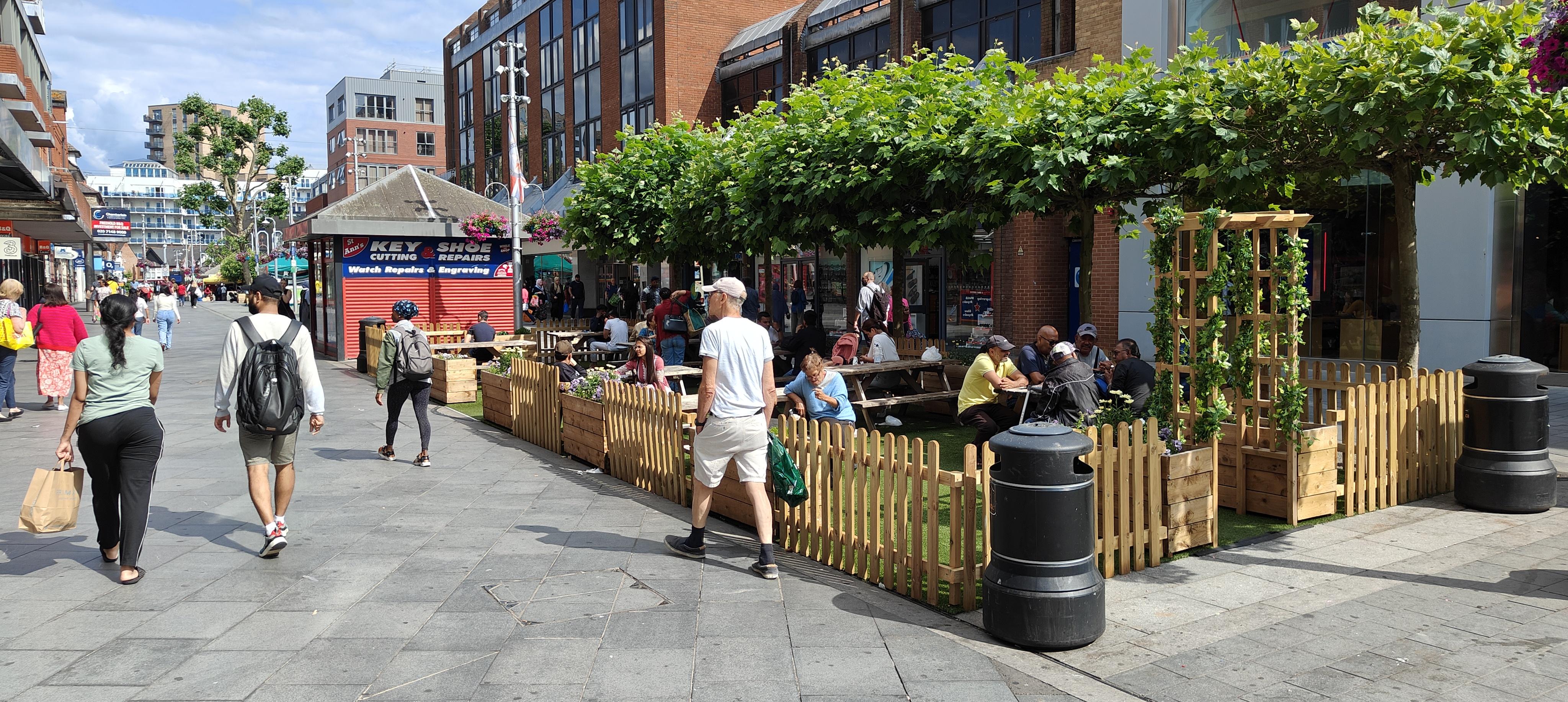 Public consultation is taking place between 30 October and 10 December 2023 on our plans to enhance Harrow Town Centre, creating a well-connected, cleaner, safer space in the heart of our borough - a place where local people can meet, visit, shop and enjoy spending time.
You can view our proposals to better support our thriving local economy, that look to improve walking, cycling and public transport connectivity, create a safer environment and reduce street clutter at www.talk.harrow.gov.uk/enhancingharrowtowncentre
Feedback will be reflected in the final design. Construction work would then begin in Spring 2024 to create a town centre that meets the needs of our community.
The funding will be used to deliver upgrades to Greenhill Way, Kymberley Road, Clarendon Road, College Road, the Pinner Road and Greenhill Way pedestrian underpass and Station Road.
What is being proposed?
Safer crossing points throughout the town centre
Better lighting throughout the town centre, improving safety and visibility
Improved green spaces along Kymberley Road and Greenhill Way, creating green and leafy corridors and providing shade and shelter
New and improved areas with plants and seating along Greenhill Way and near the end of College Road, providing more spaces for people to stop and rest and improving the look and feel of the streets, encouraging people to spend more time in the town centre
Improved lighting and renewed planting in the Greenhill Way underpass, creating a safer and more welcoming environment and supporting better walking and cycling links to Harrow Rec
The introduction of safety rated street furniture measures (known as HVM) at both ends of St Anns Road to prevent unauthorised vehicles from accessing the pedestrianised areas. .
Clearer directional signage on College Road, Clarendon Road, Greenhill Way, Station Road and between Kymberley Road and College Road, making it easier for people walking to navigate around the town centre
Better cycling infrastructure along College Road, Greenhill Way and Station Road, allowing for safer and more accessible cycling routes
Improved market and event space on St Anns Road, providing better business opportunities and experience for customers
Drop-in events
Join us at Greenhill Library on:
Saturday 11 November 10am-2pm
Tuesday 14 November 2.30-5.30pm
We've received funding - £7.1 million through the Government's Future High Streets Fund and will use £1.1m of our own borough funds from the Community Infrastructure Levy scheme to enhance Harrow Town Centre and make it a better-connected, more accessible, and sustainable space. Here is the press release announcing the funding.
The Future High Streets Fund aims to renew and reshape town centres and high streets in a way that improves experience, drives growth and ensures future sustainability.