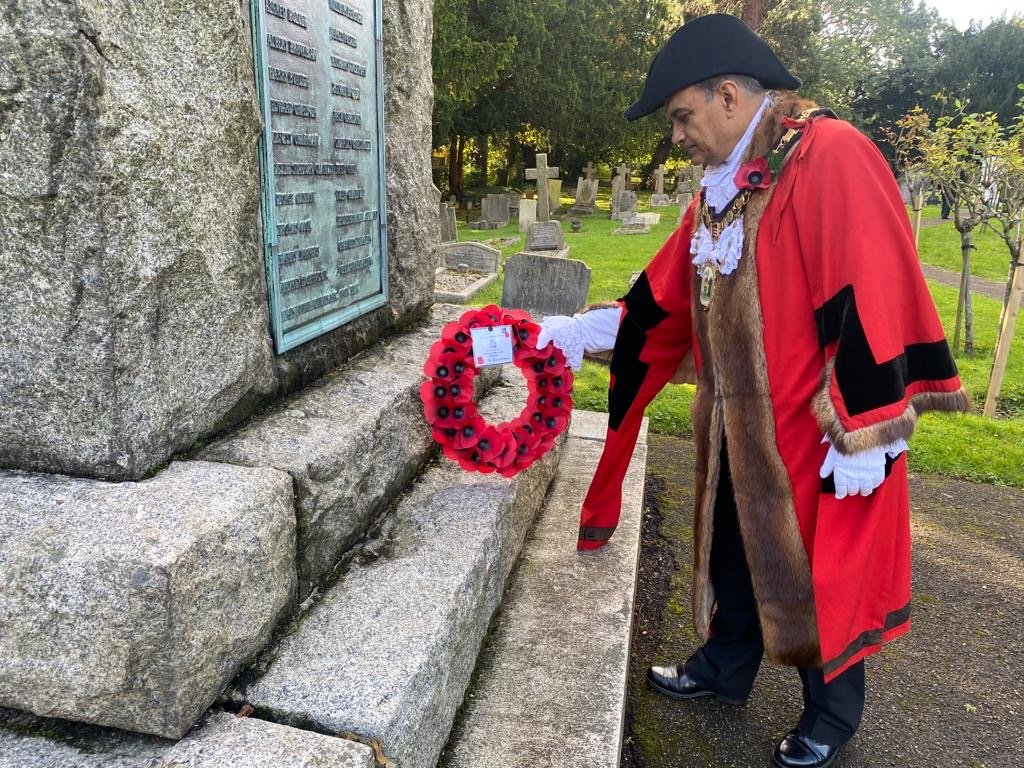 Today, the Mayor of Harrow Cllr Ramji Chauhan laid wreaths across the borough's 10 war memorials - honouring our fallen soldiers as the Poppy Appeal is launched.
Mayor of Harrow, Cllr Ramji Chauhan said:
"The sacrifices made by the brave men and women in our armed forces should never be forgotten. On Remembrance Sunday we will remember our veterans, serving, ex-serving personnel and those who made the ultimate sacrifice to protect many of our freedoms we enjoy today.

"This year our Remembrance Sunday parade and service is a very special one. It's the last time it will be held at the former Civic Centre site on Station Road. I encourage everyone to join me and dignitaries to pay your respects to our fallen heroes.

"I also encourage residents to wear the Poppy with pride and support the Royal British Legion's Poppy Appeal. I look forward to seeing many of you at our special service."
Remembrance Sunday will take place on Sunday 12 November. The parade starts from Katie's statue in St Ann's Road at 10am, marching down Station Road and then to the former Civic Centre.
It will be the last time the service is held at the former Civic Centre site as the area undergoes development. For almost two decades, it has been the home to the second largest parade and service after the Cenotaph. Every year thousands line the streets to watch our armed forces, emergency services, faith and community groups take the route to honour those who gave their today for our tomorrow.
The war memorial has been in situ for 18 years and was officially unveiled in 2005 by the Duke of Gloucester. Plans are taking place to carefully move the memorial to its new site in the Town Centre.
Wear your poppy with pride and show your support to the Royal British Legion. The Royal British Legion helps ex service personnel and their dependents and has a membership of around 600.
Parade timetable
10am: Parade leaves Harrow Town Centre (Katie's Statue)
10.30am: Parade arrives at former Civic Centre
10.50am: Start of service
11am: Two minutes' silence. Signalled by rocket flare (please be aware of loud noise)
11.02 onwards: Wreath laying, reading, prayers and march past