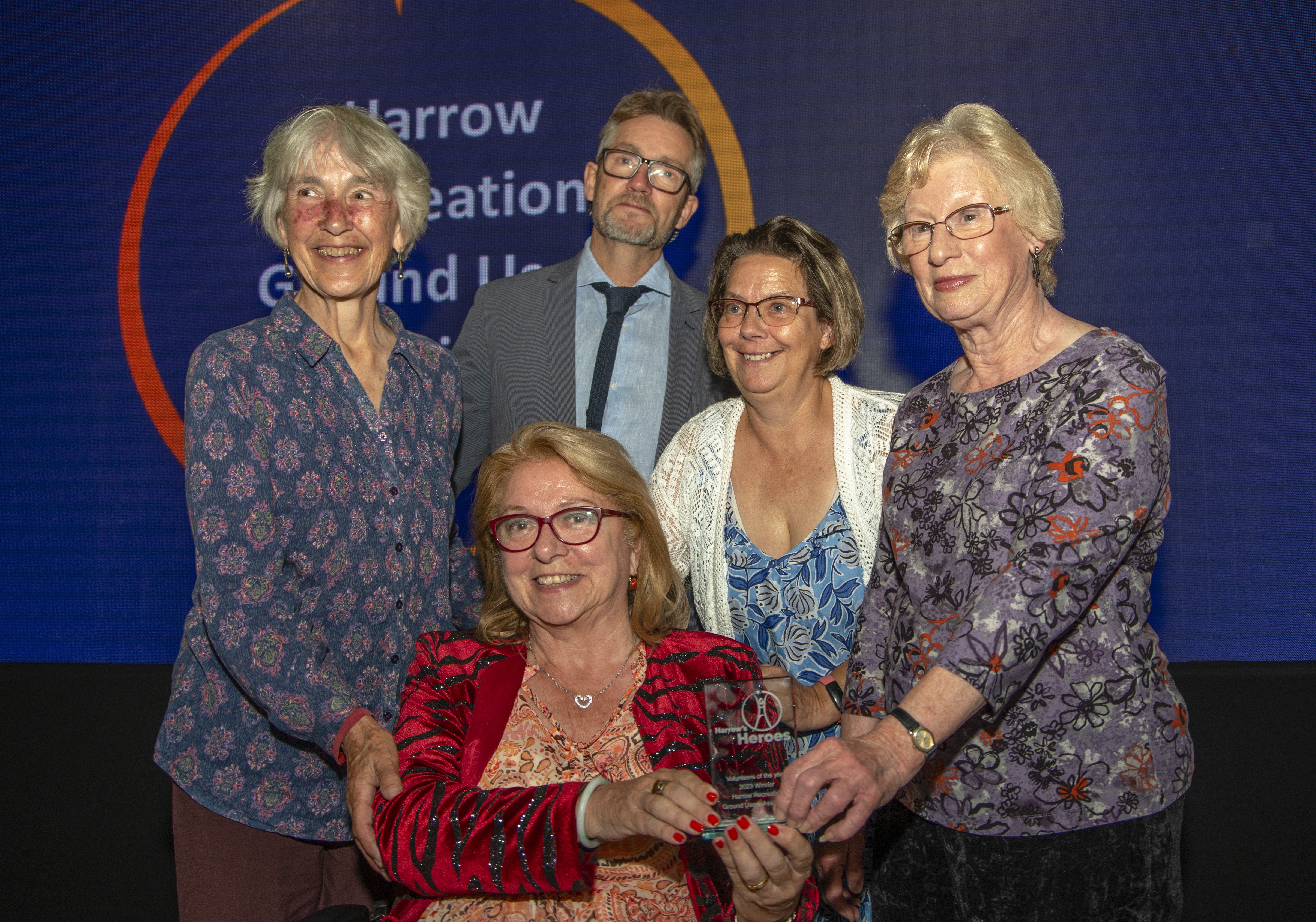 Harrow's premiere community event saw 12 teams and individuals crowned winners at this year's Harrow's Heroes awards
The red carpet was rolled out last night for our annual Harrow's Heroes awards – celebrating the achievements and hard work by volunteers and community groups who make our borough a special place to live and work.  
More than 100 guests including finalists, sponsors and dignitaries attended the event at The Great Barn on Headstone Manor to say thank you and give recognition to this year's finalists.
The inspirational evening saw 12 awards handed out to winners of this year's awards.  
It was Harrow Recreation Ground Users Association who won both the team category and Volunteers of the year for the work they do to allow park users and residents enjoy their local park. They run activities all year around, including summer events, bug hunts for children, gardening, TaiChi, storytelling and more. Recently they held a session teaching volunteers how to use a defibrillator. Volunteers also take care and pride in the upkeep of Harrow Rec which has once again attained Green Flag Status.
Alison Chester of Harrow Recreation Ground Users Association said:
"It is a great honour to win both the team award and the Volunteer of the Year award. This is a testament to the dedication and countless hours put in by volunteers to keep Harrow Recreation Ground looking clean and tidy and ensuring everyone can access facilities and activities that it offers. Our parks are the lifeblood of our communities and bring many benefits – including health and wellbeing and bringing people together. We will continue to keep our park looking great and ensure families, users and residents enjoy using them for years to come."  
Guests included the Mayor of Harrow, Cllrs, the Borough Inspector and the Deputy Lieutenant who presented awards.  
Cllr Jean Lammiman, Cabinet Member for Community and Culture said:
"Congratulations to all our nominees, finalists and winners of this year's Harrows Heroes awards.

"This is one of my favourite events which showcases how great our borough is and I am so proud to be a part of this special ceremony. It is so important to me that we give recognition to the contribution of ordinary people who go out of their way to make a difference to Harrow residents and the wider community.

"Having been through the nominations, it's clear their actions not only put our residents and communities first – but they help change lives, improve local communities and make life that extra bit better for people.

"On behalf of the London Borough of Harrow, I'd like to thank all our volunteers for all that they do."
Reema Mavani, Franchisee, McDonald's, Harrow and one of the sponsors of the awards said:
"Harrow's Heroes is an incredible opportunity to celebrate those within our local community, who work so hard to make the borough a great place to live. As a local McDonald's Franchisee and member of the community it was an honour to be one of the sponsors of Harrow's Heroes and to present the award for the Vulnerable category. All nominees, across each category, should be incredibly proud of the hard work they do and I'd like to take this opportunity to thank every one of them. I look forward to continuing working with Harrow Heroes and championing those in our community."
2023 Award Winners 
Extraordinary Achievement: Ajay Shah and Diven Halai 
Bringing People Together: Courtfield 19 
Supporting Vulnerable People: Erica Fontaine 
Team: Harrow Recreation Ground Users Association 
Lifetime Achievement: Jennifer Youle 
Good Neighbour: Justin Patel 
Pride in Harrow: Peter Davies 
Outstanding Young Person: Tara-Bella Halai 
Contribution to the Community: Jade Fardon
Health and Wellbeing: Dr Silvia Gerea
Volunteers of the Year: Harrow Recreation Ground Users Association 
You can see the full list online and further details about our finalists at www.harrow.gov.uk/harrowsheroes.