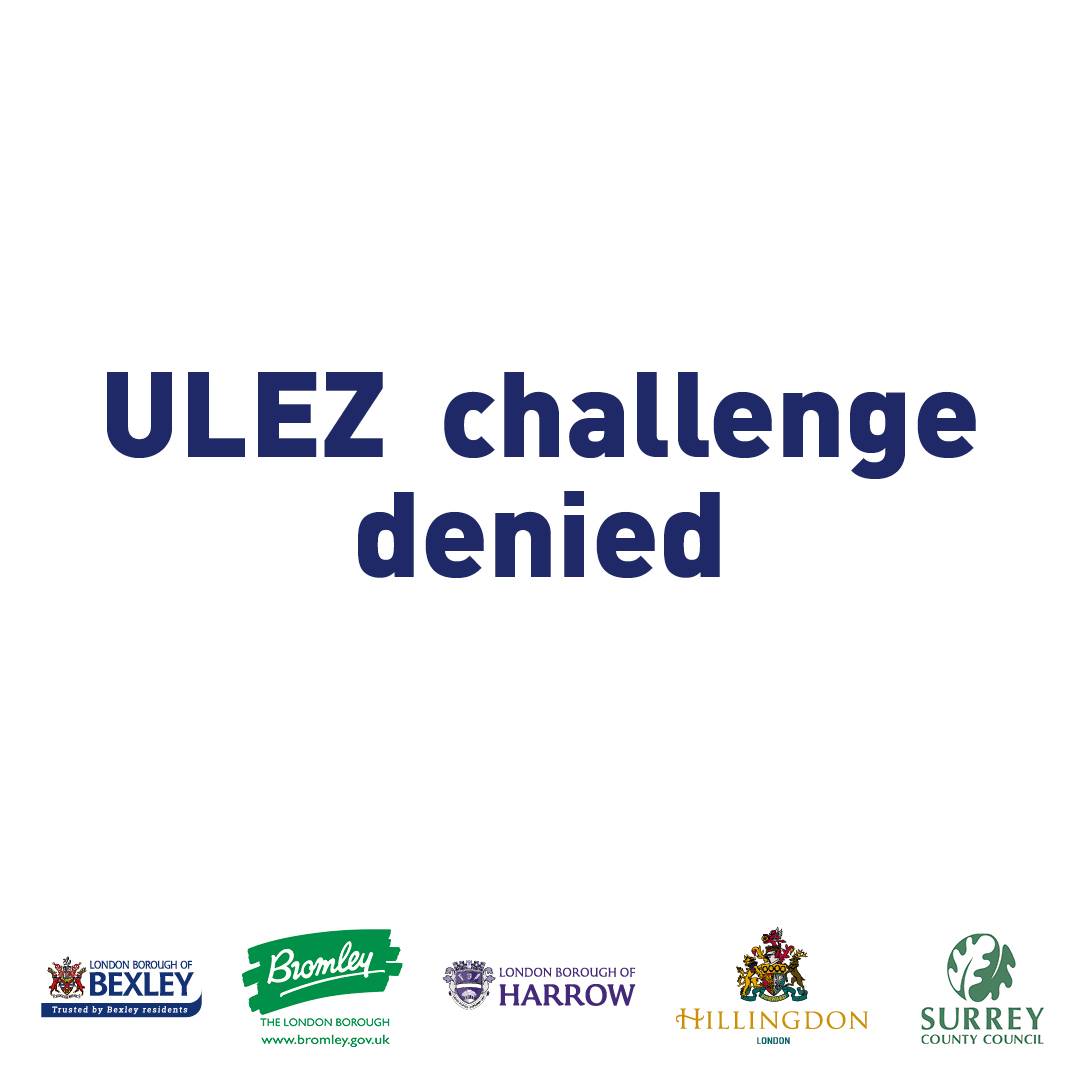 The coalition of councils challenging ULEZ expansion is hugely disappointed that the High Court has today (Friday 28 July) determined that there is no legal impediment to the Mayor's expansion of ULEZ to outer London but accepts its decision.
Although the Mayor of London and TfL may have the legal right to implement the scheme, the question remains whether the public would agree he has the moral right to do so, given it was only last week that the court of public opinion delivered a different verdict with the surprise by-election win in Uxbridge, an election that was seen as a referendum on the expansion of ULEZ.
It is evident that the Mayor of London and TfL do not realise the damage the extension will have to the lives of residents and businesses in outer London as well as those outside of its borders.
The expansion of ULEZ is now expected to go ahead as planned on Tuesday 29 August, with anyone driving a non-compliant vehicle in the expanded zone expected to pay £12.50 per day.
Cllr Paul Osborn, Leader of the London Borough of Harrow, said:
"This is not the outcome we were hoping for and is hugely disappointing. It is a sad day for our residents and businesses who are worried about the impact the expansion will have on them when it comes into force in August.

"I firmly believe that ULEZ expansion is the wrong scheme for outer London. We had an arguable case, and the fact that we got this far in our challenge against this unpopular scheme shows that we were right to proceed.

"I am proud to have stood up for our residents and businesses. So many have spoken to me about how this scheme will impact them. I'd like to thank the thousands of people who have supported us.

"Unfortunately, the Mayor will push ahead with his plans. I will continue to speak up for our residents on the expansion of the ULEZ and will press the government to give us the power to stop this expansion to our borough.

"I will also be lobbying for better schemes to further help improve air quality and public transport links in Harrow. I am already taking positive steps to improve air quality in our borough - this includes ensuring our fleet is as green as possible, and as of last night I approved plans to install 225 additional electric charging points to help our residents who want to switch to electric vehicles.

"I will always put our residents first on the issues that matter to them."
Notes:
The council coalition includes the London boroughs of Bexley, Bromley, Harrow, Hillingdon, and Surrey County Council.
A two-day hearing was held at the High Court on Tuesday 4 and Wednesday 5 July, with the judge, Lord Justice Swift, delivering his judgement on Friday 28 July.
The judicial review was brought on three grounds, all of which were dismissed:
Failure to follow statutory procedure - Schedule 23 Greater London Authority Act 1999 
Unlawful and unfair consultation regarding expected compliance rates in outer London 
Unlawfulness regarding scrappage scheme, including failing to consider a buffer zone, irrationality and inadequate consultation.