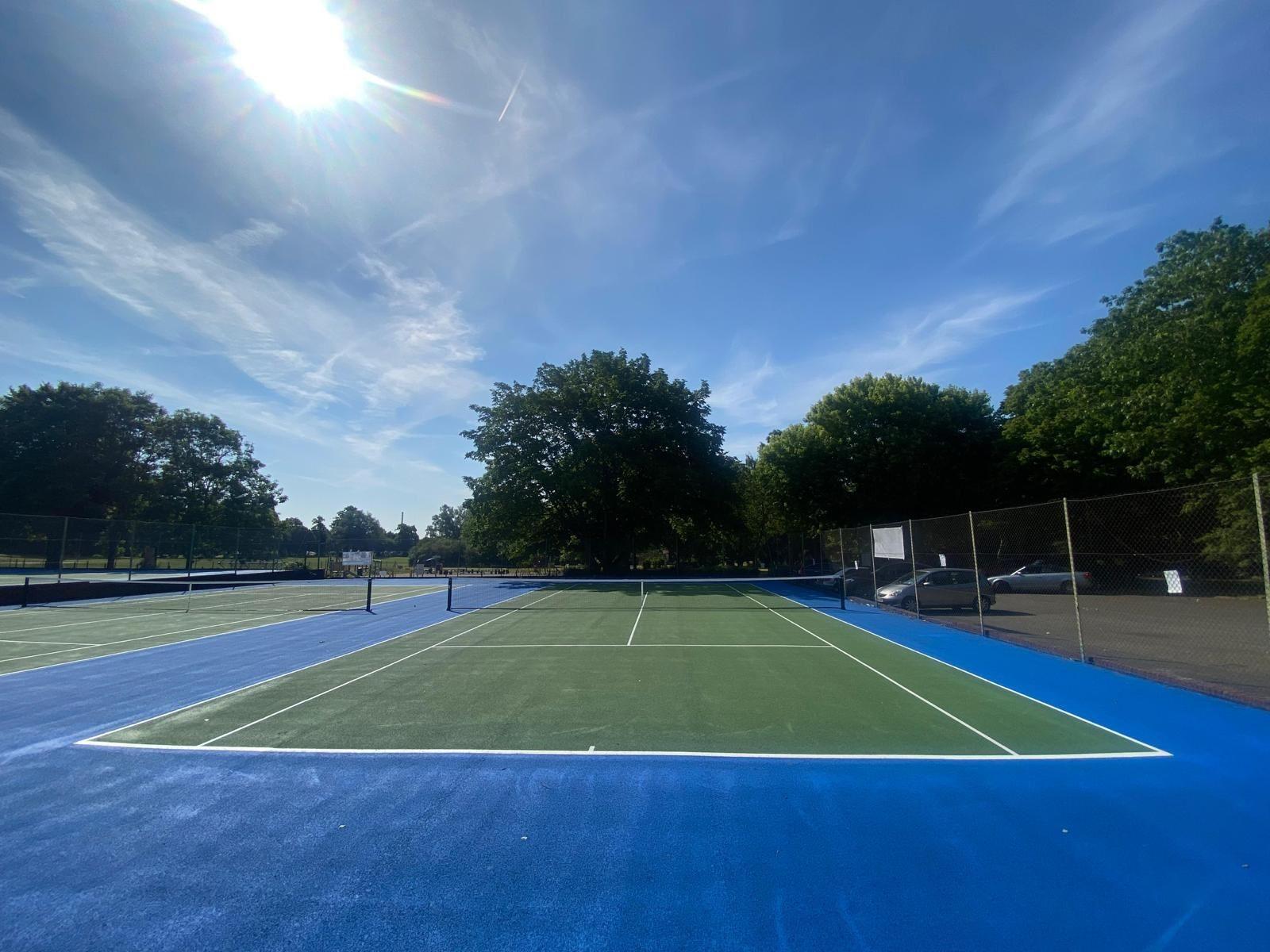 Grab your racket, and your tennis ball – because this summer 28 refurbished tennis courts will be ready for players' return (volley, ace and smash) from Monday 19 June 2023.
28 courts will reopen Monday 19 June
Lawn Tennis Association funding has transformed Harrow's courts for residents
Booking system www.lta.org.uk/book for Harrow courts opens Monday 12 June
Thanks to warmer weather, our contractors have completed spraypainting courts at seven parks where you'll see blue and green surfaces and new nets. New gates have also been installed at all of Harrow's 36 tennis courts across 13 parks and nets will be up for 19 June.
The four-month refurbishment programme was secured through a £587,000 Government and LTA Tennis Foundation grant following last year's Consultation.
Councillor Jean Lammiman, Portfolio Holder for Community & Culture, said:
"We're restoring pride back into our tennis courts which had suffered enormously due to a decade of neglect. I am delighted that our newly refurbished courts are not only open, but open in time for the peak season with Wimbledon just around the corner."
From 19 June the following 28 courts at 10 parks will be re-opened:
Byron Recreation (3 courts)
Centenary Park (2 courts)
Harrow Weald Recreation (4 courts)
Headstone Manor Park (6 courts)
Montesole Playing Fields (2 courts)
Pinner Village Gardens (2 courts)
Queensbury Park (2 courts)
Rayners Mead (2 courts)
Roxeth Recreation (2 courts)
West Harrow (3 courts)
Further work is to be completed at:
Chandos Recreation Ground (2 courts) –The courts will remain locked until works are complete.
Kenton Recreation Ground (2 courts) –These courts will be bookable but will remain free of charge until they can be brought up to standard.
Harrow Recreation Ground (4 courts) – work will begin here 19 July. The courts will remain open, and free of charge, until this date.
And even if you don't have a tennis racquet, the courts will still be for you: There are free weekly coach-led sessions, with free hire of tennis equipment at each of the 13 parks. There will also be group and individual coaching for different targeted groups which will be bookable in advance.
Notices are up on all courts with a park-specific QR code to booking information. The price is £5 an hour, concessions £4 an hour. Users will then be given an entry code to access the court area. Courts can be booked up to seven days in advance, and you can do so at www.lta.org.uk/book and choose your court. Bookings will not go live until Monday 12 June 2023. A phone number will also be added to posters for those who cannot book online.
Julie Porter, Chief Operating Officer at the LTA, said:
"After months of hard work, we're delighted to see park tennis courts across Harrow officially opening to the public, and in better shape than ever. Thanks to this investment the sport will be opened up to more players, for years to come."
Stuart Andrew MP, Sports Minister, said:
"We are committed to levelling up access to sport which is so important for the nation's physical and mental health. The Government and the LTA are working together to deliver thousands of refurbished courts across Great Britain, supported by £30 million of investment including in Harrow."