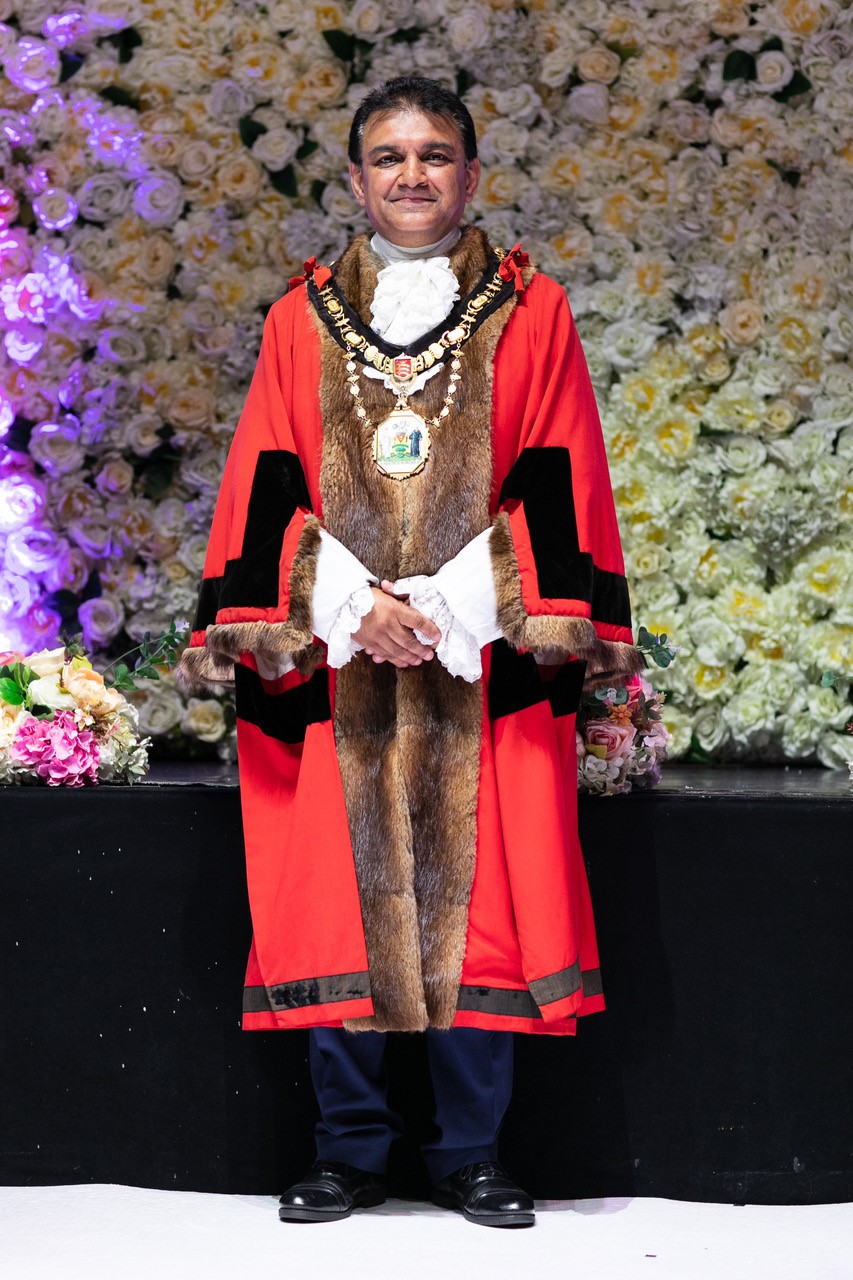 Cllr Ramji Chauhan chosen as Harrow's First Citizen for 2023/24
At a special Mayor making ceremony at the annual full council meeting (Thursday 18 May) at Harrow Arts Centre, Cllr Ramji Chauhan was sworn in as the borough's first citizen for 2023/24. He is also Harrow's first East African Mayor who was born in Uganda.
He was handed the chain and robe, officially marking the start of his Mayoralty – taking over the reign from the outgoing Mayor Cllr Janet Mote. The occasion was made special as Cllr Chauhan did his own personal prayer, giving respect to past mayors who have passed away, those lost to coronavirus, and for people around the world.
Born in Uganda and evacuated to Britain during the expulsion of Asians from the country in the 70s when he was a young boy, Cllr Ramji Chauhan, 58, has lived in Harrow for more than 30 years.
His life in politics started in 2010 when he was elected as Cllr for Harrow Weald after taking a close interest in the ward – in particular protecting the greenbelt and standing up for local residents. He has served as Cllr for more than a decade, and also sits on a number of committees and panels at the council. He also represents the council in local environmental and conservation organisations.
The Mayors chosen charities are close to his heart. RITA – a dementia appeal at Northwick Park Hospital was selected as one of two of his chosen charities because he had seen the first hand effects and impact Dementia had on his family member, the deterioration and lack of support and quality of life.
His second chosen charity is Centrepoint because he had experienced homelessness when he was young and understands how important it is for young people who are homeless to be supported to progress in life.
His theme for his Mayoral year is 'Unity' and 'Diversity'
The Mayor of Harrow Cllr Ramji Chauhan said:
"It is an honour to be sworn in as the new Mayor and first citizen of Harrow. My theme this year is Unity and Diversity – I hope to continue to unite everyone together, celebrate our differences and embrace cultural diversity.

"My chosen charities are close to my heart who do a fantastic job in supporting vulnerable people and families. I hope you will support these charities 'Centrepoint' and R.I.T.A. - The Dementia Appeal for Northwick Park Hospital. This is a great honour and a privilege to support these charities during my Mayoral year and a unique opportunity for everyone to help raise money for the two worthy causes."
Away from politics, he's a dedicated family man and works in the fine pharmaceutical industry, he has two sons, and his wife works in Northwick Park Hospital. His hobbies and interests include politics, long distance running and even the London, Marathon, 2010.
He is passionate about preserving the traditions that make this country great which is why he was honoured to receive the 'Freedom of the City of London in 2018'. As a freemason, he joined the Liveryman which has links to the royal family and military whereby they saw the coat of arms etc.
I would like to take this opportunity to express my gratitude and thanks to everyone for their continued support for my Mayoral year.
The outgoing Mayor, Cllr Janet Mote, who was the First Catholic Lady Mayor of the London Borough of Harrow said:
"This has been an extraordinary year with a lot of historical events, and I am proud to have represented my borough in the best way that I can. I have met so many great people and organisations that bring the Harrow community together.

I have enjoyed every event I attended this year and there have been hundreds!. The highlight has been attending all the religious and community events which make you realise how diverse and exciting the borough is.

It was my late husband Chris' dream, became our dream and I lived the dream for both of us.

I would like to thank everyone for their support during my Mayoral year. I wish the incoming Mayor the very best and hope he continues to do great things for Harrow."