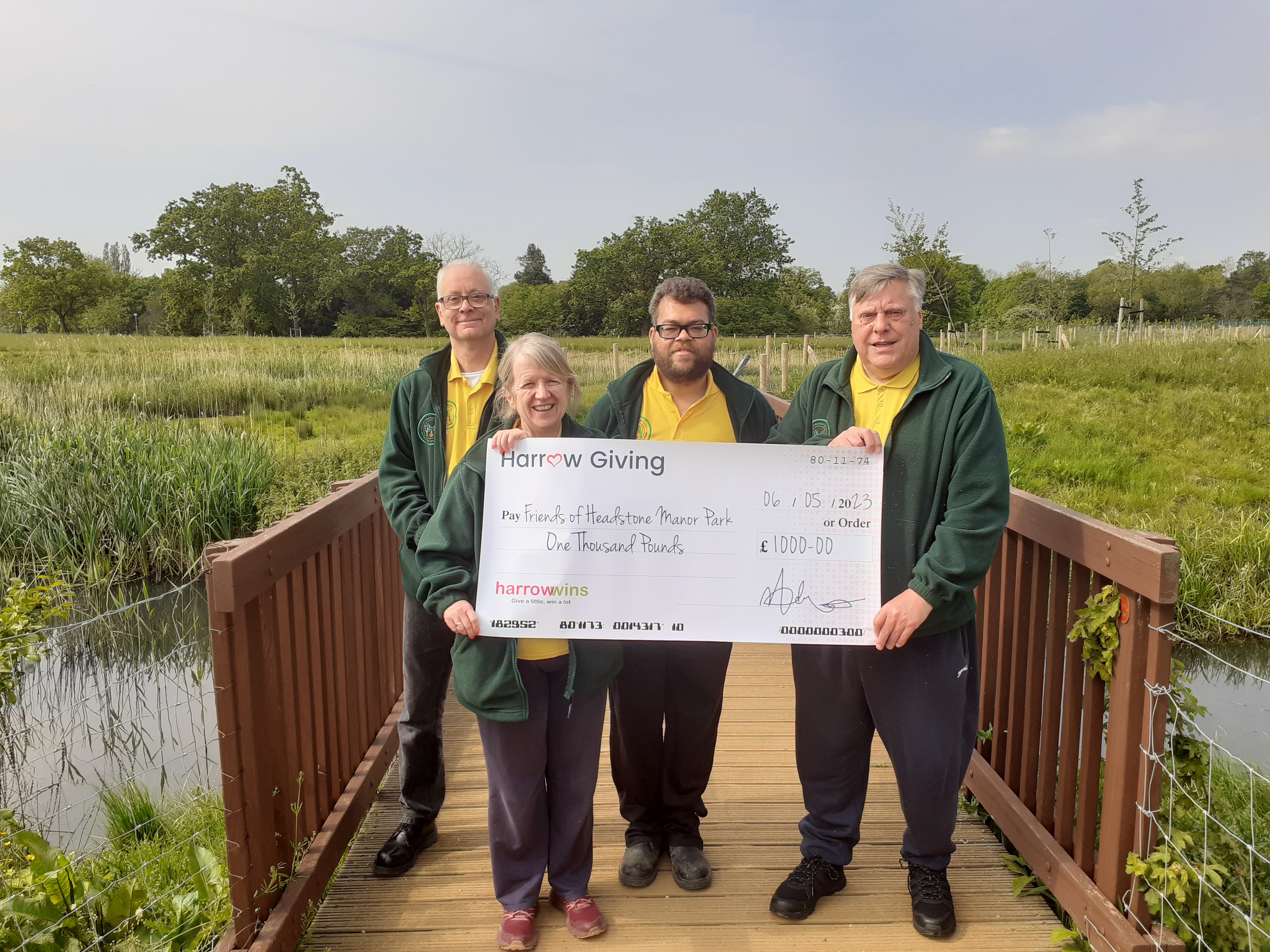 Congratulations to Friends of Headstone Manor who have just won £1000 from our community lottery, Harrow Wins 4th birthday prize draw!
At just £1 a ticket, and a chance to win the £25,000 jackpot, every ticket adds up and makes a huge difference to charities and community organisations across the borough – with 50% of it going to a chosen cause and 10% to a central fund – Harrow Giving supporting all good causes in Harrow.
For Friends of Headstone Manor, the prize - together with more than £2000 raised through their supporters buying lottery tickets over the past four years - will mean they can take forward their plans for outdoor art displays and better litter picking kits, as well as continuing to add more bulbs, wildflowers and hedgerow plants across the park, which has seen a huge transformation over the past few years.
Adrian (Adie) Doyle, volunteer at Friends of Headstone Manor said:
"If you visit the beautiful Headstone Manor Park, you will find it full of flowers and birds – but there's so much more that happens on the historic grounds. From regular water monitoring, and pollution-filtering reed beds to regular community events which include Bat Walks and Children's storytelling, there's lots to see and do. Not forgetting the huge amount of work that recently went into achieving Green Flag status.

"Volunteer-led park groups like us are transforming our borough - and members of the public buying Harrow Wins tickets contribute to the funds to bring our projects to life. Thank you to everyone supporting us."
Led by Harrow Council in partnership with various voluntary organisations, Harrow Wins is open to everyone in the community who help make a difference to Harrow and our residents. In its 4th year now the community lottery has raised over £50,000 for Harrow causes so far! So whether you're a local charity, sports club, project, park user group, scout or cadet organisation – Harrow Wins can help you with funding through the sale of tickets.
Cllr Jean Lammiman, Cabinet Member for Community and Culture, said:
"Congratulations to our winner! I'm delighted the prize money will continue helping volunteers make a difference to Headstone Manor Park. As you can see our community lottery isn't just about winning money, it's about fundraising for local groups too - be it charities, scouts or sports groups. I'd like to thank everyone who is taking part."
For more information and to sign up visit www.harrowwins.co.uk