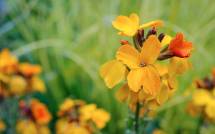 New programme launched during No Mow May to change the way we mow and let green spaces thrive
To coincide with No Mow May and following the success of last year's trial, Harrow Council is extending its approach to the way it manages grass cutting to benefit the natural environment. It means less mowing and more growing for selected green verges and park sites.
Selected areas will now be left to grow and cut less frequently during the growing season. We'll cut two to three times a year in early, mid and late season.
Longer grass provides an important habitat for invertebrates and other wildlife. Over time the removal of clippings will also gradually reduce nutrient levels and promote the growth of wildflowers, which are important food sources for pollinators like bees and butterflies.
Cllr Anjana Patel, Cabinet Member for Environment and Community Safety said:
"This is more than just about No Mow May. While we are pleased to be supporting this scheme, we are looking at our long-term strategy and are committed to helping improve biodiversity to allow nature to flourish in Harrow.

"After a successful trial last year, we have added more sites to our list where there will be reduced mowing throughout the year. This will bring many benefits for our environment, plants and animal life – and also help improve the health and wellbeing of our residents."
Many residents fed back how access to a thriving local natural environment helps to improve their mental health and wellbeing and more than 90 percent who took part in our survey were supportive of the council doing more to improve biodiversity in our green spaces.
You can get involved by participating by avoiding cutting your lawn entirely, or just leaving parts to grow longer during the month of May. You can allow wildflowers to bloom and provide valuable sustenance for pollinators. Details of how to get involved can be found on Plantlife's website.
Residents can tag the council on Twitter, Facebook or Instagram on No Mow May.
Selected areas:
George V (+extension)
Honeypot Lane (+extension)
Crowshott Ave bank in junction with Honeypot Lane
Oxhey Lane (farm side
Northolt Road strip in junction with Park Lane
Wood End Avenue triangle in junction with Westwood Avenue
Stonebridge strip in junction with Twyford Road
Rayners Lane grass area near the brook in junction with Suffolk Road.
Pains Lane junction with Moss Lane
Magpie Hall Road strip in junction with Heathbourne Road
Warren Lane near the woods
Stanmore Hill slope from Spring Lake to Hill Close
Old Church Lane banks in junction with Gordon Ave
Tyburn Lane small grass patch in junction with Grove Hill
Marlborough Road banks near Civic Centre
Underpass banks behind the Central Depot
Twyford Road central reservation islands (3)
Welbeck Road triangle in junction with Twyford Road
Rayners Lane triangle in junction with Grove Road
Warren Lane areas near the car park
St. Andrews Drive (big green)
Parks (selected parts of the following spaces)
Stanmore Country Park
Pear Wood
Roxbourne Rough
Church Fields
Roxeth Rec (naturalised areas)
Lowlands Rec (naturalised areas)
Montesole Playing Fields (naturalised areas)
Canons Park (naturalised areas)
West Harrow Rec (naturalised areas)
Alexandra Park (naturalised areas)
Parish Fields, Old Reading
Harrow Rec (naturalised areas)
Byron Rec (naturalised areas)
Stanmore Marsh
Newton Park West
Bannisters Sports Field (naturalised areas)
Headstone Manor
Pinner Rec (woodmeadow area)
Kenton Rec