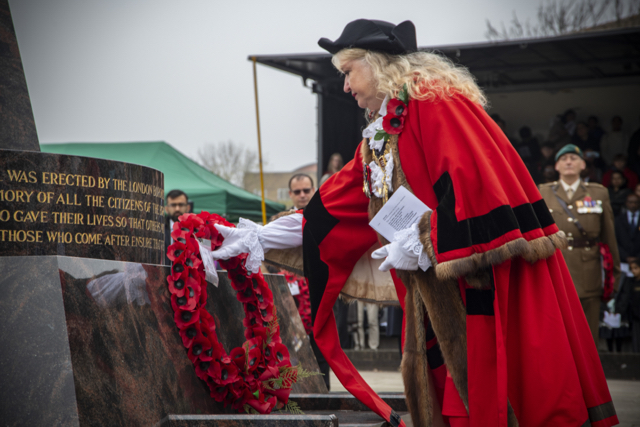 A moving Remembrance Sunday Parade and Service saw thousands of Harrow residents and dignitaries pay their respects to our fallen soldiers who served in the First and Second World War and those after. 
The special ceremony started off in the Town Centre where the 131 Commando Squadron Royal Engineers led the parade to the Civic Centre. They were joined by the Royal British Legion, cadets, scouts, volunteers and many other organisations.
Prayers were led by Reverend Simon Johnson from the Holy Trinity Church, Wealdstone. Readings were also made by other faith leaders including Harrow Interfaith Council.
Wreath laying at the Civic Centre memorial was Led by the Mayor of Harrow, and Deputy Lieutenant Simon Ovens which was followed by a two minutes' silence.
Mayor of Harrow, Cllr Janet More said:
"Remembrance Sunday is always a solemn day, I like many residents will have children, partners and parents who fought in the war. Their contributions and sacrifices must never be forgotten.

"Even today, our Armed Forces personnel carry out duties here and abroad to protect us and our many freedoms. On behalf of Harrow I say thank you for all that they do. I was moved to see thousands of people follow the parade and watch the service to show their respect and support for our brave soldiers. I would like to thank our cadets, emergency services and Royal Engineers who took part in the parade."
Winning poems from the Mayor's Remembrance Day poetry competition were also read out, and the service ended with a march past at the Civic Centre.
It was made even more special as this was the last Parade and service taking place at the Civic Centre (as the site closes to the public). Plans are being carefully considered on where the Parade and Service will take place next year.