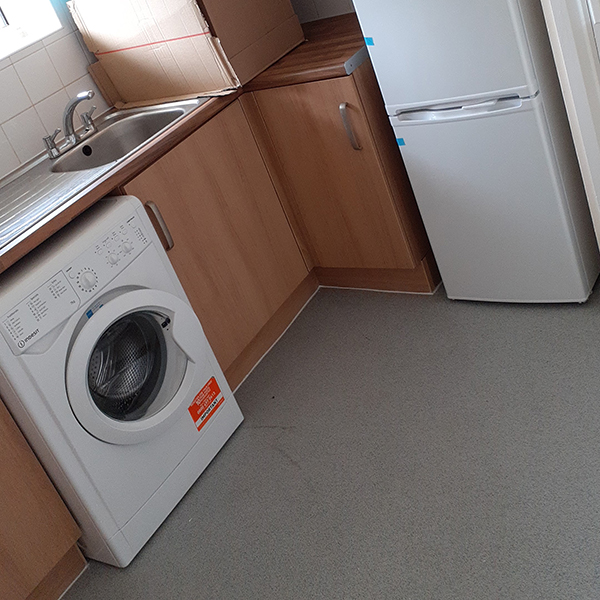 A former rough sleeper in Harrow, was the first to be given the key to their own front door last week as they start life in their new one-bedroom flat, thanks to a GLA grant.
Harrow Council have purchased a total of nine one-bedroom flats, to allocate to rough sleepers with complex needs. This is part of the Harrow Rough Sleeping Accommodation Programme (RSAP), funded by the Greater London Authority (GLA).
Harrow Council's Rough Sleeping Accommodation Programme (RSAP) was awarded £1,350,000 of capital funding by the GLA, with which it bought the one-bedroom flats in Harrow.
The GLA also gave revenue funding of £315k to provide specialist support to the residents for the next two years.
The flats are designed as long-term 'next steps accommodation' and will be allocated by the Outreach Team to rough sleepers, who will receive specialist counselling and support. Having a secure home provides a stable base from which other issues can be addressed.
Using the 'Housing First' model, the home is provided straight away to the rough sleeper, along with a comprehensive programme of wraparound support.
Previously the traditional route has been some form of hostel or other temporary accommodation with support interventions, to get the client "accommodation ready". This new approach goes straight for a settled housing solution.
Clients may currently be sleeping rough and might have been unsuccessful in previous housing solutions.
Councillor Mina Parmar, Cabinet member for Housing at Harrow Council, said:
"Harrow has considerably expanded its rough sleeping provision. We've implemented an outreach and rough sleeping team and more collaborative working with partners such as Firm Foundation.

We are pleased to now be able to make extra provision for those rough sleepers that we identify with complex needs, through these nine properties."