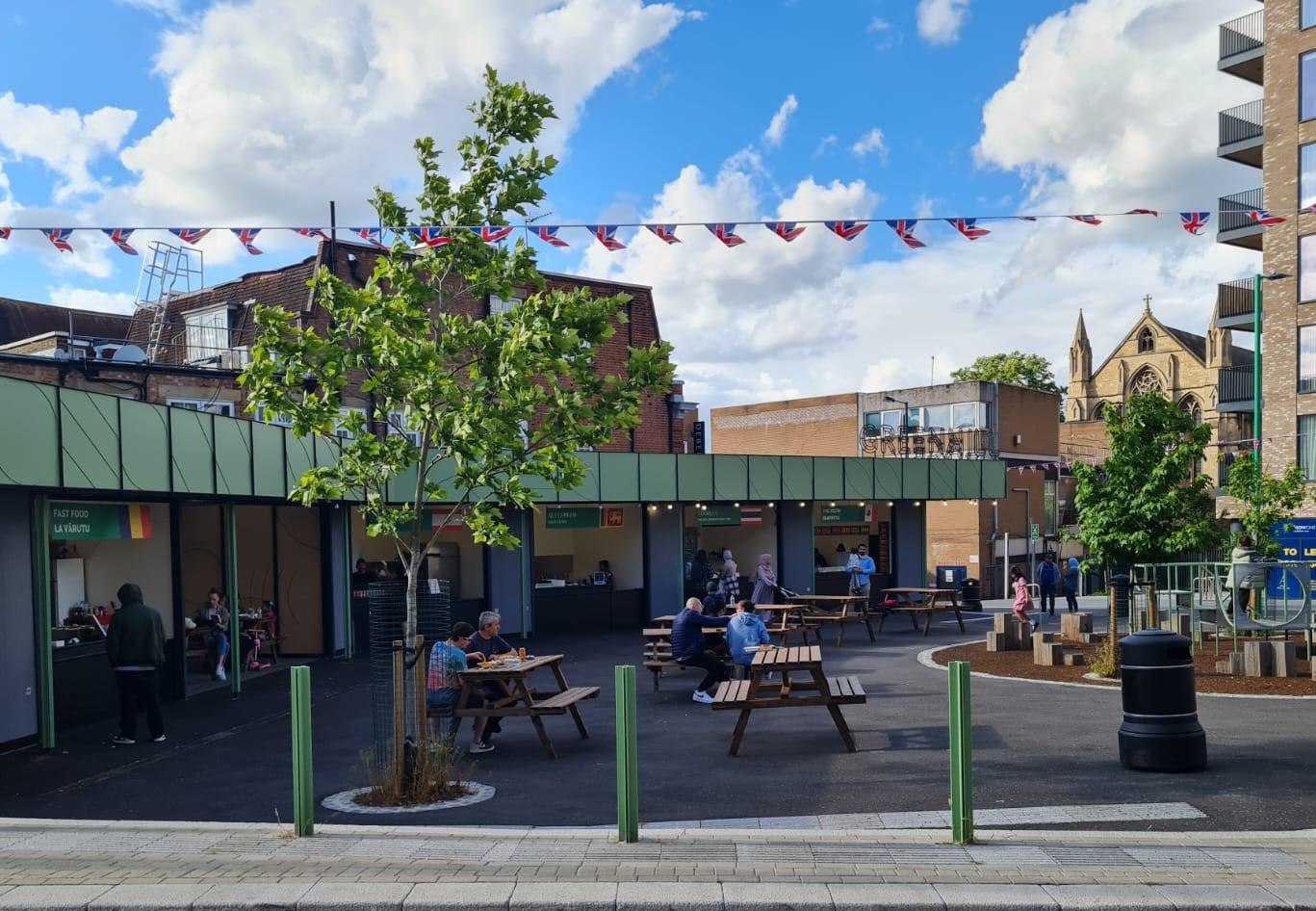 Let the celebrations continue! On Saturday 25th June, a new vibrant food market will open at Greenhill Place in Harrow Town Centre – and everyone is invited!
Managed by market operator Tudor Markets, there will be a variety of mouth-watering meals to choose from around the world including Romania, Lebanon, Thailand, Sri Lanka and Mexico. But that's not all, there is also an arts pod for local talent to showcase their work. It will be managed by Harrow Arts Centre who will be curating the space with arts exhibitions, individual artists' work and other community art for visitors to enjoy. The first exhibition in the arts pod will celebrate the Queen's Platinum Jubilee, with works from local artists and schools on display.
In addition to this, Tudor Markets will operate a regular market for up to three days a week from July and will allocate five out of 16 markets stalls to Harrow start-up businesses wishing to test trade their goods for free. If you're interested in finding out more, please email Harrow Council's Economic Development Team at edo.edo@harrow.gov.uk
Cabinet Member for Business and Employment, Cllr Norman Stevenson said:
"Jubilee celebrations may be over, but we've got something for all to enjoy and it's here to stay! Greenhill Place is not just a food market, it's somewhere people can come together to eat, play, and socialise.

"I'm very excited about this new project, and all that it will bring to Harrow. It's also a great way of supporting local businesses. So whether it's leaving your home office for a local lunch break or for leisure – come along to Greenhill Place and enjoy all it has to offer! It all makes a difference and most importantly helps build a community."
The Greenhill Place launch event takes place on Saturday 25 June 2022, 11am – 6pm and can be found at the former surface car park - St John's Road, HA1 2EA in Harrow town centre. It will be a fun-filled day for families to indulge in the food offer, market stalls and entertainment including a live band, dance group and face painting to name a few!
The project is funded through the GLA Good Growth Fund, Section 106 contributions from adjacent developer Redrow and Harrow Council Neighbourhood Community Infrastructure Levy (NCIL) and will increase footfall, spend, dwell time and employment in this part of the town centre.