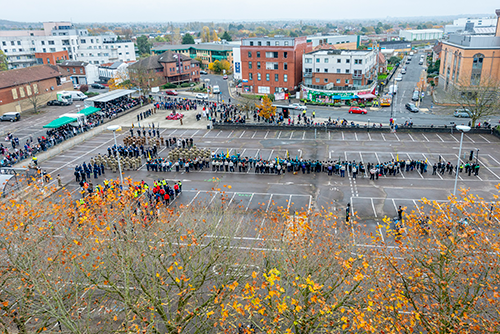 Harrow paid tribute to those who made the ultimate sacrifice on Sunday, as a Remembrance Parade was held in their honour.
Representatives from all branches of the services were present, alongside a host of civilian and community groups, as well as Borough councillors and members of the public.
The parade started at Katie's statue in St Ann's Centre, marched down Station Road and then to the Civic Centre.
Wreaths were laid by the Mayor of Harrow, Cllr Ghazanfar Ali, and others at the war memorial.
Prior to this the Mayor had laid wreaths across the Borough in honour of those who have fallen in two World Wars and other, more recent, conflicts.
He was joined by Deputy Lieutenant, Simon Ovens, as well as veterans and a bugler.
Wreaths were laid at Wealdstone Memorial, St Mary's Kenton, Edgware, St John's Stanmore, Harrow Weald Leefe Robinson, Harrow Weald All Saints Harrow, Weald Park & Memorial Club, Pinner Peace Garden, Greenhill and St John's Greenhill.
Mayor of Harrow, Cllr Ghazanfar Ali, said:
"It was extremely poignant, after missing last year's Parade due to Covid, that all communities were represented at this important event.

I would like to thank the Kenton Temple Band and Lezium who marched and played so well and enthusiastically. I am delighted that Harrow's 131 Commando Sqn RE, Army, Navy and Royal Air Force and emergency services were all represented in the wreath-laying.

Harrow Interfaith, which represents all faiths in Harrow, also took part, as well as our local Royal British Legion, who celebrate their centenary this year."
He added:
"I am also delighted that Harrow involves young people in its Remembrance event, with young cadets marching and young poets reading their poems. It is vital that we involve youth in this event to carry forward the important message and learn lessons well into the future."