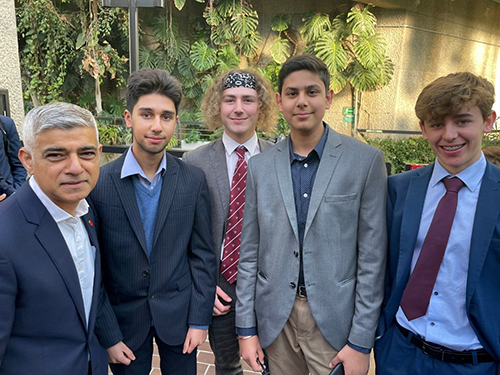 Pinner High is 1 of 5 schools to scoop London Mayor's Climate Kick-Start Prize.
A Harrow high school is one of five London schools to be awarded £10,000 each by Sadiq Khan to help pioneer environmental projects to engage young people.
Pinner High School's prize came about because Sixth Form geography students wanted to create an eco bike shelter to help improve traffic flow around the school in Beaulieu Drive and their work was recognised by the Mayor of London's team.
Mr Khan announced the winners of the Climate Kick-Start Prize following his return from the COP26 climate summit in Glasgow last week.
The initiative complements the work Harrow Council is doing to combat climate change.
The Borough has declared a climate emergency and is working towards carbon neutrality as an organisation by 2030 and supporting the area to do the same.
Cllr Christine Robson, Portfolio Holder for Young People and Schools, said:
"It is a phenomenal achievement which comes at a very important time.

"Young people and schools are very switched on to everything going on with the environment, especially in the wake of COP26, and to have their project specially selected and rewarded is fantastic.

"This award will spur on environmentally-conscious students, as well as boost health benefits and help the planet – and inspire the rest of Harrow."
Head of Geography Phil Smith, who led the project, explained:
"If we can get more students on bikes and out of their cars, it improves the air quality around the school and reduces congestion which makes the journey to school safer. We are delighted to have been awarded the Climate Kick-Start Prize to help us with this."

A Level Geographer Alex Stanisci-Brown thanked Mr Smith for providing the opportunity and the Mayor of London for trusting young people to make good decisions.

"We all know what we need to do to address climate change so rather than making pledges for the next 20 years I am delighted to be making real changes about what happens in my school right now," he added.

Pinner High was named as a winner along with Forest Gate Community School in Newham, Francis Barber Referral Unit in Wandsworth, Hammersmith Academy, and Riverside Bridge School in Barking and Dagenham.

Ahead of the event, Sadiq Khan said the initiative is about "engaging young people to help us make London one of the greenest and cleanest global cities".