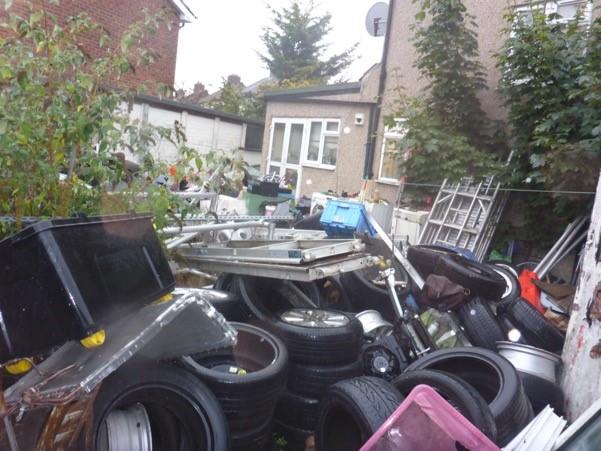 Neighbours' relief after hazardous residential scrapyard cleared. Tonnes of tyres, car parts and rubbish removed from eyesore Harrow property. Resident lands £10k bill after legal notice ignored.
A blight on the lives of residents in South Harrow has been cleared by the council's Enforcement Officers after a lengthy legal process.
A mountain of waste, including tyres, car parts and plastic, together with numerous vehicles, was removed from a residential garden near Eastcote Lane after the owner failed to act.
Despite its best efforts to work with the man responsible, the council was forced to move in after the owner ignored a Planning Enforcement Notice.
Council officers, working on site with specialist firm, Enforcement Service Limited, closed down the dodgy scrap metal and haulage operation, removing tonnes of callously dumped and dangerous material from the property's back garden.
Vehicles filling the space in front of the semi-detached home were also cleared. A further five cars were removed from the street outside.
Cllr Peymana Assad, Harrow's Cabinet Member for Community Cohesion, Crime and Enforcement, said:
"This action was a last resort after all other attempts to engage with this selfish resident failed. The state of his property left neighbours despairing.

"They've had to live with it for far too long. The legal process moves slowly, but I'm delighted that we have been able to offer them a resolution and remove this appalling eyesore and health hazard.

"It is shocking that anyone would dump waste like this, especially in a residential street. Even worse is the fact that legal notices to clear it were ignored. It shows a total lack of respect for the environment and everyone affected. We will not tolerate such behaviour."
The council has sent the resident a bill for the action, which ran to £10,000.