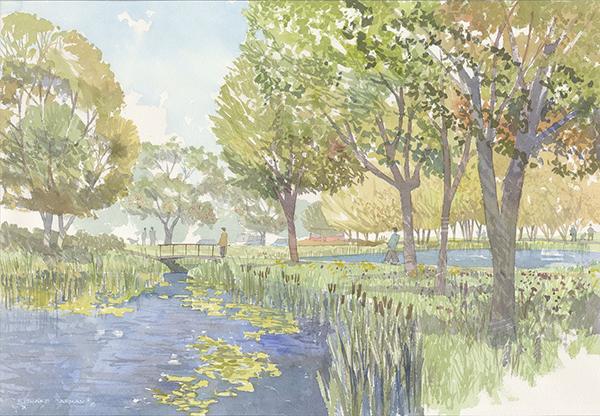 A celebration event will mark the reopening of Headstone Manor Park on Saturday 11 September, as the Parks for People and Flood Alleviation projects have been completed.
Parks for People and Flood Alleviation projects completed
Celebration on 11 September will see multiple activities and exhibitors at the park
New ecosystems created to benefit wildlife and learn lessons on climate change
A celebration event will mark the reopening of Headstone Manor Park on Saturday 11 September, as the Parks for People and Flood Alleviation projects have been completed.
Members of the public are being invited to join Harrow Council, Thames21 and the Friends of Headstone Manor Park, to celebrate the completion of the park projects from 10.30am to 3pm.
Identified as one of the areas at highest risk of flooding in Harrow, this project not only reduces the flood risk but also makes this park a great place for people and wildlife for the future.
New wetland areas and flow through the brook have been completed, which will help reduce the flood risk around North Harrow, a new orchard and planting to encourage wildlife, a new playground for children and nature walks and picnic area for the whole family, which complements improvement works at the museum and café at this historic site.
The project followed Harrow Council's successful bid for a grant of £1.1m, under the jointly funded National Lottery Heritage Fund and National Lottery Community Fund Parks for People programme, to rejuvenate Headstone Manor Park, surrounding the moated Headstone Manor Museum.
The grant represented 52% of the project costs of £2.165m with the balance funded by Harrow Council and the GLA Mayor of London's Green Capital Grants fund.
The £1m Flood Alleviation Scheme (FAS) was funded by Thames Water, the Environment Agency and the Thames RFCC (Regional Flood Coastal Committee).
A Wayfinder Trail leaflet has been produced as a guide to the nature walks on offer, packed with tips on where to spot plants and animals, as well as detailing the site's pollution and flood prevention methods.
Following footpaths around the Park, it also highlights a newly planted orchard, meadows and woodlands, as well as new picnic areas.
A Wild Fun activity leaflet has also been produced, to encourage families to play and explore in the park.
Activities throughout the day will include:
Guided tours of the new wetland
Photography workshops
Sport & fitness taster sessions
Craft activities
Storytelling walks
Water explorers activities
Nature walks
Exhibitors will include:
Harrow Nature Conservation Forum
Harrow Nature Heroes
6th Harrow Scouts
Lions Club
Thames21
Pinner RSPB
Crane Valley Partnership
North Harrow Community Library
Cllr Varsha Parmar, Environment Portfolio Holder, said:
"Not only does the opening celebration promise to be a fantastic day for all the family but, long after it is finished, there will be a continuing environmental resource that can provide vital lessons on the climate change emergency.

The new ecosystems at Headstone Manor Park will benefit wildlife and provide a fantastic resource for visitors to see nature close up and become more conscious of how our actions impact the natural world."
Vicky Duxbury, Thames21's outdoor learning officer, Vicky Duxbury, Thames21's outdoor learning officer, has organised a multitude of public engagement activities in the past two and a half years. She said:
"People of all ages have really enjoyed planting reed beds, carrying out water monitoring and learning from experts about spiders and birds.

They have learned how to record what they see using art or photography so that sightings can be added to national databases such as iNaturalist and iRecord. Our engagement work has been designed to make people really think about how their lifestyles can be more water and climate friendly and how their actions link to climate change issues, such as erratic weather patterns and increased flooding."
NOTES
The Headstone Manor Park, A Park for All Communities project received a Round 1 development Parks for People grant award of £229,700 in June 2016 towards the total development cost work of £283,250.
Harrow Council were subsequently successful in securing a Round 2 award from The National Lottery Heritage Fund (NLHF) and The National Lottery Community Fund (NLCF) in July 2018, securing £1.1 million towards the total project cost of £2.165m.
Part of LBH's match funding consists of a Green Capital Grant and on 30 July 2018 LBH were awarded £300,000 by the GLA.
Thames21
Thames21 is a London-based environment charity. It connects people with rivers by putting healthy waterways back at the heart of everyday life.
It restores waterways, educates and empowers the community and campaigns for positive change for the good of people and the environment.