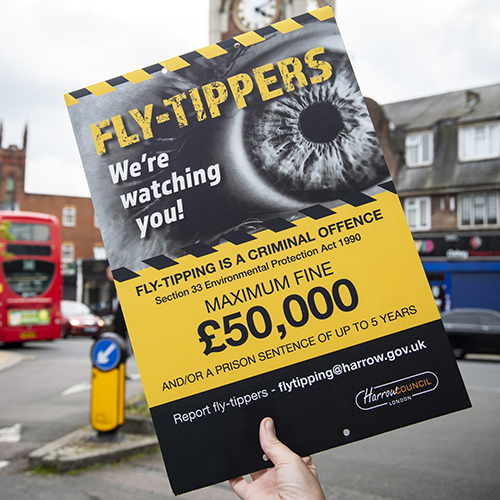 We are getting tougher on those dumping rubbish. Mobile and fixed cameras to track and catch flytippers in the act. Illegal dumping could land offenders with a £50,000 fine or up to 5 years in prison.
A tough new message against the scourge of flytipping, which makes the Borough untidy and dangerous, has been unveiled by Harrow Council.
The Council's enforcement teams are using mobile and fixed cameras at flytipping hotspots and flytippers have been warned: "We're watching you!".
Flytipping is a criminal offence and those who engage in illegal dumping can face a maximum fine of £50,000 or a prison sentence of up to five years.
As well as the tough enforcement measures members of the public can report flytippers at harrow.gov.uk/flytipping.
With the easing of lockdown restrictions and the onset of warmer weather it is a top priority to maintain the cleanliness of the Borough, with the message that people who use our parks and open spaces should take their rubbish home or face enforcement action.
The penalty for flytipping has doubled recently and flytippers will face fixed-penalty notices of £400, up from £200 and in extreme cases could be jailed or face fines of £50,000.
People who drop litter can expect to be £150 out of pocked, with fines up from £100.
The Council has also recently lowered the cost of disposing of bulky rubbish.
Cllr Varsha Parmar, Cabinet Member for Environment, said:
"The message to those inconsiderate enough to illegally dump rubbish in our Borough is clear: we are watching you and you will be fined. Flytipping and littering are a scourge that we are committed to cracking down harder on.

"it costs a lot to keep Harrow clean and I am disgusted by those who think it is ok to just dump rubbish on our streets. We are determined to make every penny count as well as to keep Harrow clean. If you're going to spoil our Borough, be prepared to face the law."
Wealdstone ward councillor, Cllr Phillip O'Dell, said:
"Our new posters spell it out if you are a flytipper we are watching you, you will be seen and you will be caught. We all have an interest and a responsibility in helping to keep Harrow clean and safe, we will not tolerate those who try to do the opposite."