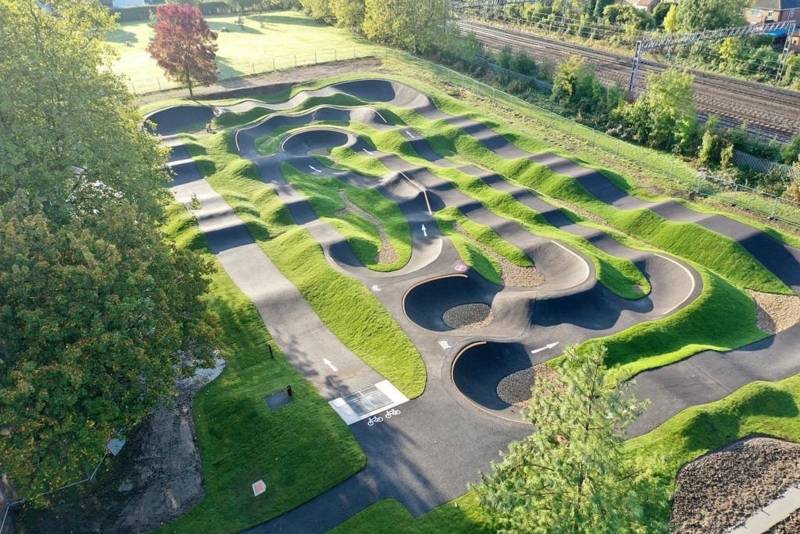 A new pump track will open in Kenton Recreation Ground, just down the road from one of the first bowl-skate parks to open in the UK.
The track, built by specialists Clark & Kent, offers something for everyone from novices to skilled riders – with green loop for beginners, blue loop for intermediate and improving riders and red loop for experienced riders, including a start-gate system for those wishing to practice for the Olympic sport of BMX racing.
Supported by Access Sport, Harrow Council, The London Marathon Charitable Trust, and the Places to Ride programme, which is being delivered by British Cycling, Sport England & the Department for Digital, Culture, Media & Sport (DCMS) the track will be open to the public and home to a brand-new community club, Harrow bike-club.
Thanks to Access Sport, and supported by Places to Ride funding, the club will have all the equipment needed to run weekly sessions on the track as well as outreach sessions with local schools, organisations and community groups.
Cllr Keith Ferry, Regeneration, Planning & Employment Portfolio Holder, said:
"This fantastic new facility provides a great new facet to the Borough's leisure offering.

It will also encourage people to keep fit as well as hone their skills on this brilliant new state-of-the-art BMX course. At a time when we are rightly encouraging cycling and the undoubted benefits of good physical and mental health and fitness this is a very welcome new resource for the local community."
Steph Walters, Delivery Manager from Access Sport, said:
"We are delighted to welcome this new facility to Harrow and the finished track looks amazing.

We hope that this new facility will inspire the local people of Harrow people to get on bikes and get active. It is a great asset for the local community and the track will be an exciting place for people to learn to ride or increase their cycling confidence."
British Cycling Head of Business Planning and Transformation, Andy Farr, said:
"When we launched the Places to Ride fund, we said that we wanted to capture the enthusiasm of the UCI Road World Championships in Yorkshire by inspiring more people to ride, connecting the community and leaving a lasting impact.

This new pump track ticks all those boxes, and more, and will go a long way in showing how a facility can engage successfully with a community.

"We are pleased to support efforts to be accessible and inclusive and would absolutely encourage anyone in the area to see what the pump track is all about at this week's open day.

"As we enter the final period of allocating grants through the Places To Ride fund, we are incredibly proud to see how it has already enabled so many people from a range of backgrounds – regardless of age, gender, ability or ethnicity – to get involved with cycling."
Joe Thompson, Facilities Grants Lead for The London Marathon Charitable Trust, said:
"The importance of providing opportunities for people of all ages, abilities and backgrounds to be physically active has never been greater, particularly through cycling.

The opening of this excellent new track in Harrow and the planned outreach sessions will support different groups in using the facility, enabling more people to participate in cycling and inspiring activity within the local community."
The new track opens in Harrow Rec on Saturday 31st October 2020, following an open day being held by Harrow bike-club (all spaces fully booked).
All sessions are COVID-19 risk assessed and will be following government and British Cycling guidance.