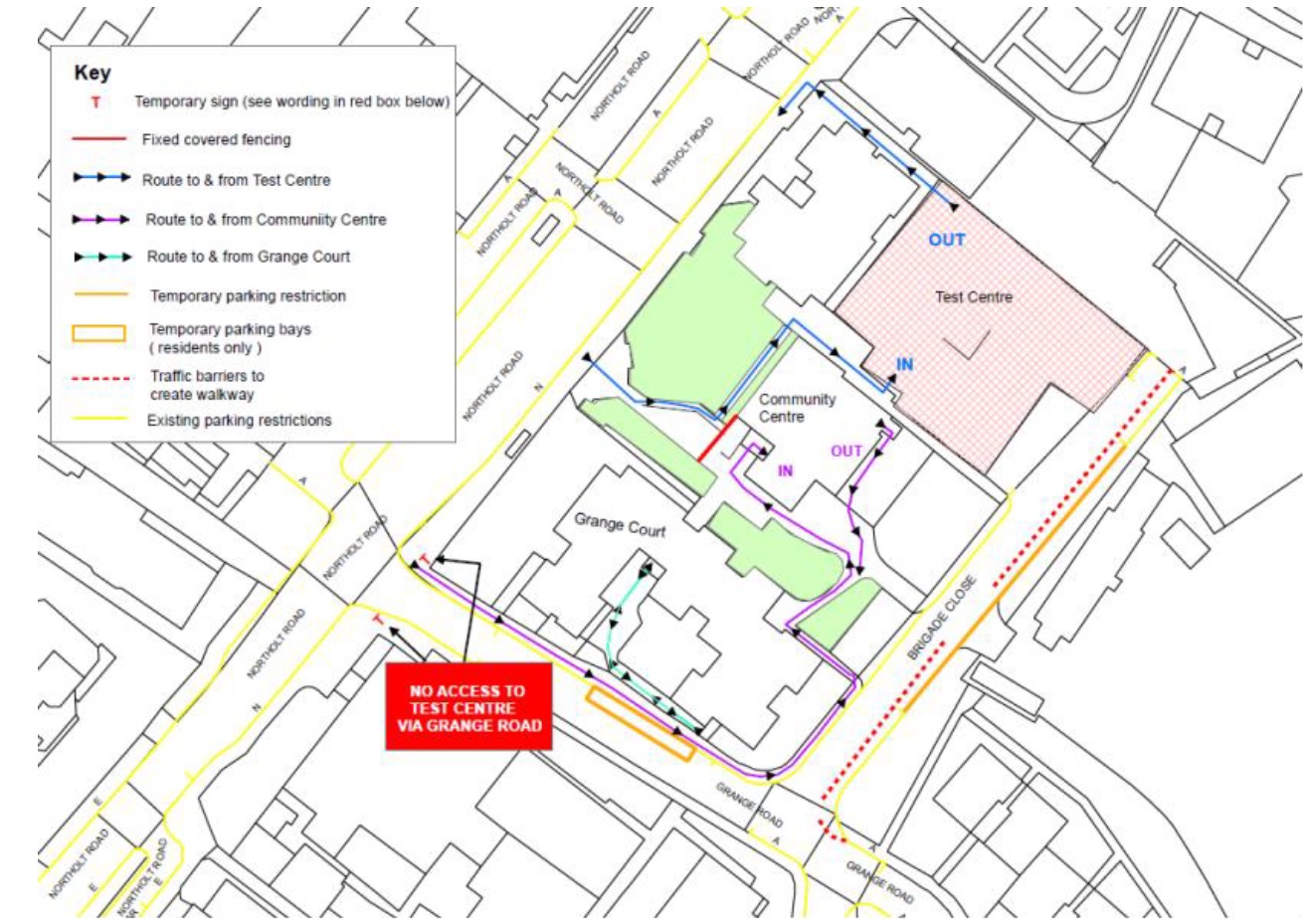 Brigade Close Car Park changes use to support those without cars to get tested
The Brigade Close Car Park (opposite South Harrow Police Station has opened as a walk-through Covid-19 testing centre this week for local people who are unable to attend drive through centres.
With transmission of Coronavirus on the rise in Harrow, as well as nationally, action has been taken to stop the trend. The Government is increasing the number of Covid testing sites for local people and the plan is to have a number of local testing sites in every borough in the country.
Cllr Graham Henson, Leader of Harrow Council, said: "Cases continue to rise in Harrow and London at an alarming rate - this new walk-through centre is a vitally important part of our efforts to stop the spread of the virus and save lives.
"We've had regular drive-through mobile units at the Civic Centre and nearby Northwick Park Hospital throughout the pandemic, but that's no good to people without access to a car. Now those people can walk to the South Harrow testing centre, any day of the week, from 8am to 8pm.
"The centre, the first in a number we are planning with the Department of Health and Social Care (DHSC), will see up to 300 people a day and means shorter waits for tests and a boost to testing capacity in the heart of the Harrow community."
"I want to warn you that additional restrictions soon are highly likely – we need to start preparing for them now.
"All of us should strictly follow the rules and guidance in place - and take all sensible precautions to protect ourselves, our friends and our family and slow the spread of the virus."
Carole Furlong, Harrow Council's Director of Public Health, said: "We are pleased to roll out this new addition to our testing capability.
"Testing is central to our collective efforts to control the virus, so if you or a family member experience any one of the symptoms, a new continuous cough, a high temperature or a change/loss in taste or smell, please self-isolate immediately and book a test.
"We must all do our bit to help stop the spread so please continue to follow the rule of six and hands, face, space mantra – wash your hands regularly, wear a face covering and make space to control the spread and reduce infection rates."
The Brigade Close walk-through testing centre is open 7 days a week, 8am to 8pm, for people to access by walking who booked a test in advance online on the NHS website or by calling 119.
Strict safety control measures are in place for those attending the test centre: face coverings will need to be worn and social distancing must be followed at all times.
A one-way system and security team are in place to ensure social distancing and guide people in and out.
The council expects the car park to be closed for six months. Please note that planning permission is not required for this temporary use, as the Government has issued emergency legislation to allow for testing centres to be set up and operational as quickly as possible.
While the council has closed the Brigade Close pay and display car park, it has not restricted local parking arrangements.
The measures will be under continual review during the six-month temporary period and residents will be informed of any necessary changes.
A one way-system will ensure social distancing with people accessing the testing centre via Grange Road into Brigade Close and leaving via the footpath.
The testing site will consist of a marquee and portacabins and will have its own facilities so that local people are not disturbed.
Noise proofing is being installed in the marquee so disruption to residents is kept to a minimum.
At maximum capacity the site will test around 300 people a day, so around 25 people per hour.
The Brigade Close Car Park will closed from midnight on Sunday 27th September to allow for preparation of the site for the centre.
The preparation works included:
- Removal of barriers within the car park
- Removing walls within the car park and on the border of the car park to allow for a one-way system
- Trees on Grange Close currently overhanging will be pruned to allow for vehicles to access the site for the test centre set up.
Residents with H2 parking permits will be able to park in Cowen Avenue Car park. All other car park users will need to find alternative parking arrangements.