Harrow's flagship community awards returns again celebrating the hard work, dedication and achievements of local people and teams who make Harrow a special place to live and work.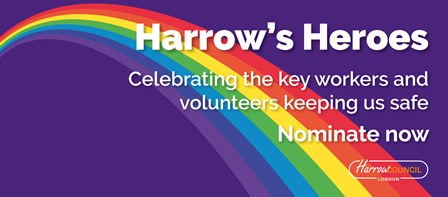 This year is unique due to the ongoing Coronavirus (COVID-19) emergency and we are dedicating it to key workers and volunteers with a month long celebration. However, you can also nominate anyone in the borough making a difference to others and their community that is non covid related.
You can nominate an individual or team who go above and beyond - and with any pictures or videos. Harrow's Heroes is open to anyone who lives or works in Harrow or serves Harrow residents.
Cllr Sue Anderson, cabinet member for community engagement and accessibility said:
"There are thousands of people working exceptionally hard in ensuring we are kept safe, fed and supported during this difficult period. We want to hear the inspiring stories behind our local heroes – whether covid or non covid related, there are lots of fantastic things being done to help our residents and our communities.
"Harrow's Heroes is our way of saying thank you to those going above the call of duty for doing things that so often go unrecognised. Nominate someone special today."
From our emergency services, carers, food distributers and teachers; to volunteers, street cleaners, befrienders and transport drivers – these are just a handful of things, but Harrow has an army of heroes. It could be something as big as saving someone's life, or as little as helping with gardening. There are lots of great things being done in the face of adversity and we want to capture this.
Nominations are open until 30 July. We will be publishing all Harrow's Heroes in a month long celebration on our social media channels.