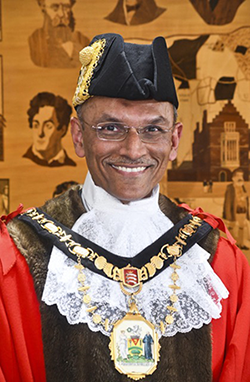 "Tomorrow is the 75th anniversary of the end of the war in Europe; the day the guns fell silent and ended many years of fighting and hostility.
"There are many parallels between the struggles of three quarters of a century ago and what we are going through today. We look to our WW2 generation to learn from their experiences, and we continue our work to protect them from the threat we currently face.
"Many of you will be doing amazing things to help neighbours and other vulnerable people in your community, which is one of the great qualities of Harrow. Our diversity of faith and community groups are a huge strength here and I would like to thank all those helping and supporting the residents of Harrow, standing together in unity and solidarity against Covid-19. As we celebrate our heroes of WW2, I would also like us to remember those heroes doing the many great things today to support communities in Harrow, giving service to our nation.
"Now more than ever it is important to unite in recognition of service to the nation.
"Unfortunately we cannot celebrate outside with our friends and neighbours this year due to the coronavirus crisis – but it won't stop us from marking this important day in our world history and remembering our WW2 heroes whose sacrifices and bravery have made such a difference to all of our lives.
"The team at Headstone Manor and Museum has been working hard to make sure you can see for yourself what Harrow was like those years ago thanks to photos on its website. There are moving accounts, music and family activities to get involved with and even VE Day make-up and hair tutorials. Bentley Priory's website also has some tips for making your own bunting and other ways to celebrate VE Day at home.
"Tomorrow (Friday 8), please join me for a national moment of Remembrance and pause for a Two Minute Silence at 11am to honour the service and sacrifice of the WW2 generation and reflect on the devastating impact Covid-19 has had on so many lives across the world. You might wish to sit or stand at your windows, or step outside your homes while social distancing.
"Then at 3pm, grab a cup of tea or raise a glass to join the Nation's Toast to the Heroes of WW2.
"I know some schools and community groups are encouraging a Stay At Home Street Party as well. While we can't have a traditional get together with our neighbours this year, we can bake a cake, wear red, white and blue, put up bunting and wave a flag to join the rest of our Harrow community and indeed the country in celebrating, feeling connected and being together. Don't forget to share your photos on social media #VEDAyHarrow."