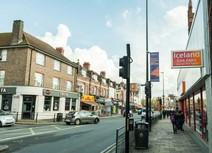 Help council prepare final bid for £10m TfL grant
Cycle routes and pedestrian access, making green spaces more attractive and reducing traffic speeds to improve safety – these could be coming to Wealdstone High Street soon!
Around 300 comments and suggestions came from many of you who live, work and care about Wealdstone. You've spoken, and we've listened!
Your responses have helped us put together proposals for the final stage of the Liveable Neighbourhood bid – and we need your help more than ever before so we can secure the £10m grant from TfL. We are now launching another portal with details of plans for the bid and asking for feedback on these before the final bid is submitted at the end of the month. The link to the portal is https://wealdstonelnproposals.commonplace.is/
If you signed up for news updates on the commonplace portal, you'll be sent a news update about this.
Harrow Council Corporate Director Paul Walker said: "A big thank you to everyone who has shared their views over the past few weeks and helped us get this far.
"Now we need to come together to finalise the plans, secure this extra Liveable Neighbourhoods funding and make the suggestions a reality.
"Here's a chance to improve open spaces, make streets more attractive to use and make it easier and safer to walk and cycle. Wealdstone deserves this."
We are aware there are anti-social behaviour concerns and a separate working group looks at this. Please report any issues here.
TFL's Liveable Neighbourhood programme gives London boroughs the opportunity to submit bids for transport-related projects. This supports the Healthy Streets project, which aims to reduce reliance on personal vehicles in favour of walking, cycling and using public transport to create a healthy city. A bid of up to £10 million will be submitted by the end of the month.