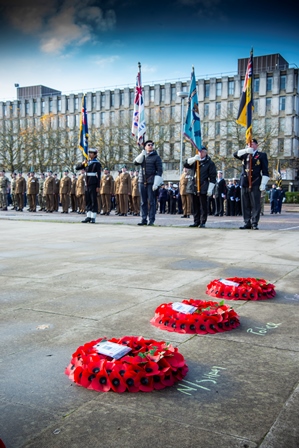 Harrow fell silent on Remembrance Sunday as the borough paid tribute to and remembered our fallen heroes while also honouring those still serving and veterans of our armed forces. 
Thousands gathered to watch London's second largest Remembrance Sunday parade and service led by the Glen Trew Pipe Band. Harrow's 131 Commando Squadron Royal Engineers, The Royal British Legion, cadets, scouts, volunteers and other organisations all took part in this year's parade.
The Act of Remembrance was led by Reverend Mark Maloney, with prayers from Rabbi Kathleen de Magtige-Middleton, HH Shri Rajeshwar Guruji, and Father Frank Walters. All faiths were represented by Harrow Interfaith who led with the Interfaith Act of Commitment.
Mayor of Harrow, Cllr Nitin Parekh who led the wreath laying ceremony outside the Civic Centre said:
It was fantastic to see so many people both young and old and from all communities come together to remember and honour those who gave their lives for the many freedoms we enjoy today. I was impressed to see so many of our young people actively participating in the parade alongside our veterans and serving members of the armed forces – and also a huge well done to our poetry competition winners and all school children who entered poems. It's so important that Remembrance Day is never forgotten.

"Thank you to everyone who joined us on Sunday."
Winning poems from the Mayor's Remembrance Day poetry competition were read out during the Service and both winners and runners up were later awarded certificates in the Mayor's Parlour..