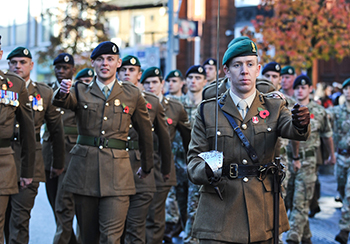 We will remember them on 10 November
Harrow will fall silent on Remembrance Sunday as hundreds of people pay their respects to the members of the armed forces who lost their lives fighting for their country - and our freedoms.
A poignant parade and service (the second largest in London) will take place at the Civic Centre on Sunday, November 10 - and everyone is welcome to attend. As always, we invite former servicemen and women – or their relatives - to wear their medals and take part.
The parade starts at Harrow Town Centre near Katie's Statue and will march towards the Civic Centre from 10am.
Remembrance Day Parade details
Mayor of Harrow Cllr Nitin Parekh said:
"Please do join us to mark Remembrance Day and wear your poppy with pride to pay tribute to those who gave their lives for your tomorrow.

"This is about everyone in the borough coming together from all walks of life to remember. We also think of all of those affected by current conflicts."
The services have extra significance this year as 2019 marked the 100th anniversary of the 1919 Peace Treaty, the 80th anniversary of the start of World War II and the 75 years since the D-Day landings.
Harrow's Civic Remembrance Parade & Service
Sunday 10th November, Civic Centre, 9.20am – 11.45am
The annual parade is led by the Glen Trew Pipe Band - the second largest in London, after the Cenotaph
Schedule
10am: parade marches from St Ann's Precinct to make its way to the Civic Centre – Servicemen past and present are invited to join the march with their medals – or perhaps relatives of those who have served would like to wear medals to show them off and join the Parade – please assemble 9.20am for 9.30am as the Parade forms up at St Ann's Precinct
10.30am: parade arrives at the Harrow War Memorial outside the Civic Parade Ground
You are welcome to lay a wreath during the Service – please see the Wreath Marshal next to the Memorial by 10.30am who will guide all wreath layers.
10.45am: Harrow Remembrance Service starts at the Harrow War Memorial, Station Road with two minutes' silence at 11am
11:00am: 2 minutes silence