LGBTQ+ Special
LGBT+ History Month Special
Some much loved old favourites and some new books to discover... we hope you enjoy them.
Adult fiction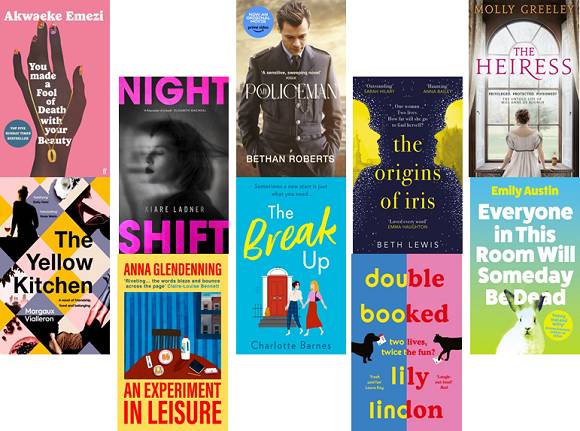 You Made a Fool of Death With Your Beauty
Akwaeke Emezi
Feyi is about to be given the chance to escape the city's blistering heat for a dream island holiday: poolside cocktails, beach sunsets and elaborate meals. And as the sun goes down on her old life, our heroine also might just be ready to open her heart to someone new. The only problem is, she's falling for the one man she absolutely can't have.
My Policeman
Bethan Roberts
It is in 1950s Brighton that Marion first catches sight of the handsome and enigmatic Tom. He teaches her to swim in the shadow of the pier and Marion is smitten - determined her love will be enough for them both.

A few years later in Brighton Museum Patrick meets Tom. Patrick is besotted with Tom and opens his eyes to a glamorous, sophisticated new world.

Tom is their policeman, and in this age it is safer for him to marry Marion. The two lovers must share him, until one of them breaks and three lives are destroyed.
The Yellow Kitchen
Margaux Vialleron
Expectation meets Julie and Julia, The Yellow Kitchen is a brilliant exploration of food, belonging and friendship.
London E17, 2019. A yellow kitchen stands as a metaphor for the lifelong friendship between three women: Claude, the baker, goal-orientated Sophie and political Giulia. They have the best kind of friendship, chasing life and careers; dating, dreaming and consuming but always returning to be reunited in the yellow kitchen.
That is, until a trip to Lisbon unravels unexplored desires between Claude and Sophie. Having sex is one thing, waking up the day after is the beginning of something new.
Exploring the complexities of female friendship, The Yellow Kitchen is a hymn to the last year of London as we knew it and a celebration of the culture, the food and the rhythms we live by.
The Origins of Iris
Beth Lewis
Iris flees New York City, and her abusive wife Claude, for the Catskill Mountains. When she was a child, Iris and her father found solace in the beauty and wilderness of the forest; now, years later, Iris has returned for time and space to clear her head, and to come to terms with the mistakes that have led her here.
But what Iris doesn't expect in her journey of survival and self-discovery is to find herself - literally.
Trapped in a neglected cabin deep in the mountains, Iris is grudgingly forced to come face to face with a seemingly prettier, happier and better version of herself. Other Iris made different choices in life and love. But is she all she seems? Can she be trusted? What is she hiding?
As a storm encroaches, threatening both their lives, time is running out for them to discover why they have been brought together, and what it means for their futures.
An important, searing novel about one woman's journey in fleeing an abusive relationship and confronting the secrets of her past. Author of the critically-acclaimed debut The Wolf Road, Beth Lewis returns with her brand-new novel The Origins of Iris where Wild meets Sliding Doors.
The Break Up
Charlotte Barnes
You don't know what you're looking for until you find it.
Edi Parcell thought she had life all planned out, so when her childhood sweetheart proposes a three-month break to date other people, she's shocked. Unexpectedly back on the dating scene after years with the same guy, this is the first opportunity Edi's had to think about what she really wants from life – and love.
From disastrous first dates to meet-cutes at museums, Edi is soon on a voyage of self-discovery – and she has her best friends on hand to help with everything from deciphering WhatsApps to deciding whether that cute woman in the art gallery really was flirting with her. When the break is over, will Edi even want her old relationship back?
The heiress: the revelation of Pride & prejudice's miss Anne de Bourgh
Molly Greely
'With stunningly lyrical writing, Greeley elevates Austen-inspired fiction onto a whole new plane.' - Natalie Jenner, author of The Jane Austen Society

As a fussy baby, Anne was prescribed laudanum to quiet her and has been given the opium-heavy syrup ever since on account of her continuing ill health. While her mother is outraged when Darcy chooses not to marry Anne, as has been long planned, Anne can barely raise her head to acknowledge the fact.

But little by little, she comes to see that what she has always been told is an affliction of nature might in fact be one of nurture - and one, therefore, that she can beat. In a frenzy of desperation, she throws away her laudanum and seeks refuge at the London home of her cousin, Colonel Fitzwilliam.

Suddenly wide awake to the world but utterly unprepared, Anne must forge a new identity among those who have never seen the real her - including herself.

With its wit, sensuality and deep compassion for the human heart, The Heiress is a sparklingly rebellious novel that takes a shadowy figure from the background of Pride & Prejudice, one of the world's most beloved books, and throws her into the light.
Everyone in this Room will Someday be Dead
Emily Austin
Gilda cannot stop thinking about death. Desperate for relief from her anxious mind and alienated from her repressive family, she responds to a flyer for free therapy at a local church and finds herself abruptly hired to replace the deceased receptionist Grace. It's not the most obvious job - she's queer and an atheist for starters - and so in between trying to learn mass, hiding her new maybe-girlfriend and conducting an amateur investigation into Grace's death, Gilda must avoid revealing the truth of her mortifying existence.

A blend of warmth, deadpan humour, and pitch-perfect observations about the human condition, Everyone in This Room Will Someday Be Dead is a crackling exploration of what it takes to stay afloat in a world where your expiration - and the expiration of those you love - is the only certainty.
An Experiment In Leisure
Anna Glendenning
'An Experiment in Leisure' is a classic tale with a contemporary twist, told in an unforgettable voice that explores the emotional costs of social mobility, the possibilities of leaving and returning, the meanings of work and the ways a woman learns to love women.
It's a witty, bold debut, at once a tender portrait of youth and a piercing insight into the political, cultural and economic fault lines dividing Britain today.
Double Booked
Lily Lindon
Georgina is a sensible 26-year-old with a routine: 1) schedule dates with long-term boyfriend, 2) teach piano to inept children, and 3) repeat until dead. Perfect.
But when one night she deviates from her usual timetable and sees the indie lesbian pop band Phase, Georgina realises: 1) she longs to play her own music again, 2) she wants to be just like them, and 3) their drummer is really hot.
Scared of losing her happy straight life, but feeling a new sense of belonging in the gay scene, she does what any rational person would do: she splits herself in two. She'll be Gina by day, George by night. It's going to take painstaking scheduling, a versatile wardrobe, and an ambiguous haircut, but maybe Georgina really can have both?
Nightshift
Kiare Ladner
Nightshift is a story of obsession set in London's liminal world of nightshift workers.

When twenty-three-year-old Meggie meets distant and enigmatic Sabine, she recognizes in her the person she would like to be. Giving up her daytime existence, her reliable boyfriend, and the trappings of a normal life in favour of working the same nightshifts as Sabine could be the perfect escape for Meggie. She finds a liberating sense of freedom in indulging her growing preoccupation with Sabine and plunges herself into another existence, gradually immersing herself in the transient and uncertain world of the nightshift worker.

Dark, sexy, frightening, Nightshift explores ambivalent female friendship, sexual attraction and lives that defy easy categorization. London's stark urban reality is rendered other-worldly and strange as Meggie's sleep deprivation, drinking and fixation with Sabine gain a momentum all of their own. Can Meggie really lose herself in her trying to become someone else?

A novel of obsession and desire, Kiare Ladner's Nightshift is a beautiful and moving debut which asks profound questions about who we are and if we can truly escape ourselves.
Adult non-fiction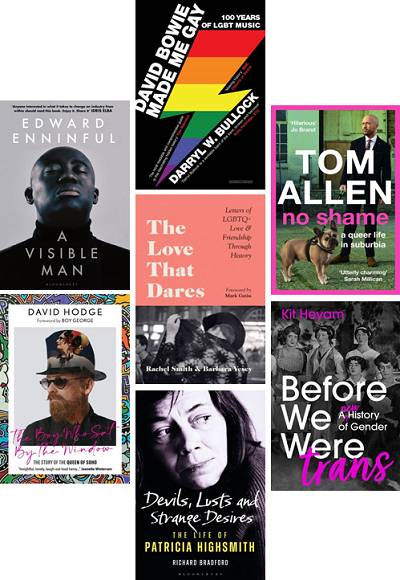 A Visible Man
Edward Enninful
Why look back when you can look forward? Why look in when you can look out? Where's the next evolution? I throw everything into my work, but once it's done, I'm really more concerned with what's new. The future is my thing.

Edward Enninful has lived an extraordinary life.

Here, for the first time, he shares the inspiring story of his journey, beginning in a childhood bedroom in Ghana overlooking firing squads, to arriving in 1990s London as an asylum seeker, to today setting the cultural agenda as the first Black editor-in-chief of British Vogue. His covers have changed our understanding of beauty and desirability. Featuring exclusively African models, first responders, global activists and the oldest cover star at age 85, they have also broken sales records.

This is the story of how he did it.

A Visible Man is the story of a husband, son, brother, friend - and icon. Taking us from the neon thrills of Soho clubs to nights spent on friends' sofas, this is the story of Edward's phenomenal grit and determination: through fame and failures, joy and loss, ill health and addiction, heartbreak and coming out. It's the story of one man's revolutionary mission to change how we see the world, showing how unwavering passion and perseverance can allow anyone to make their mark.
Before We Were Trans: A New History of Gender
Kit Heyam
Across the world today, people of all ages are doing fascinating, creative, messy things with gender. These people have a rich history - but one that is often left behind by narratives of trans lives that focus on people with stable, binary, uncomplicated gender identities. As a result, these stories tend to be recent, binary, stereotyped, medicalised and white.

Before We Were Trans is a new and different story of gender, that seeks not to be comprehensive or definitive, but - by blending culture, feminism and politics - to widen the scope of what we think of as trans history by telling the stories of people across the globe whose experience of gender has been transgressive, or not characterised by stability or binary categories.

Transporting us from Renaissance Venice to seventeenth-century Angola, from Edo Japan to North America, the stories this book tells leave questions and resist conclusions. They are fraught with ambiguity, and defy modern Western terminology and categories - not least the category of 'trans' itself. But telling them provides a history that reflects the richness of modern trans reality more closely than any previously written.
The Boy Who Sat By The Window
David Hodge
"My story is one of laughter and hedonism, dressing up and showing off. I played Queen in a parallel universe of glamour, rhinestones and couture outfits. It's also one of alienation and loneliness and of always being the odd one out. I lived through AIDS, Princess Diana and Thatcher but came out singing and dancing my way through Soho and the West End. I survived a murder attempt and bankruptcy. I am still here. Now I paint my feelings and not my face and once again feel as if my journey is beginning. This is my truth. Grubby at times but mine to tell. Here it is. Uncensored." - David Hodge
From a skinny, ginger-haired kid from Walsall who was bullied at school, to the 'Queen of Soho', who would rule London's drag scene in its most dazzling era. This gripping true story follows an unassuming boy, separated from other children and made to sit by the window, on to a remarkable career, with celeb buddies including Kylie Minogue, The Pet Shop Boys, Grace Jones, Cyndi Lauper and, of course, Boy George.
But behind the glitter, there was a far darker reality. David worked simultaneously at London Lighthouse, the pioneering centre for the care of people living with HIV and AIDS. Here, the young David grew up fast and opened his eyes to the true impact of this terrifying pandemic. The contrast was stark between the life of David Hodge during the day and the life of Miss Dusty O after dark.
After two decades in clubland, as drink and drugs started to take their toll and he feared he was developing his father's alcoholic patterns, David changed his life yet again…
The Love That Dares: Letters of LGBTQ+ Love & Friendship Through History
Rachel Smith | Barbara Vesey
"What this charming, moving and fascinating collection proves is that the [letter] form itself - a scribbled note, a declaration of love, an outpouring of passion, a bitter word - has always been with us." - Mark Gatiss

A good love letter can speak across centuries, and reassure us that the agony and the ecstasy one might feel today have been shared by lovers long gone. In The Love That Dares, queer love speaks its name through a wonderful selection of surviving letters between lovers and friends, confidants and companions.

Alongside the more famous names coexist beautifully written letters by lesser-known lovers. Together, they weave a narrative of queer love through the centuries, through the romantic, often funny, and always poignant words of those who lived it.
No Shame: A Queer Life In Suburbia
Tom Allen
'When I was 16 I dressed in Victorian clothing in a bid to distract people from the fact that I was gay. It was a flawed plan.'

No Shame is a very funny, candid and emotional ride of a memoir by one of our most beloved comedians. The working-class son of a coach driver, and the youngest member of the Noel Coward Society, Tom Allen grew up in 90s suburbia as the eternal outsider.

In these hilarious, honest and heartbreaking stories Tom recalls observations on childhood, his adolescence, the family he still lives with, and his attempts to come out and negotiate the gay dating scene. They are written with his trademark caustic wit and warmth, and will entertain, surprise and move you in equal measure.
David Bowie Made Me Gay: 100 Years of LGBT Music
Darryl W. Bullock
From the birth of jazz in the red-light district of New Orleans, through the rock `n' roll years, Swinging Sixties and all-singing and all dancing disco days of the `70s, to modern pop, electronica and reggae the LGBT community has played a crucial role in modern music. At the turn of the twentieth century, recording technology for the first time brought the messages of LGBT artists from the cabaret stage into the homes of millions.
Their personal struggle and threat of persecution during decades of political and historical turmoil - including two world wars, Stonewall and the AIDS crisis - has led to some of the most significant and soul-searching music of the last century.
Bullock brings to light the colourful legacy that has shaped our musical and cultural landscape, revealing the inspiring and often heartbreaking stories of internationally renowned LGBT artists from Billie Holiday and Dusty Springfield to Frankie Goes to Hollywood and George Michael and of numerous lesser-known names that have driven the revolution from all corners of the globe.
A treasure-trove of untold history for all music lovers, David Bowie Made Me Gay is a moving, nostalgic and provocative reminder of how far the fight for equality has come, and the battles that are still to be waged.
Devils, Lusts and Strange Desires: The Life of Patricia Highsmith
Richard Bradford
Made famous by the great success of her psychological thrillers, The Talented Mr Ripley and Strangers on a Train, Patricia Highsmith is renowned as one of the most influential and celebrated modern writers. However, there has never been a clear picture of the woman behind the books.

The relationship between Highsmith's lesbianism, her fraught personality - by parts self-destructive and malicious - and her fiction, has been largely ignored by biographers in the past. As an openly homosexual writer, she wrote the seminal lesbian love story Carol for which she would be venerated, in modern times, as a radical exponent of the LGBTQ+ community.

Alas, her status as an LGBTQ+ icon is undermined by her excessive cruelty towards and exploitation of her friends and many lovers. In this biography, Richard Bradford brings his sharp and incisive style to one of the greatest and most controversial writers of the twentieth century. He considers Highsmith's bestsellers in the context of her troubled personal life; her alcoholism, licentious sex life, racism, anti-Semitism, misogyny and abundant self-loathing.
#BehindTheLens
LGBT+ History Month 2023 #BehindTheLens celebrates LGBT+ peoples' contribution to cinema and film from behind the lens. Directors, cinematographers, screenwriters, producers, animators, costume designers, special effects, make-up artists, lighting directors, musicians, choreographers and beyond.
Here are a few books to whet your appetite: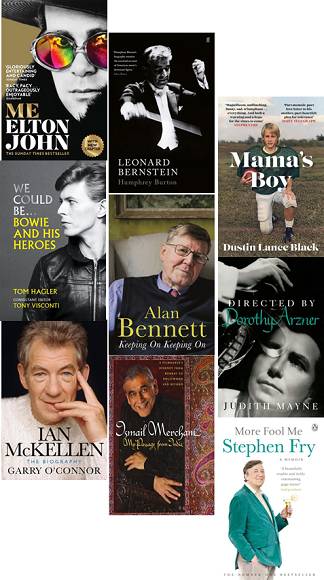 Mama's Boy: A Memoir
Dustin Lance Black
This heartfelt, deeply personal memoir explores how a celebrated filmmaker and activist and his conservative Mormon mother built bridges across today's great divides--and how our stories hold the power to heal.
Dustin Lance Black wrote the Oscar-winning screenplay for Milk and helped overturn California's anti-gay marriage Proposition 8, but as an LGBTQ activist he has unlikely origins--a conservative Mormon household outside San Antonio, Texas. There he was raised by a single mother who, as a survivor of childhood polio, endured brutal surgeries as well as braces and crutches for life. Despite the abuse and violence of two questionably devised Mormon marriages, she imbued Lance with her inner strength and irrepressible optimism.
When Lance came out to his mother at age twenty-one, she initially derided his sexuality as a sinful choice. It may seem like theirs was a house destined to be divided--and at times it was. But in the end, they did not let their differences define them or the relationship that had inspired two remarkable lives. This heartfelt, deeply personal memoir explores how a mother and son built bridges across great cultural divides--and how our stories hold the power to heal.
Ismail Merchant: My Passage From India
Ismail Merchant
My Passage from India describes Ismil Merchant's extraordinary journey from his start as an aspiring filmmaker in Bombay, scraping together a meagre production budget for his first short film, to his triumphant arrival at the Oscar podium.
Keeping On Keeping On
Alan Bennett
'I seem to have banged on this year rather more than usual. I make no apology for that, nor am I nervous that it will it make a jot of difference. I shall still be thought to be kindly, cosy and essentially harmless. I am in the pigeon-hole marked 'no threat' and did I stab Judi Dench with a pitchfork I should still be a teddy bear.'
Alan Bennett's third collection of prose Keeping On Keeping On follows in the footsteps of the phenomenally successful Writing Home and Untold Stories, each published ten years apart. This latest collection contains Bennett's peerless diaries 2005 to 2015, reflecting on a decade that saw four premieres at the National Theatre (The Habit of Art, People, Hymn and Cocktail Sticks), a West End double-bill transfer, and the films of The History Boys and The Lady in the Van.
There's a provocative sermon on private education given before the University at King's College Chapel, Cambridge, and 'Baffled at a Bookcase' offers a passionate defence of the public library. This is an engaging, humane, sharp, funny and unforgettable record of life according to the inimitable Alan Bennett.
Directed By Dorothy Arzner
Judith Mayne
Dorothy Arzner was the exception in Hollywood film history―the one woman who succeeded as a director, in a career that spanned three decades.
In Part One, Dorothy Arzner's film career―her work as a film editor to her directorial debut, to her departure from Hollywood in 1943―is documented, with particular attention to Arzner's roles as "star-maker" and "woman's director."
In Part Two, Mayne analyses a number of Arzner's films and discusses how feminist preoccupations shape them, from the women's communities central to Dance, Girl, Dance and The Wild Party to critiques of the heterosexual couple in Christopher Strong and Craig's Wife.
Part Three treats Arzner's lesbianism and the role that desire between women played in her career, her life, and her films.
Ian McKellen: The Biography
Garry O'Connor
Few actors achieve in their lifetime what Sir Ian McKellen has. A repertoire of vast commercial success coupled with critically acclaimed and authoritative Shakespearian roles. A man whose gargantuan personality and varied achievements inspire both admiration and affection. McKellen has been feted and admired in every country across the globe, and has been knighted by, and received the Companionship of Honour from Queen Elizabeth II. He is an icon of, and ardent campaigner in, the cause for LGBT rights.
Many of us know of McKellen through his depiction of Gandalf in Lord of the Rings. Garry O'Connor's definitive biography reveals the man behind McKellen the actor. The inside story of the person himself: a constantly developing drama and a work in progress. Yet Garry O'Connor pulls no punches: some of his revelations may be controversial to his fans, even explosive, given McKellen's constant ability to shock and surprise.
The author has himself directed for the Royal Shakespeare Company, and directed McKellen in some of his very first roles. This is an unflinching, yet deeply intimate and affectionate, biography that, like McKellen himself, will stand the test of time as a rounded and complete portrait of one of the most unusual geniuses of our times.
We Could Be: Bowie and his Heroes
Tom Hagler
David Bowie's story has never been told quite like this.
Tracing the star's encounters with fellow icons throughout his life, We Could Be offers a new history of Bowie, collecting 300 short stories that together paint a portrait of humour, humility, compassion, tragedy and more besides.
He embarrasses himself in front of Lennon and Warhol. He saves the life of Nina Simone. He is hated by Bob Dylan. He teaches Michael Jackson the moonwalk. Individually astonishing, together these stories - including details never before revealed - build a new picture of Bowie, one which shows his vulnerability, his sense of humour, his inner diva.
Exhaustively researched from thousands of sources by BBC reporter and Bowie obsessive Tom Hagler - with the guidance and memories of Bowie's long-time producer Tony Visconti - We Could Be is fascinating, comic, compelling, and a history of Bowie unlike any that has come before.
Leonard Bernstein
Humphrey Burton
Composer, pianist, author, television teacher, Harvard lecturer, cultural icon, humanist and conductor without peer, Leonard Bernstein's versatility was legendary. He captivated Broadway with such hits as On the Townand West Side Story and introduced middle America to classical music with his Young People's Concerts on television. He composed three symphonies and a full-length opera, and he inspired the world's leading orchestras to give some of the most memorable performances of the twentieth century.
Humphrey Burton was given exclusive access to Bernstein's rich legacy of letters and papers, and the book draws on hundreds of interviews with family, friends and colleagues to reveal Bernstein's fascinating and complex personality. His compelling narrative captures Bernstein's high-spirited vitality on the page, providing a frank account of his homosexuality and his marriage and chronicling the lifelong conflict between the rival claims of Bernstein's conducting and composing careers.
Me
Elton John
Christened Reginald Dwight was a shy boy with Buddy Holly glasses who grew up in the London suburb of Pinner and dreamed of becoming a pop star. By the age of twenty-three, he was performing his first gig in America, facing an astonished audience in his bright yellow dungarees, a star-spangled T-shirt and boots with wings. Elton John had arrived and the music world would never be the same again.
His life has been full of drama, from the early rejection of his work with songwriting partner Bernie Taupin to spinning out of control as a chart-topping superstar; from half-heartedly trying to drown himself in his LA swimming pool to disco-dancing with the Queen; from friendships with John Lennon, Freddie Mercury and George Michael to setting up his AIDS Foundation. All the while, Elton was hiding a drug addiction that would grip him for over a decade.
In Me Elton also writes powerfully about getting clean and changing his life, about finding love with David Furnish and becoming a father. In a voice that is warm, humble and open, this is Elton on his music and his relationships, his passions and his mistakes. This is a story that will stay with you, by a living legend.
More Fool Me
Stephen Fry
Stephen Fry invites readers to take a glimpse at his life story in the unputdownable More Fool Me.
'Oh dear I am an arse. I expect there'll be what I believe is called an "intervention" soon. I keep picturing it. All my friends bearing down on me and me denying everything until my pockets are emptied. Oh the shame'
In his early thirties, Stephen Fry - writer, comedian, star of stage and screen - had, as they say, 'made it'. Much loved in A Bit of Fry and Laurie, Blackadder and Jeeves and Wooster, author of a critically acclaimed and bestselling first novel, The Liar, with a glamorous and glittering cast of friends, he had more work than was perhaps good for him.
What could possibly go wrong?
Then, as the 80s drew to a close, he discovered a most enjoyable way to burn the candle at both ends, and took to excess like a duck to breadcrumbs. Writing and recording by day, and haunting a never ending series of celebrity parties, drinking dens, and poker games by night, in a ludicrous and impressive act of bravado, he fooled all those except the very closest to him, some of whom were most enjoyably engaged in the same dance.
He was - to all intents and purposes - a high functioning addict. Blazing brightly and partying wildly as the 80s turned to the 90s, AIDS became an epidemic and politics turned really nasty, he was so busy, so distracted by the high life, that he could hardly see the inevitable, headlong tumble that must surely follow . . .
Containing raw, electric extracts from his diaries of the time, More Fool Me is a brilliant, eloquent account by a man driven to create and to entertain - revealing a side to him he has long kept hidden.
Children and young adults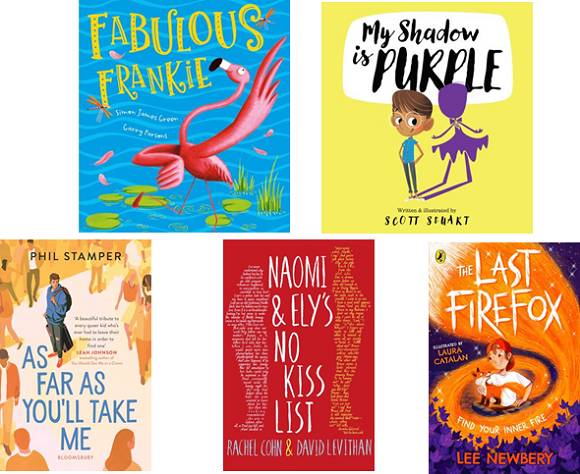 Fabulous Frankie
Simon James Green
Suitable for ages 0-5
All Frankie wants is to be fabulous!
But, SIGH!, he's literally surrounded by so many fabulous flamingos, so how on earth can he stand out from the crowd?
Maybe, just maybe, Frankie's friends will help him learn the most important thing of all:
The best way to be fabulous is to be YOU!
My Shadow is Purple
Scott Stuart
Suitable for ages 0-5
My Dad has a shadow that's blue as a berry, and my Mum's is as pink as a blossoming cherry. There's only those choices, a 2 or a 1. But mine is quite different, it's both and it's none. A heartwarming and inspiring book about being true to yourself, by best-selling children's book creator Scott Stuart. This story considers gender beyond binary in a vibrant spectrum of colour.
The Last Firefox
Lee Newbery
Suitable for ages 9-11
Between bullies at school and changes at home, Charlie Challinor finds life a bit scary. And when he's made guardian of a furry fox cub called Cadno, things get a whole lot scarier.

Because Cadno isn't just any fox: he's a firefox - the only one of his kind - and a sinister hunter from another world is on his trail.

Swept up into an unexpected adventure to protect his flammable friend, Charlie's going to need to find the bravery he never thought he had, if he's going to save the last firefox . . .

'Comic, adventurous and charming' – Guardian
As Far As You'll Take Me
Phil Stamper
Suitable for ages 12+
Marty arrives in London with nothing but his oboe and some savings from his summer job, but he's excited to start his new life--where he's no longer the closeted, shy kid who slips under the radar and is free to explore his sexuality without his parents' disapproval.

From the outside, Marty's life looks like a perfect fantasy: in the span of a few weeks, he's made new friends, he's getting closer with his first ever boyfriend, and he's even traveling around Europe. But Marty knows he can't keep up the facade. He hasn't spoken to his parents since he arrived, he's tearing through his meager savings, his homesickness and anxiety are getting worse and worse, and he hasn't even come close to landing the job of his dreams. Will Marty be able to find a place that feels like home?
Naomi & Ely's No Kiss List
Rachel Cohn
Suitable for ages 12+
Any great friendship can be as confusing, treacherous, inspiring and wonderful as any great romance.
Naomi and Ely have been best friends forever. Naomi loves and is in love with Ely, and Ely loves Naomi, but prefers to be in love with boys. So they create their 'No Kiss List' of people neither of them is allowed to kiss.
And this works fine - until Bruce. Bruce is Naomi's boyfriend, so there's no reason to put him on the List. But Ely kissed Bruce - and the resulting fallout is going to shake up the world!
Previous recommendations
Adult fiction
A Love Story For Bewildered Girls
Emma Morgan
Grace has what one might call a 'full and interesting life' which is code for not married and has no kids. Her life is the envy of her straight friends, but all this time she has been waiting in secret for love to hit her so hard that she runs out of breath, like the way a wave in a rough sea bowls you over, slams you into the sand, and nearly drowns you.

When Grace meets a beautiful woman at a party, she falls suddenly and desperately in love. At the same party, lawyer Annie meets the man of her dreams - the only man she's ever met whose table manners are up to her mother's standards. And across the city, Violet, who is afraid of almost everything, is making another discovery of her own: that for the first time in her life she's falling in love with a woman.

A Love Story for Bewildered Girls is a moving and exquisitely funny novel about love, sex and heartbreak.

You Exist Too Much
Zaina Arafat
Told in vignettes that flash between the US and the Middle East, Zaina Arafat's powerful debut novel traces her protagonist's progress from blushing teen to creative and confused adulthood.

In Brooklyn, she moves into an apartment with her first serious girlfriend and tries to content herself with their comfortable relationship. Soon, her longings, so deeply hidden during her teenage years, explode out into reckless romantic encounters and obsessions with other people, which results in her seeking unconventional help to face her past traumas and current demons.

As heard on Radio 2 Book Club, this captivating novel is perfect for readers who love Maggie Nelson and Garth Greenwell.

You Will Be Safe Here
Damian Barr
The brilliant debut novel from the award-winning author of Maggie & Me.
South Africa, 1901, the height of the second Boer War. Sarah van der Watt and her son are taken from their farm by force to Bloemfontein Concentration Camp where, the English promise, they will be safe.
Johannesburg, 2010. Sixteen-year-old outsider Willem just wants to be left alone with his books and his dog. Worried he's not turning out right, his ma and her boyfriend send him to New Dawn Safari Training Camp. Here they 'make men out of boys'. Guaranteed.
You Will Be Safe Here is a deeply moving novel of connected parts. Inspired by real events, it uncovers a hidden colonial history and present-day darkness while exploring our capacity for cruelty and kindness.
The Intoxicating Mr Lavelle
Neil Blackmore
'Seductive, decadent, cruel and utterly thrilling - just like Horace Lavelle himself. This is The Talented Mr Ripley for the twenty-first century.' Emma Flint, author of Little Deaths

Brothers Benjamin and Edgar have so far led a quiet life, but change is afoot as they enter a world of glorious sights and People of Quality on their Grand Tour of Europe. But a trunk full of powdered silver wigs and matching suits isn't enough to embed them into high society.

As Edgar clings on to conventions, Benjamin pushes against them. And when the charming, seductive Horace Lavelle promises Benjamin a real adventure, it's only a matter of time before chaos and love ensue.

The Madonna of Bolton
Matt Cain
'A book for anybody who feels at all marginalised, small, bullied or lost' Claudia Winkleman
Charlie Matthews's love story begins in a pebble-dashed house in suburban Bolton, at a time when most little boys want to grow up to be Michael Jackson, and girls want to be Princess Diana. Remembering the Green Cross Code and getting out of football are the most important things in his life, until…

On his ninth birthday, Auntie Jan gives him a gift that will last a lifetime: a seven-inch single called 'Lucky Star'. He discovers Madonna – and falls in love.

Casting the pop icon in the role of his spirit guide, Charlie draws on Madonna's audacity and ambition to help him find the courage to overcome his own obstacles and become a success in life. His obsession sees him through some tough times, but in order to be truly happy, he'll need to find his own inner strength.

The Line of Beauty
Alan Hollinghurst
Winner of the Man Booker Prize, Alan Hollinghurst's The Line of Beauty is a classic novel about class, politics and sexuality in Margaret Thatcher's 1980s Britain.
It is the summer of 1983, and young Nick Guest, an innocent in the matters of politics and money, has moved into an attic room in the Notting Hill home of the Feddens: Gerald, an ambitious new Tory MP, his wealthy wife Rachel, and their children Toby and Catherine. Nick had idolized Toby at Oxford, but in his London life it will be the troubled Catherine who becomes his friend and his uneasy responsibility.
Innocent of politics and money, Nick is swept up into the Feddens' world and an era of endless possibility, all the while pursuing his own private obsession with beauty.
The Line of Beauty is Alan Hollinghurst's Man Booker Prize-winning masterpiece. It is a novel that defines a decade, exploring with peerless style a young man's collision with his own desires, and with a world he can never truly belong to.
Love & Other Disasters
Anita Kelly
Every recipe needs a little chemistry . . .

Recently divorced Dahlia Woodson is ready to reinvent herself and she's found the perfect opportunity: the hit cooking competition show Chef's Special. Falling flat on her face on the first day is admittedly not the best start, but Dahlia isn't going to let it mess up her focus.

London Parker is also there to win. As the first non-binary contestant on Chef's Special, they have a lot to prove, and they have enough on their mind without being distracted by the pretty contestant who crashed into them on Day One and hasn't really stopped talking since.

After filming a few episodes, Dahlia and London grow closer and things get a little steamy as they spend more time together outside of the show.

Suddenly winning isn't as important as either of them thought, but when their relationship starts to feel the heat both in and out of the kitchen, Dahlia and London realise that love doesn't always follow a recipe.

Rainbow Milk
Paul Mendez
This debut cements Mendez as a stunning new voice in fiction. Semi-autobiographical, this gripping coming-of-age story set in the Black Country in the 1950s follows 19-year-old Jesse as he comes to terms with his racial and sexual identity against the backdrop of his repressive religious upbringing . . .
When did you last read a novel about a young, black, gay, Jehovah Witness man from Wolverhampton who flees his community to make his way in London as a prostitute? This might be a debut, but Mendez is an exciting, accomplished and daring storyteller with a great ear for dialogue. Graphic Erotica Alert! Don't read this book if you like your fiction cosy and middle-of-the-road - Bernardine Evaristo
On Earth We're Briefly Gorgeous
Ocean Vuong
Sunday Times and New York Times bestseller
Brilliant, heart-breaking, tender, and highly original – poet Ocean Vuong's debut novel is a sweeping and shattering portrait of a family, and a testament to the redemptive power of storytelling.

On Earth We're Briefly Gorgeous is a letter from a son to a mother who cannot read. Written when the speaker, Little Dog, is in his late twenties, the letter unearths a family's history that began before he was born – a history whose epicentre is rooted in Vietnam – and serves as a doorway into parts of his life his mother has never known, all of it leading to an unforgettable revelation. At once a witness to the fraught yet undeniable love between a single mother and her son, it is also a brutally honest exploration of race, class, and masculinity. Asking questions central to the American moment, immersed as it is in addiction, violence, and trauma, but undergirded by compassion and tenderness, On Earth We're Briefly Gorgeous is as much about the power of telling one's own story as it is about the obliterating silence of not being heard.


Maurice
E.M. Forster

Maurice Hall is a young man who grows up confident in his privileged status and well aware of his role in society. Modest and generally conformist, he nevertheless finds himself increasingly attracted to his own sex. Through Clive, whom he encounters at Cambridge, and through Alec, the gamekeeper on Clive's country estate, Maurice gradually experiences a profound emotional and sexual awakening. A tale of passion, bravery and defiance, this intensely personal novel was completed in 1914 but remained unpublished until after Forster's death in 1970. Compellingly honest and beautifully written. This book offers a powerful condemnation of the repressive attitudes of British society, and is at once a moving love story and an intimate tale of one man's erotic and political self-discovery.


Fingersmith
Sarah Waters
Shortlisted for the Orange Prize and the Booker Prize

London 1862. Sue Trinder, orphaned at birth, grows up among petty thieves - fingersmiths - under the rough but loving care of Mrs Sucksby and her 'family'. But from the moment she draws breath, Sue's fate is linked to that of another orphan growing up in a gloomy mansion not too many miles away.

Well of Loneliness
Radclyffe Hall

As a little girl Stephen Gordon always felt different.

A talent for sport, a hatred of dresses and a preference for solitude were not considered suitable for a young lady of the Victorian upper-class. But when Stephen grows up and falls passionately in love with another woman, her standing in the county and her place at the home she loves become untenable.
Stephen must set off to discover whether there is anywhere in the world that will have her.

Orlando
Virginia Woolf

'He stretched himself. He rose. He stood upright in complete nakedness before us, and while the trumpets pealed 'Truth! Truth! Truth!' we have no choice left but confess - he was a woman.'
A young man in the court of the ageing Queen Elizabeth I, the beautiful Orlando seems to belong everywhere and nowhere. One morning, Orlando awakens transformed - transported into the eighteenth century, and the body of a woman.

One of the twentieth century's defining imaginings of queer identity, Orlando is a book of radical possibilities -boy and girl, past and future, nature and magic, life and history, love and literature. One of the most thrilling love letters in all literature, it trespasses thrillingly over the borders of place, time and self.
Adult non-fiction
We Can Do Better Than This
Amelia Abraham
How can we create a better world for LGBTQ+ people? Olly Alexander, Peppermint, Owen Jones, Beth Ditto, Holland and more share their stories and visions for the future.

We talk about achieving 'LGBTQ+ equality', but around the world, LGBTQ+ people are still suffering discrimination and extreme violence. How do we solve this urgent problem, allowing queer people everywhere the opportunity to thrive?

In We Can Do Better Than This, 35 voices explore this question. Through deeply moving stories and provocative new arguments on safety and visibility, dating and gender, care and community, they present a powerful manifesto for how - together - we can start to create a better future.

One Of Them
Michael Cashman
'Extraordinary ... You'll be ugly-sobbing at the end' Graham Norton
Growing up in post-war East London, the son of a docker and an office cleaner, young Michael Cashman's life changed when he was discovered, aged twelve, and transported to the West End stage. Cashman would make history - first as an actor, one half of the first gay kiss broadcast on a British soap, BBC TV's EastEnders, and then as a campaigner and politician, founding Stonewall with Ian McKellen, and embarking on a fight for gay rights across the world that would lead him and his partner Paul Cottingham from tea in LA with David Hockney to flying the rainbow flag over the Royal Albert Hall with Elton John.

One of Them contains as many multitudes as its author: glorious nostalgia, showbiz gossip and a stirring history of a civil rights movement. And above all things, it is a love story - a tender account of a partnership that changed the world.
The Transgender Issue: An Argument For Justice
Shon Faye
The instant Sunday Times Bestseller
Trans people in Britain today have become a culture war 'issue'. Despite making up less than one per cent of the country's population, they are the subjects of a toxic and increasingly polarized 'debate' which generates reliable controversy for newspapers and talk shows. This media frenzy conceals a simple fact: that we are having the wrong conversation, a conversation in which trans people themselves are reduced to a talking point and denied a meaningful voice.

In this powerful new book, Shon Faye reclaims the idea of the 'transgender issue' to uncover the reality of what it means to be trans in a transphobic society. In doing so, she provides a compelling, wide-ranging analysis of trans lives from youth to old age, exploring work, family, housing, healthcare, the prison system and trans participation in the LGBTQ+ and feminist communities, in contemporary Britain and beyond.

The Transgender Issue is a landmark work that signals the beginning of a new, healthier conversation about trans life. It is a manifesto for change, and a call for justice and solidarity between all marginalised people and minorities. Trans liberation, as Faye sees it, goes to the root of what our society is and what it could be; it offers the possibility of a more just, free and joyful world for all of us.

The Pink Line: The World's Queer Frontiers
Mark Gevisser
Six years in the making, The Pink Line follows protagonists from nine countries all over the globe to tell the story of how LGBTQ+ Rights became one of the world's new human rights frontiers in the second decade of the twenty-first century.

From refugees in South Africa to activists in Egypt, transgender women in Russia and transitioning teens in the American Mid-West, The Pink Line folds intimate and deeply affecting stories of individuals, families and communities into a definitive account of how the world has changed, so dramatically, in just a decade.

And in doing so he reveals a troubling new equation that has come in to play: while same-sex marriage and gender transition are now celebrated in some parts of the world, laws to criminalise homosexuality and gender non-conformity have been strengthened in others. In a work of great scope and wonderful storytelling, this is the groundbreaking, definitive account of how issues of sexuality and gender identity divide and unite the world today.
To Be A Gay Man
Will Young
In To Be a Gay Man, Will Young speaks out about gay shame, revealing the impact it had on his own life, how he learned to deal with it, and how he can now truthfully say he is gay and happy.

We know Will as a multi-platinum recording artist, Olivier-nominee, and the first winner of the Idol franchise. But his story began long before his first audition. Looking back on a world where growing up being called gay was the ultimate insult and coming out after a lifetime of hiding his sexuality, Will explores the long-lasting impact repressing his true self has had.

As Will's own story demonstrates, internalised shame in childhood increases the risk of developing low self-worth, and even self-disgust, leading to destructive behaviours in adult life.

Will revisits the darkest extremes he has been to, sharing his vulnerabilities, his regrets, tracing his own navigation through it all and showing the way for others who might have felt alone in the same experience.

Here you will find a friend, champion and mentor, breaking taboos with frank honesty, and offering invaluable practical advice on overcoming the difficult issues too often faced within the LGBTQ+ community.

A Dutiful Boy: A Memoir of Secrets, Lies and Family Love
Mohsin Zaidi
A Guardian Best Book of the Year
A Dutiful Boy is Mohsin's personal journey from denial to acceptance: a revelatory memoir about the power of love, belonging, and living every part of your identity.

Growing up in a devout Muslim household, it felt impossible for Mohsin to be gay. Unable to be open with his family, and with difficult conditions at school, he felt his opportunities closing around him. Despite the odds, Mohsin's perseverance led him to become the first person from his school to attend Oxford University, where new experiences and encounters helped him to discover who he truly wanted to be. Mohsin was confronted with the biggest decision he would ever make: to live the life that was expected of him or to live as his authentic self.

The Gender Games
Juno Dawson

'It's a boy!' or 'It's a girl!' are the first words almost all of us hear when we enter the world. Before our names, before we have likes and dislikes - before we, or anyone else, has any idea who we are. And two years ago, as Juno Dawson went to tell her mother she was (and actually, always had been) a woman, she started to realise just how wrong we've been getting it.

Gender isn't just screwing over trans people, it's messing with everyone. From little girls who think they can't be doctors to teenagers who come to expect street harassment. From exclusionist feminists to 'alt-right' young men. From men who can't cry to the women who think they shouldn't. As her body gets in line with her mind, Juno tells not only her own story, but the story of everyone who is shaped by society's expectations of gender - and what we can do about it.

Featuring insights from well-known gender, feminist and trans activists including Rebecca Root, Laura Bates, Gemma Cairney, Anthony Anaxagorou, Hannah Witton and many more, The Gender Games is a frank, witty and powerful manifesto for a world in which everyone can truly be themselves.



Not My Father's Son: A Family Memoir
Alan Cumming

Alan Cumming grew up in the grip of a man who held his family hostage, someone who meted out violence with a frightening ease, who waged a silent war with himself that sometimes spilled over onto everyone around him. That man was Alan's father, Alex Cumming.

Alex was the dark, enigmatic heart of Cumming family life. But he was not the only mystery. Alan's maternal grandfather, Tommy Darling, had disappeared to the Far East after the Second World War. The last time Alan's mother saw her father she was eight years old. When she was thirteen, the family was informed that he had died in an accidental shooting.
Curious to explore this second mystery, Alan committed to filming an episode of the BBC'sWho Do You Think You Are? Then out of the blue, his father, who Alan and his brother had not seen or spoken to for more than a decade, called. He had a secret he had to share, one that would shock his son to his very core and set in motion a journey that would change Alan's life forever.
At times suspenseful, at times deeply moving, but always brave and honest, Not My Father's Son is a powerful story about embracing the best aspects of the past and triumphantly pushing the darkness aside.
Children and Young Adults
Who's Your Real Mum?
Bernadette Green
Suitable for ages 0-5
'Elvi, which one is your mum?'
'They're both my mum.'
'But which one's your real mum?'
When Nicholas wants to know which of Elvi's two mums is her real mum, she gives him lots of clues. Her real mum is a circus performer, and a pirate, and she even teaches spiders the art of web.
But Nicholas still can't work it out! Luckily, Elvi knows just how to explain it to her friend.
Uncle Bobby's Wedding
Sarah S. Brannen
Suitable for ages 0-5
Chloe loves, loves, LOVES her special uncle Bobby. So when she learns that Uncle Bobby is going to be getting married to his boyfriend Jamie she's not at all pleased. What if Uncle Bobby doesn't have time to play with Chloe anymore? But after spending a fun-filled day with Bobby and Jamie, she soon realises she's not losing an uncle, but gaining a whole new one!

An uplifting celebration of love in all its forms, this book is perfect for any child who has a special grown-up in their life.
My Daddies!
Gareth Peter
Suitable for ages 0-5
Set off on a series of incredible adventures with an adorable family as the stories they read burst into colourful life. Battle dragons, dodge deadly dinosaurs, zoom to the moon and explore the world in a hot air balloon, before winding down in a wonderfully cosy bedtime ending.

The bouncy, rhyming, read-aloud text is brought to life by bestselling, award-winning illustrator Garry Parsons, illustrator of The Dinosaur that Pooped series.

'This rhyming picture book celebrating same-sex parents is a gentle and sweet read . . . A wonderful celebration of adoption and the different shapes a family can take!' BookTrust

The Pronoun Book: She, He, They and Me!
Cassandra Jules Corrigan
Suitable for ages 5-7
"Welcome to The Pronoun Book! Join Ellie and Casey as they introduce you to the wonderful world of pronouns. Learn about what pronouns are, how they relate to us, and why it's so important to get them right!"

This fun, engaging and empowering children's book is the perfect introduction on pronouns in relation to gender diversity and identity for children aged 5+. Through illustrated scenarios and explanations, it gently encourages children to learn pronoun etiquette and educates them on they/them pronouns, trans and non-binary identities, misgendering and neo-pronouns such as xe, zir and hir.

This illustrated book also includes a dedicated section at the back for adults, which includes a pronoun table, photocopiable pronoun labels and sample letters addressed to schools.

Proud of Me
Sarah Hagger-Holt
Suitable for ages 9-11
All I want is for my family to be proud of me...

An accessible child-centred story about self-acceptance and the importance of opening up to those closest to you.

Becky and Josh are almost-twins, with two mums and the same anonymous donor dad. Josh can't wait until he's eighteen, the legal age when he can finally contact his donor, and he'll do anything to find out more, even if it involves lying.

Becky can't stop thinking about her new friend, Carli. Could her feelings for Carli be a sign of something more? Becky and Josh both want their parents to be proud of them...but right now, they're struggling to even accept themselves.

LGTBQ+ Matters
Matt Anniss
Suitable for ages 9-11
What exactly does being lesbian, gay, bisexual or transgender mean? How has the gay rights movement helped to change society's view of the LGBT community during the past century? What is it like to have same-sex parents? How do people 'come out' to their friends? What is homophobia? Find out all this and much more.
Using real-life case studies, this book gives sensitive insights into what it means to be LGBT in 21st century Britain.
Fin & Rye & Fireflies
Harry Cook
Suitable for ages 12+
Fin Whittle is sixteen and he likes guys. A fact which seems to be complicating his life.
One minute Fin's kissing the godlike Jesse; the next he s been cruelly outed. His family's response? To up sticks in search of a 'fresh start'.
A fresh start won't change the truth of who Fin is. Obviously. But it does introduce him to the best squad in town: kick-ass Poppy, her on-off girlfriend June and the super cute, super irresistible Rye.
Fin soon has a serious crush. And Rye might just feel the same way. But Fin's parents aren't happy. If their son won't change his 'lifestyle', they ll force him onto the straight and narrow . . . by way of 'conversion therapy'. An outrageous plan is needed to face down the haters and to give Fin and Rye (and their fireflies) a chance at the happy-ever-after their story deserves . . .
From moonlit meet-ups to vintage diners, pride parades to a passion for old vinyl, Fin & Rye & Fireflies is a gloriously upbeat tale of being true to yourself no matter what.

Simon vs. The Homo Sapiens Agenda
Becky Albertalli
Suitable for ages 14+

The beloved, award-winning novel is now a major motion picture starring 13 Reasons Why's Katherine Langford and Everything, Everything's Nick Robinson.

16-year-old and not-so-openly gay Simon Spier prefers to save his drama for the school musical. But when an email falls into the wrong hands, his secret is at risk of being thrust into the spotlight. And worse still, so will the privacy of 'Blue', the pen name of the boy he's been emailing. With messy dynamics emerging in Simon's once tight-knit group of friends, and his email correspondence with Blue growing more flirtatious every day, Simon's life suddenly becomes just a little complicated. Now Simon has to find a way to step out of his comfort zone before he's pushed out - without alienating his friends, compromising himself, or fumbling a shot at happiness with the most confusing, adorable guy he's never met.

The Miseducation of Cameron Post
Emily Danforth
Suitable for ages 14+

** Now a major film starring Chloe Grace Moretz - winner of the Grand Jury Prize at the Sundance Film Festival **

When Cameron Post's parents die suddenly in a car crash, her shocking first thought is relief. Relief they'll never know that, hours earlier, she had been kissing a girl. But that relief doesn't last, and Cam is forced to move in with her conservative aunt Ruth and her well-intentioned but hopelessly old-fashioned grandmother. She knows that from this point on, her life will forever be different. Survival in Miles City, Montana, means blending in and leaving well enough alone, and Cam becomes an expert at both. Then Coley Taylor moves to town. Beautiful, pickup-driving Coley is a perfect cowgirl with the perfect boyfriend to match. She and Cam forge an unexpected and intense friendship, one that seems to leave room for something more to emerge. But just as that starts to seem like a real possibility, ultrareligious Aunt Ruth takes drastic action to 'fix' her niece.