Developed in partnership with key public sector providers in the borough and colleagues from the voluntary and community sector, our Borough Plan sets out aspirations for the borough over the 2020-2030 decade. This incorporates the council's Corporate Plan in representing our role in delivering the broader partnership agenda and our corporate priorities.
The Council approved the draft Borough Plan in February 2020 just before the pandemic took hold and we refreshed the Plan in November 2020 to take account of the impact of the pandemic on our borough and how we will recover from it, as well as the inequalities highlighted by the work supporting Black Lives Matter and the broader race equality agenda.
We worked with partners to develop collective priorities for the borough, based on feedback received from the people of Harrow in our annual residents' survey. There are three foundations for maintenance / incremental improvement and five priorities presenting a significant challenge / requiring step-change improvement, in addition to the two cross cutting themes that were identified in November 2020. These priorities are set out below: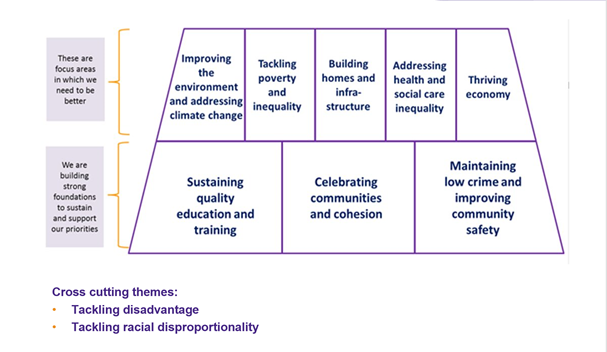 Whilst we had to pause our intention to engage more widely on the Borough Plan due to the pandemic, we have nevertheless used the Borough Plan to drive our partnership response to Covid-19 and used the partnership principles to guide our recovery, as this report on key achievements demonstrates. This presents progress made and future intentions against each of the eight priority areas and the two cross cutting themes specifically looking at tackling inequality. We continue to shape the borough's priorities through the pandemic and beyond.
The council re-affirmed its commitment to delivering on the Borough Plan priorities at its Council meeting on 24 February 2022.