Introduction
Alcohol
Excess alcohol consumption can be harmful to your health. You can develop serious health problems such as liver damage, an increased risk of cancer or a heart attack. Alcohol is also high in calories.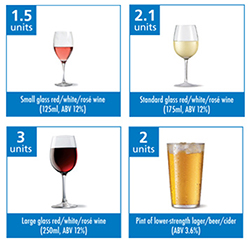 What is a unit of alcohol and how much can I drink?
One unit in the UK is 8g or 10ml of pure alcohol. Which is around the amount of alcohol the average adult can process in an hour. The number of units in a drink is based on the size of the drink, as well as its alcohol strength. For example, a pint of strong larger contain 3 units of alcohol, whereas the same volume of low-strength lager has just over 2 units. Knowing your units will help you stay in control of your drinking - for more details see our graphic illustration.
It is harmful to save up units and binge drink over one or two days.
To keep health risks from alcohol to a low level it is safest not to drink more than 14 units a week on a regular basis.
If you regularly drink as much as 14 units per week, it is best to spread your drinking evenly over three of more days. If you have one or two heavy drinking episodes a week, you increase your risks of death from long term illness and from accidents and injuries.
The risk of developing a range of health problems (including, cancers of mouth, throat, and breast) increase the more you drink on a regular basis.
If you wish to cut down on the amount you drink, a good way to help achieve this is to have several drink-free days each week.
For more advice see the further info section.